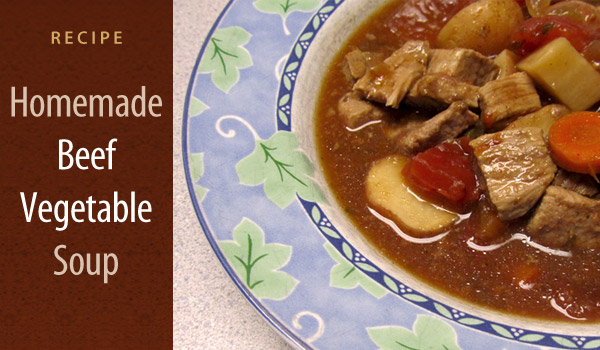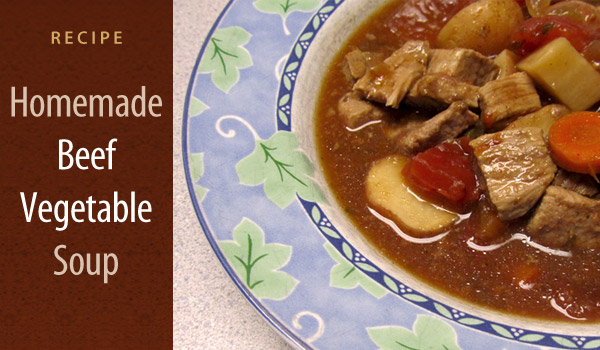 Cary, NC — On an icy day in Cary, it's good to think about soup. Homemade Beef Vegetable Soup, to be exact.
Ingredients: Homemade Beef Vegetable Soup
This recipe for Homemade Beef Vegetable Soup makes enough for 8 servings.
2 tablespoons butter or oil
1.5 pounds lean round, cut into small cubes
1-2 pounds of beef bones
1 onion, coarsely chopped
2 bay leaves
2 celery stalks, chopped
3 carrots, peeled and chopped
1 cup of fresh or frozen green beans, chopped
5 cups of cold water
1 cup of red wine
Small can of tomato paste
1/2 teaspoon garden herbs – take your choice: thyme, marjoram or oregano
salt & pepper to taste
Directions: Homemade Beef Vegetable Soup
The secret to this recipe for Homemade Beef Vegetable Soup is to add the ingredients based on how long each needs to cook. No more over-cooked veggies or bland broths.
Part 1
Heat the butter or oil in a large soup pot. Brown the meat along with half the onions and celery plus the bay leaf. Sprinkle the flour over the pan while cooking so the meat gets coated.
Turn the heat up to high and gradually add the first cup of water, scraping the brown bits off the bottom of the pot with a spoon or spatula. Continue adding water and stirring, keeping the broth at a bubble.
Add the beef bones (you can roast these in advance for extra flavor). Add half the herbs. Season with salt and pepper if desired.
Low the heat and simmer for 3 hours. Skim occasionally to remove foam from surface.
Part 2
Three hours later. Your Homemade Beef Vegetable Soup should be looking (and smelling) pretty good by now.
Fish out the beef bones and the bay leaf. If there's any meat, you can return it to the soup.
Add the carrots and the rest of the onion and the celery. Add the tomato paste and the red wine. Cook for about 15 minutes.
Add the green beans (they don't take as long to cook as carrots). Cook for another 15 minutes and turn off the stove.
Add the rest of the herbs. Add more salt and pepper if you like (I almost always add more pepper at the end). Give it a good stir and let it set for five minutes.
Serve with a crusty loaf of bread.
Substitutions and embellishments
Beans are a nice addition to this soup. Add a cup of dry beans or lentils at the beginning.
Try adding half a cup of frozen corn. Add it at the end with (or instead of) the green beans.
Kick it up a notch with a 1/2 teaspoon of chili powder or hot sauce.
Add potatoes (peeled and cubed) or noodles to increase the starch value .
Cut in a cup of sausage to increase the meat value.
Read more CaryCitizen recipes.
——————————————————————————————–
Photo by Lynn Gardner.
https://carycitizenarchive.com/wp-content/uploads/2014/02/beef-vegetable-soup-recipe.jpg
350
600
Hal Goodtree
https://carycitizenarchive.com/wp-content/uploads/2020/03/cc-archive-logo-450-v3.png
Hal Goodtree
2014-02-12 12:57:50
2014-02-12 12:57:50
Recipe: Homemade Beef Vegetable Soup