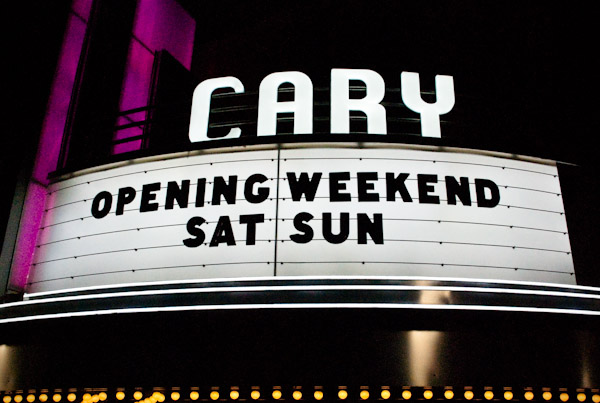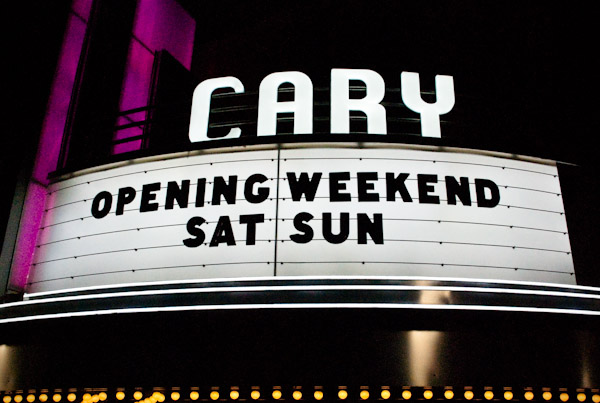 Cary, NC — Downtown advocates have been waiting patiently for over a year for the opening of the renovated theater to be called The Cary on East Chatham Street. That wait ends this weekend with a grand opening that includes a celluloid ribbon cutting, free movies and fun for the whole family on Saturday- Sunday Feb 22-23, 2014.
The Town purchased the property more than 2 years ago, and went through a series of planning sessions and cost overruns before finally announcing that the theater would not open as hoped at either Lazy Daze in August nor the Ole Time Winter Festival in early December as originally hoped.
But as any homeowner knows who has done their own renovations, the results are more important than a schedule. Nonetheless, fanfare awaits everyone who visits this weekend.
What To Expect
CaryCitizen visited last night for a special Digital Media Preview event. We were treated to a "sizzle reel" that highlighted the amazing sound and picture quality in this 175 seat intimate theater. There's not a bad seat in the house. In fact, Cultural Arts Manager, Lyman Collins, pointed out, that the seats are actually up-cycled from a theater circa approximately 1940's.  (Be sure to check for "engravings" on your visit). There's even a few original seats found in the old projection room that are on display in the second floor mezzanine.
The theater will have flexibility in how the space is used. The 48 seats up front are removable, to allow for a dance floor or cabaret setting. There are tables that can be moved in.
A Brief History of The Cary
The theater was a diamond in the rough, hiding behind an ugly shingled auto parts store in most recent memory. But it had several incarnations before that.
Lyman Collins said that area historians have uncovered the following legacy: It was first a theater built in the 1940's and remained one through the early 1960's. The Chandler family owned the building. Live performances were also held in the theater back in the day. Rumor has it (unconfirmed) that Patsy Cline may have played here. We know both Earl Scruggs and Lash LaRue played there. As the bigger theaters were built further out-of-town, the Chandler family converted the building to Cary Clothiers. Later, when Cary Towne Center was built, it became an auto parts store. Collins mentioned that an "East Cary Auto Parts" sign exists that may be installed one day.
It was when Ed Gawf arrived 2 years ago as Cary's first Downtown Manager that talks began to purchase the building and bring it back to its long forgotten roots as a part of the Downtown Redevelopment plan. Town Council, new Downtown Manager Ted Boyd and Lyman Collins have  all been 100% behind the initiative.
Space Available!
While the theater is ready, space within the building is open and waiting for some amazing new tenants. The concession area, for now, will be operated by the town when performances are scheduled.
Ultimately, a partner tenant is being sought to run a cafe that could function 7 days a week when the theater is not open.  Upstairs, on the second floor in the adjoining space, is a 1900 sq ft space that is ready for up-fit. The third floor has another 3000 sq ft of  space and a lovely patio featuring the best view of downtown.
Interested parties should contact Ted Boyd, or look up "Downtown Development" on the Town's website
Grand Opening Weekend
The official ceremony will begin with a "celluloid cutting" in honor of the film history at 9:45am this Saturday Feb 22, 2014.
After the opening ceremony the movie theater will host free movie screenings throughout the day:
10:30am Waking Sleeping Beauty
12:30 p.m. Goodbye Solo
  3 p.m. Finding Nemo
7:30 p.m.  live performance by Asheville's One Leg Up. This performance is also free.
Sunday, Feb 23, the theater takes a nod to its origins with a screening of Casablanca at 2:00pm.
The town cautions that while all the festivities are free, seating is limited (there's 175 seats after all) and patrons will be admitted on a first come, first served basis.
On Wednesday, at 7:00pm The US Air Force Rhythm and Blue Band performs their blend of jazz and blues. This is also a free performance.
Future Programming
Thursday, February 27, 2014  The Cary begins the regular season with Page One at 7pm and 9:30pm followed by W.E. on Friday.
Movie ticket pricing will be $5.00 for all shows, all ages. Live performances will be $15. Joy Ennis, Downtown Theatre and Events Supervisor, emphasized that the Town wished to make the venue affordable for everyone, so that residents can think of The Cary as "Their Theater". With limited seats and low cost, general seating admission, it is highly recommended patrons purchase tickets in advance.
For future weekend planners: The Cary has plans to show movies on a regular basis along with live performances.  Ennis explained that the schedule will be "roughly 60% films and 40% live performances."
Regular Schedule
Films will be shown on:
Thursday nights at 7:00 and 9:30 p.m
Sundays at 2:00 p.m.
Every other Friday at 7:00 and 9:30 p.m.
Live performances will be on Saturdays and every other Friday (alternating with film showings).
A listing of upcoming movies is available on the Town's website, after searching The Cary.
Camps
In addition to ticketed performances, Ennis added that  camps will also take advantage of the new venue, with an improv session planned for teens and a film criticism course planned.
From what we experienced on Wednesday night, The Cary is set to take's its place as another marquee venue in our rejuvenated Downtown.
————————————————————————————–
Story by Lindsey Chester. Lead photo by Hal Goodtree, other photos by Lindsey Chester except as noted.
https://carycitizenarchive.com/wp-content/uploads/2014/02/the-cary-theater-0035.jpg
403
600
Lindsey Chester
https://carycitizenarchive.com/wp-content/uploads/2020/03/cc-archive-logo-450-v3.png
Lindsey Chester
2014-02-20 13:37:25
2016-01-01 19:09:24
"The Cary" Opens This Weekend