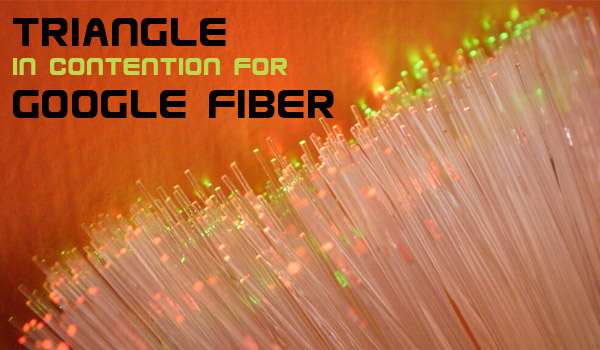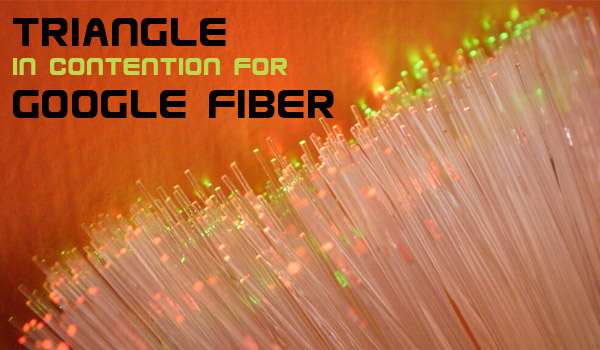 Cary, NC — Today, the GoogleFiberBlog announced a new crop of metro areas under consideration for rollout of Google Fiber. The Triangle made the list. 
Google Fiber – Blazing Across America
What is Google Fiber? How about broadband internet that's about 100x faster than most of us have today.
In tech-savvy Cary, most people know that the United States has pretty slow broadband speeds. According to Mashable, the U.S. is 9th in the world behind South Korea, Japan, Latvia and the Czech Republic. According to Ookla, the U.S. is 33rd.
Either way, we're not getting the gold, silver or bronze for internet connectivity.
Many say the problem is a lack of competition in the marketplace – big providers who exercise virtual monopoly control of their territories with little incentive to innovate. Just last week, Comcast and Time Warner announced plans to explore a merger, creating the biggest broadband behemoth in the land.
But Google's entry into the marketplace is a game changer. A few years ago, Google held a competition for the first Google Fiber city in America, igniting a frenzy of municipal pandering. Kansas City, MO won the prize and businesses flocked to the new Silicon Prairie.
Since then, Google has rolled out the fiber in Austin, TX and Provo, UT.
9 New Contenders
Today's announcement reveals the next nine metro areas under consideration for Google Fiber:
Charlotte (NC)
The Triangle (NC)
Atlanta (GA)
Nashville (TN)
San Antonio (TX)
Phoenix (AZ)
Salt Lake City (UT)
Portland (OR)
San Jose (CA)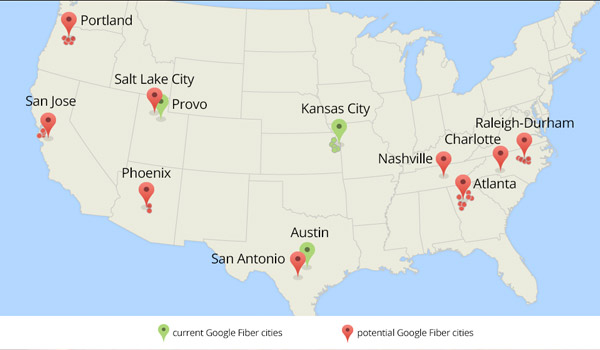 Prices for Gigabit Internet
Here are some sample prices for Google Fiber customers in Provo, UT:
The Gigabit Internet plan will give you an Internet connection that's up to 100 times faster than basic broadband for $70/month.
The Gigabit Internet + TV plan will give you access to hundreds of TV channels, a storage box that can record up to 8 shows at once and hold up to 500 hours of HD content, plus an ultrafast Internet connection, for $120/month.
The Free Internet plan will give you basic broadband speeds (up to 5Mbps download, 1 Mbps upload) for a one-time, $30 installation fee, then no monthly costs for at least 7 years.
What's Next
Over the coming months, Google will work with municipal and regional leaders to see what's possible in each region. From GoogleFiberBlog:
We're going to work on a detailed study of local factors that could affect construction, like topography (e.g., hills, flood zones), housing density and the condition of local infrastructure. Meanwhile, cities will complete a checklist of items that will help them get ready for a project of this scale and speed. For example, they'll provide us with maps of existing conduit, water, gas and electricity lines so that we can plan where to place fiber. They'll also help us find ways to access existing infrastructure—like utility poles—so we don't unnecessarily dig up streets or have to put up a new pole next to an existing one. 
While we do want to bring Fiber to every one of these cities, it might not work out for everyone. But cities who go through this process with us will be more prepared for us or any provider who wants to build a fiber network.
We aim to provide updates by the end of the year about which cities will be getting Google Fiber. 
For more on what municipalities can do, read How communities can facilitate fiber construction.
#GoogleFiber
Some are already advocating that Triangle residents deploy a massive wave of #GoogleFiber hashtags on Twitter. They're whistling in the wind.
During the first roll out of Google Fiber, a town renamed itself Google. And an elected official promised to name his unborn children after the founders of Google. Neither town won the prize.
What Google needs is connectivity, access to existing infrastructure and, most of all, cooperation. Google Fiber is a regional initiative. Towns and counties across the Triangle must work together and make it a priority to become fiber-ready. Gig U here in the Triangle has already built some good momentum in that direction.
What you can do is contact your elected representative (via email, Twitter, Facebook, fax, text message or snail mail) and ask for their help and leadership to bring Google Fiber to the Triangle. Let them know that this matters to you. We have a lot to offer in the Triangle, but it would be a mistake to think this opportunity will just fall into our lap.
Or, you could tweet #GoogleFiber.
—————————————————————————————————
Story by Hal Goodtree. Photo by Roshan Nikam. Map via GoogleFiberBlog.
https://carycitizenarchive.com/wp-content/uploads/2014/02/triangle-google-fiber.jpg
350
600
Hal Goodtree
https://carycitizenarchive.com/wp-content/uploads/2020/03/cc-archive-logo-450-v3.png
Hal Goodtree
2014-02-19 17:50:10
2019-12-08 10:11:16
Triangle in Contention for Google Fiber