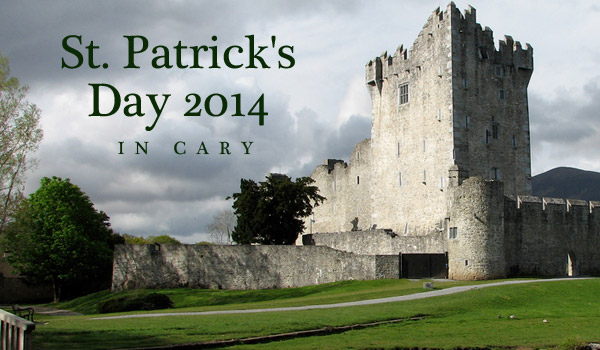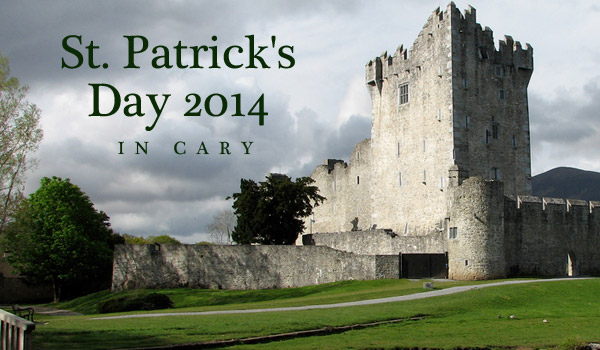 Cary, NC — In Irish pubs and bars all over the nation you can often find a countdown showing customers how much time (down to the second) there is until St Patrick's Day. The time on those clocks in dwindling fast, and you should start thinking about where you want to celebrate. St Patrick's Day falls on a Monday this year (March 17, 2014), so many Cary area bars will be hosting events from Friday, March 14 through the 17th, giving you the option to visit them all.
Why St Patrick?

How many of you know what you're celebrating on March 17th each year? There are many of us who don't need an excuse to party, but let me enlighten you.
First, St. Patrick is admired for spreading Christianity to the Irish around the time of 400 A.D. But, St. Patrick was not raised a Christian, in fact as a young boy, Christianity was far from his mind. Patrick was born in Britain and at age 16 was kidnapped and sent to Ireland to take care of sheep. When there, Patrick converted to Christianity and became a devout follower despite much adversity. He escaped back to Britain on a pirate ship to see his family, but then Patrick went back to Ireland, and was ordained as a priest. St Patrick spent his years sharing his faith and trying to convert the Irish. Centuries after his death in 461 A.D., St. Patrick was honored as the patron saint of Ireland.
Don your green and lift up a pint to St. Paddy (not Patty because that's short for Patricia)!
Irish Pubs in Our Area
Hibernian
Hibernian is the oldest Irish restaurant in Cary located at 1144 Kildaire Farm Road. This year manager Mark Blake is planning a street fair from 11:00 a.m. to 5:00 p.m. with live music by the Trophy Husbands. At 4:00 there will be an Irish wolfhound show with prizes for the winners as well as low cost vaccinations and chipping for dog lovers throughout the day. Blake invites everyone Irish spirit to come experience the 'craic' (fun).
Location: 1144 Kildaire Farm Road
Phone: 919-467-9000 for more info
Doherty's
Last year I stopped by Doherty's off High House Road, where there was a crowd outside having a great time dancing. The party was such a success that it has become an annual event. The festivities begin Friday night at 10:00 p.m. with tunes from DJ Mark. Saturday is the 2nd Annual St. Patrick's Day Celebration with food and an outdoor bar. Live Irish Music kicks off at 3:30 with Nine Times Around. Robert White will play the bagpipes at 6:00 and Mike Mickxer will play at 6:30. There is an after party with DJ George at 10:00 inside at the bar. On Sunday there is brunch from 9:00 a.m. until 2:00 p.m. and live Irish music featuring The Roscommoners from 6:00-8:00 p.m. Drink specials include: $3.00 20oz Killians, Miller Lite, and Yuengling draughts. Monday, St. Paddy's Day, Doherty's invites you to enjoy bagpipes, live Irish music with Kevin Kendall and Ewe's Tree at 4:00 p.m. and Irish dancers from the Rince na h'Eireann School of Traditional Irish Dance at 8:00 p.m.
Location: 1979 High House Rd in Cornerstone Shopping Center
Phone: 919-388-9930

Mahoney's
On the corner of Cary Parkway and Tryon Road is Mahoney's Irish restaurant. Through the whole month of March, Mahoney's has a corn beef and cabbage special for $8.99. On St. Patrick's Day, Guinness, Harp, and Smithwick's are available for only $5.00 per pint. Shanachie (a Gaelic word for storyteller) will perform Irish music from 6:00-9:30 p.m. Make sure to stop by for a chance to win awesome giveaways. Mahoney's will be open until 2:00 a.m. for this special occasion.
Location: 6490 Tryon Rd, corner of SE Cary Parkway in Wellington Park Shopping Center
Phone: 919-322-2509
If you happen to live closer to Morrisville, Tra'Li in Grace Park is the place to go. After the Raleigh St. Patrick's Day parade, Tra'Li will host Eric and Don of Last Trip Home who will be playing the Uilleann pipes, bodhran (a traditional Irish drum), flute, tin whistle, and mandolin. They will be accompanied by young dancers from the Rince na h'Eireann School, which is the same group the later performs at Doherty's. Around 8:30 Rob Sharer and Will are playing guitar, fiddle, and bodhran as dancers from the Inis Cairde School of dance keep you entertained. Tra'Li promises an evening of jigs and reels, flying feet, lilting song, smiling faces, and flowing pints. For St. Paddy's Day Sean Gargan and The Roscommoners start at 5:00 p.m., Eric and Don and the dancers will grace the stage (or corner of the restaurant) again. The sound of Uilleann Pipes is not to be missed, a sound that dates back to medieval Ireland.
Location: 3107 Grace Park Dr, in Grace Park at corner of Morrisville Carpenter Road, Morrisville, NC 27560
Phone: 919-389-3664
Other Pubs
Several area pubs and restaurants will have a St. Patrick's Day event or specials to honor the day, start planning your fun now! One of our favorites is West Park Tavern, whose celebrations were not posted at the time of this writing.
——————————————————————————————
Story by Jamie Buning for CaryCitizen. Photo of Ross Castle, just outside Killarney town, by Brandon.
——————————————————————————————
Seasonal coverage of events is sponsored in part by Great Harvest Bread Company in Cary and TraLi Irish Pub in Morrisville.
https://carycitizenarchive.com/wp-content/uploads/2014/03/st-patricks-day-2014-cary.jpg
350
600
Community Contributor
https://carycitizenarchive.com/wp-content/uploads/2020/03/cc-archive-logo-450-v3.png
Community Contributor
2014-03-11 15:03:19
2019-12-08 10:11:21
St Patrick's Day 2014 in Cary