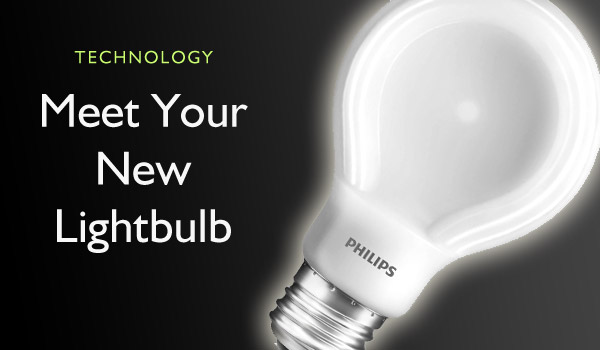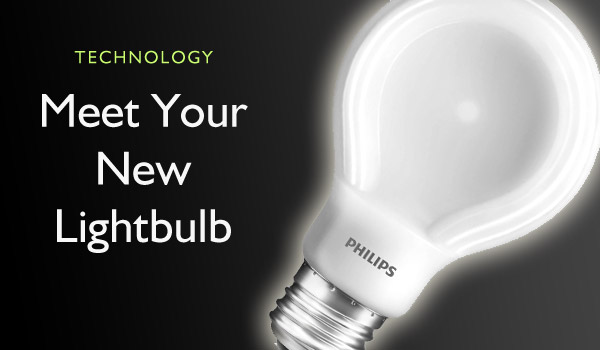 Cary, NC — Say goodbye to those 40 and 60 watt incandescent bulbs. As of January 1 of this year, they can no longer be manufactured or imported into the U.S. Say hello to the SlimStyle LED bulb. It might be the future of how you light your home.
A Brief History of the Lightbulb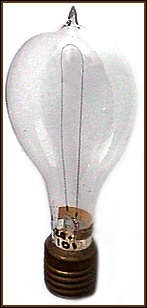 We all know how a lightbulb works – an electrical current is applied to a thin wire, or filament, causing it to heat up and glow (incandescence). The hot filament is enclosed in a bulb of glass filled with inert gases to keep the wire from burning up.
The first demonstration of the principle of incandescence was in 1802 by Humphrey Davy at the Royal Institution in Great Britain. Thomas Edison filed his first patent for "Improvement in Electrical Lights" in 1878.
The lightbulb has seen incremental improvements since 1878, but the principle is still the same – a burning wire in a bulb of glass.
Say Goodbye to the Old Lightbulb
The problem with incandescent lighting is that it is terribly inefficient. Up to 95% of the energy is wasted in the generation of heat (source: Wikipedia).
Lots of alternatives exist, but old habits die hard. To encourage the retirement of Edison's lightbulb, the government phased out the manufacture or import of 40 and 60 watt incandescent bulbs, effective January 1, 2014. You may still find them on store shelves for a while, but it's time to say goodbye.
Say Hello to the New Lightbulb
Does this mean you'll be forced to switch to those twisty new CFLs? Maybe not.
Just in time, Philips has released a new flat lightbulb called the SlimStyle. It's powered by a tiny horseshoe of LEDs.
Here's a comparison of costs, energy usage and other specs between two 60 watt bulbs from Philips – one a standard incandescent, the other a new SlimStyle LED.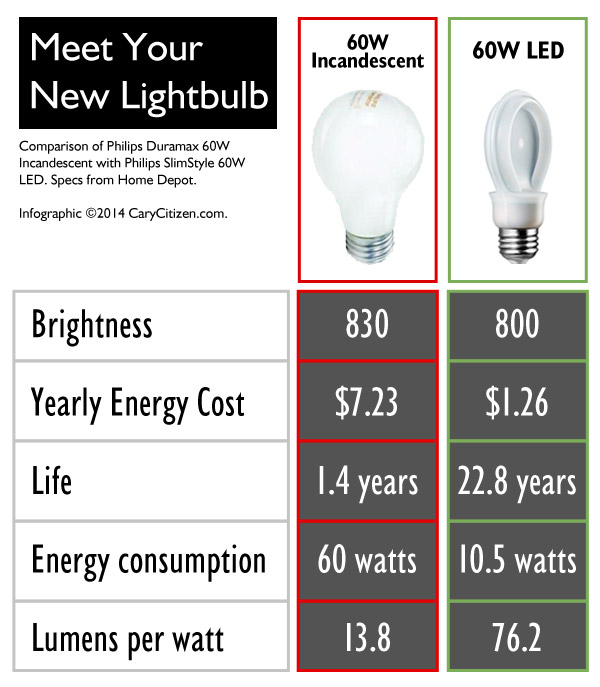 The new SlimStyles have been introduced at a price of about $10 a bulb. A four-pack of SlimStyle LEDs at Home Depot is $37.88.  A four-pack of 60W incandescents is $1.97.
On initial purchase price, SlimStyle LEDs are about 14x more expensive than incandescents. But take a look at the price of ownership.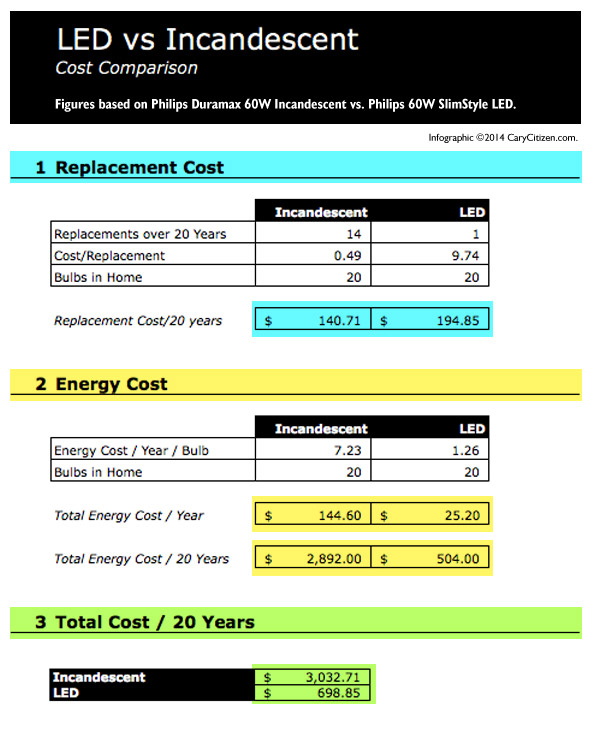 Creative Destruction and the Wheel of Capitalism
Here's a strange observation to ponder: the light bulb has become a consumer durable. A few boxes of CFLs or LEDs is enough to last a quarter century.
On the other hand, my appliances, TV and even automobiles seem to last a decade or less. Don't even get me started on phones.
I bought an eight-pack of CFLs about ten years ago and have only replaced one bulb in all that time.
What used to be an item on the grocery list has gone extinct. There's a technology story to brighten your day.
———————————————————————————————-
Edison lightbulb from The Franklin Institute.
https://carycitizenarchive.com/wp-content/uploads/2014/03/new-lightbulb.jpg
350
600
Hal Goodtree
https://carycitizenarchive.com/wp-content/uploads/2020/03/cc-archive-logo-450-v3.png
Hal Goodtree
2014-03-20 08:45:00
2016-01-01 19:09:26
Tech: Say Hello to Your New Lightbulb