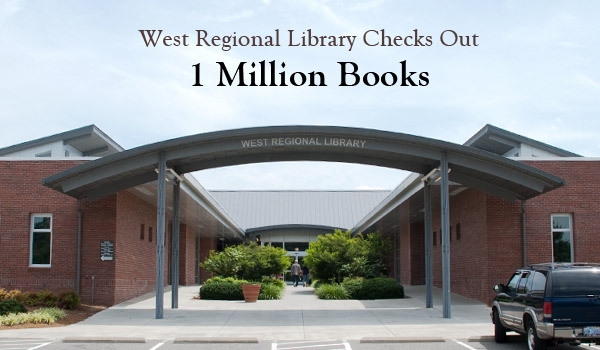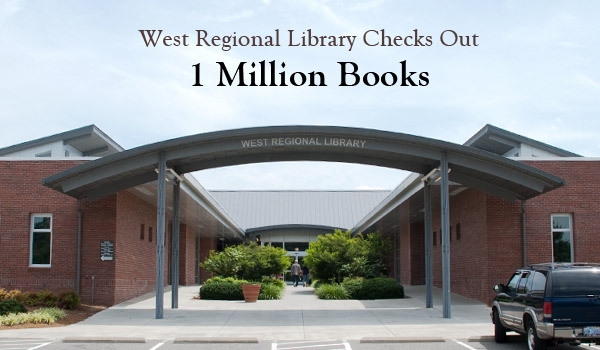 Cary, NC – Our Wake County libraries get plenty of use, but none so much as the 6 year old West Regional Library on Louis Stevens Road in western Cary. Last year more than 1 million books were checked out from this location and over 370,000 people visited the branch in 2013.
The Library was built before much of western Cary was fully developed and, as roads like Morrisville Parkway have been extended, the library has gotten busier. They serve the largest number of school-age and teens in the system and almost the highest number of young child programming according to Elena Owens, the Regional Library Manager for the branch.
West Regional Library: More Than Just Books
But West Regional Library serves more needs than just what's the next book on your list. They have programs ranging from Storytimes for toddlers to Teen Leadership and Job Seekers help.
The day CaryCitizen visited, a flowerpot decoupage class was just finishing and a large pre-school story time was letting out, and that was on a rainy Wednesday before lunch. Elena pointed out that the building has a lull after lunch, and then picks right back up after school lets out , and doesn't slow down until they close the doors every evening.
Story Time
Who doesn't love having a book read to them? This branch coordinates with the Wake County Public Library System to now offer standardized times for each of their children's story times with age appropriate activities and themed books. These are grouped by Baby-to Walkers ()-18 months) ; Toddlers (or 1-3 yrs) ; and Pre-school (3-5 yrs). There are several every day and a few that are scheduled in the evenings.
Elena added that the story times fall under their "Every Child Ready To Read" program of services where they help children prepare to be life-long readers. (hint: You can find all the storytimes listed on CaryCitizen's calendar)
Youth Services
For school- aged children in grades K-5, the West Regional Library concentrates on what they have dubbed "Every Reader Ready to Succeed". There are book clubs geared to kindergarten fifth grade, which meet two times during the week to offer additional enrichment outside of school and additional book related activities. This month they are voting on the top books of the year.
For teenagers in grades 6-10, the library offers their Teen Leadership Corp as an extension of the Ready to Read, transforming into Every Teen Ready to Lead. The group concentrates on leadership development and is even putting on a play where the group wrote the story, planned the scenery , rehearsed and will perform live for an audience.
Young adults in grades 11 and 12 are guided towards more reference materials and adult books. There are college prep services and seminars, and SAT and ACT practice tests offered through the library's partnership with Kaplan.
But What About the Adults?
Daniel Brooks, the library's Adult Services Manager spoke at length of the myriad offerings that grown-ups can find for themselves within the walls of West Regional.
Career and Education Help
Did you know the library can help you prepare for college or help you look for a job? In their  Career and Education programming you can do that and more. They help small businesses with advice through a partnership with SCORE. JobLink helps folks look for jobs with career counseling and seminars. Kaplan offers practice tests, and seminars on how to prepare for college.
Arts and Literature Enrichment and Personal Development
Programs like "Music in the Library" are free and open to all at the 6 regional libraries. Folks can meet artists who visit  and demonstrate their skills. Book discussions are drop in programs as well as scheduled book clubs led by one of four librarians.
Learn a craft as part of their personal development programming.  They offer financial education such as budget planning. Displays throughout the library encourage recreational reading, which is augmented with events such as "Meet the Author."
Book Clubs
The West Regional Library runs four separate book clubs with different focuses: non-fiction, mystery, contemporary fiction and classic literature. These aren't your "drink and whine" clubs, led by librarians with the book list published in advance, a member can expect to learn some insight into the book they read that month.  I may need to join!
What It Takes
At West Regional the 30,000 square feet take a lot of managing to make all of these programs function seamlessly. There's a veritable army that makes all this happen. In addition to Elena, who is the facility manager overseeing everything, there are two department heads (Daniel Brooks, and Bridget Daniel, the Youth Services Manager).
The library employs 8 full-time librarians, 2 full-time assistant librarians, and 4 part-time assistants and 20-25 pages  who are part-timers helping to shelve and check-in those million books.
There's another 45-50 adult volunteers who help with book requests and sorting books that come back to the library. These important volunteers allow staff to come up with all those wonderful programs.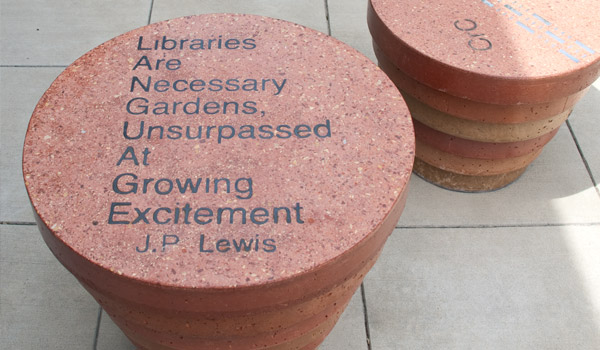 48 Computers Free To Use
Besides books, many people use computers and the free WiFi at West Regional. There are 26 desktop computers in the adult section and 22 in the youth and children's areas. All that's needed is a valid library card and a PIN to access them during library hours.
What's Coming Up
Recently the Wake County Library system was awarded a $125,000 grant from PNC. The library is working system-wide to bring financial literacy programs to pre-schoolers to teach them about saving, spending, value and making good choices. These programs are on-going check their website for details.
The annual poetry contest kicked off with fun activities in late March and will announce the winners at a special reception later this spring.
In April the library hosts a writing workshop to kick off their story writing contest.
On June 1st the summer reading program kicks off, and that's not just geared for kids, but readers 0-100 years old.
If you haven't checked out your local Wake County Library, you should. You'll be amazed at all the activity and range of services available with your library card!
West Regional Library
4000 Louis Stevens Drive, Cary
919-463-8500
Monday–Thursday: 9 a.m.–9 p.m.
Friday: 10 a.m.–6 p.m.
Saturday: 10 a.m.–6 p.m.
Sunday: 1 p.m.–5 p.m.
https://carycitizenarchive.com/wp-content/uploads/2014/03/west-regional-library.jpg
350
600
Lindsey Chester
https://carycitizenarchive.com/wp-content/uploads/2020/03/cc-archive-logo-450-v3.png
Lindsey Chester
2014-03-26 14:13:01
2018-11-25 11:17:28
West Regional Library Checks Out 1 Million Books