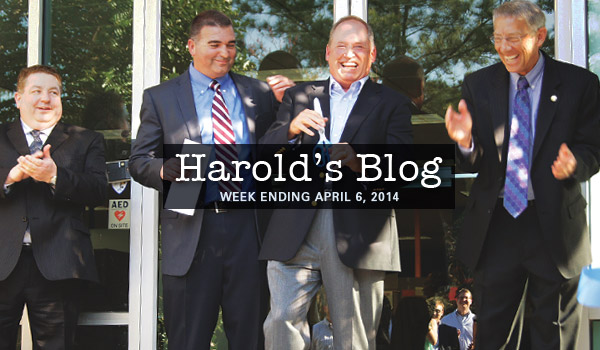 Cary, NC — This week kept me busy once again with meetings and events almost every day.
Monday – Town Manager
Monday I talked with the town manager about a few issues at our regularly scheduled time. These issues included a potential tenant at the Cary Theater Annex, concerns about a future fire station location, and good news about a development deal in downtown Cary that could bring residential, business, and structured parking.
Tuesday – TrialCard
Tuesday I had the pleasure of attending the ribbon cutting for TrialCard's call center which is offering launching new services and expanding. TrialCard provides a portfolio of solutions at Point of Care, Patient Access Management, and Point of Sale for the life-cycle of pharmaceutical brands.
Since opening their doors in 2001, TrialCard has been processing over $1 billion in patient benefits per year to help brand manufactures achieve their goals with prescribers, patients, and pharmacists.
Before we cut the ribbon I gave a few remarks about how TrialCard's mission of excellence in customer care is very similar to the town's mission.
Wednesday
Cary EMS
Wednesday I joined council members Bush and Yerha in a meeting with several Cary EMS representatives. They explained their roles in the organization and some of the issues they face. We talked about the cooperation between the town and the Cary EMS especially in collocating EMS units in fire stations. We also talked about the $60 Cary EMS membership fee to offset expensive ambulance rides. This is a service that many people should consider.
Ukraine
Later in the day I met with a young man from the Peace Corp who was evacuated from Ukraine. His mission in Ukraine was to help stop bullying, create confidence in kids, and get instructors involved with those kids needing help. We talked about several public and private opportunities for him to continue his mission locally. I committed to providing contact information.
Thursday – Quasi Judicial Hearings
Thursday the council met to hear three quasi-judicial matters. Quasi-judicial decisions arise in a variety of local government settings.  In Cary, the Town Council holds quasi-judicial hearings for special use permits, certain subdivision and site plan applications and for certain other applications. During a quasi-judicial hearing, the council must hold an evidentiary hearing and make its decision based on the written and oral evidence presented.
Unlike legislative decisions (like rezonings), a quasi-judicial decision must be based solely on the evidence presented and cannot be based on opinions of members of the council.  Put differently, a quasi-judicial decision is one that requires the council to find facts and exercise discretion when applying the standards of an ordinance to a specific situation. Personally I believe quasi-judicial are very difficult meetings and are very confusing to the general public.
Day Care Expansion
Our first hearing lasted almost two hours and was a request by property owner for special use permit to expand an existing small day care home to allow 7 to 12 children at any given time. This hearing pitted neighbor against neighbor and was a very difficult decision. The applicant offered to make a condition to only allow 10 children at a time. However this was not included in the motion and so I voted against it. The motion passed 4 to 3 to allow the expansion to 12.
165,000 SF Office
Our second hearing was much easier and much shorter. It was a request by the property owner for site plan approval to develop a 165,000-square-foot office building in Centregreen Park at Weston. We discussed several potential traffic improvements and the applicant agreed to put up money for a traffic signal at one of the intersections if criteria warrant the signal.
152 Town Homes
Our last hearing was a request by the property owner for site plan approval to develop 152 townhouses and revisions to the Evans Farm recreational space. This hearing was continued until May 1st so I am not allowed to talk about it.
Friday
Friday I had the pleasure of hosting and talking with several students, staff, and the principal of Triangle Math and Science Academy.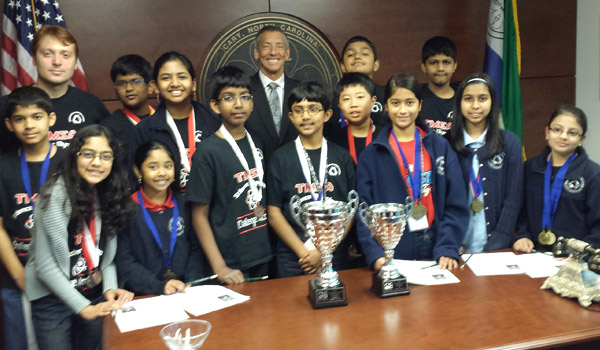 Triangle Math and Science Academy charter school is in their first year in Cary. I talked about my duties as mayor and as a council member and then answered questions, signed autographs, and took pictures. Their questions covered a wide variety of topics include signalization of intersections and what we are doing to protect the environment.
I had a great time and hope they invite me to visit their school.
Saturday
Saturday I had the joy of proclaiming the opening of the downtown farmers market for the season.
During my time there, I visited some of the vendors and even visited Lucky Pie Gallery. It is filled with fascinating art from local artists. If you haven't been there it is worth the visit. The farmers market was wonderful as always but it was a bit early for some of the vendors (like those that sell strawberries). So I will have to be sure to check them out again.
Emails from Staff
In emails this week staff sent an update regarding the HUD Loan Application. Here are excerpts from the email:
1. As a necessary requirement of HUD, a public notice was posted March 20 on the Town Hall bulletin board.  Additionally, the notice will be posted on the Town's website indicating an environmental review has been completed and it is available for review by the public.  Included in this notice will be a request for HUD to release the funds.  All of these are normal protocol from HUD…
2. Additionally, associated with the notice for the environmental review, there is a required 30 day comment period at the Town level, followed by a 15 day comment period by HUD for anyone who may object to the environmental review or the release of funds.   During these two comment periods no construction activity using HUD, Town or developer funds may occur.   While we can move forward with taking final documents to council (at a yet to be determined council meeting), prepare closing documents and selecting contractors, we may not use funds for any of the pre-development construction elements (demolition, etc).
This loan will be used for the Mayton Inn.
Emails from Citizens
Emails from citizens this week included a complaint about a sink hole, a concern about greenway safety, a concern about connectivity requirements, a complaint about density and the Bradford development at Davis Drive and High House (approved before my time), a concern about our leash law, and a thank you from a customer who was helped when Aquastar found a leak.
Get in Touch
This week will be a short week for me since I will be heading down to Augusta for my 36th year to work on Hole 17 as a scorer. Our council meeting next week will be run by Mayor Pro-Tem Adcock.
Well that is all for this week. My next post will be on Sunday, April 13th. Although I have Facebook and Twitter accounts those are not the best means of communications with me. Please send all Town of Cary questions or comments to Harold.Weinbrecht@townofcary.org and email personal comments to augustanat@mindspring.com.
———————————————————————————————–
From the blog of Cary Mayor Harold Weinbrecht. 
https://carycitizenarchive.com/wp-content/uploads/2014/04/harolds-blog-0406.jpg
350
600
Harold Weinbrecht
https://carycitizenarchive.com/wp-content/uploads/2020/03/cc-archive-logo-450-v3.png
Harold Weinbrecht
2014-04-07 17:19:44
2016-01-12 17:33:03
Harold's Blog: April 7, 2014