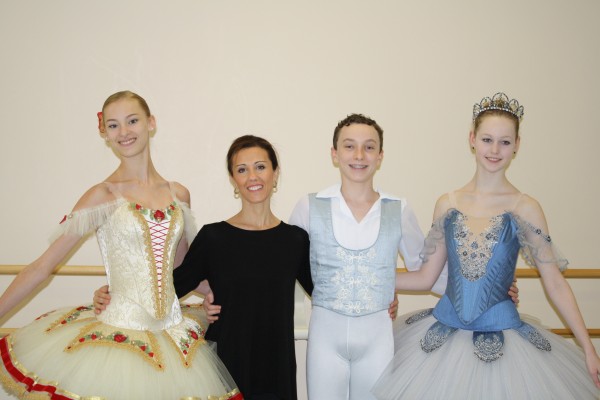 Cary, NC — Cary's International Ballet Academy has once again sent several of their dancers to the prestigious Youth America Grand Prix (YAGP) dance competition this week in New York City.
Although the studio is not quite four years old, every year they have sent 3-4 dancers to this international competition. This year, dancers Nikki Fanney, Samantha Schaubach and Cy Doherty competed in January in Tampa to qualify, receiving scores of 95 or above to make the cut. Dancers compete with the hopes of securing scholarships at prestigious national and international schools and companies. Of the 5,000 who participated in world- wide regional competitions,  there are only 96 competitors in Junior Girls, only 37 Junior males, and 119 Senior girls.
International Stage
There are two individual categories: classical ballet and contemporary dance. Although the competition is dubbed "American", dancers travel from around the world to be seen. Christina Fanney, owner of International Ballet Academy (IBA), was surprised at the list of competitors and said, "The Americans are really in the minority" with competitors coming from as far as China, Japan, France, and Brazil.
The competition lasts a week starting on April 3, running through a finale and gala at Lincoln Center on April 10. In addition to the actual competition, there are Scholarship Classes where dancers are also competing to win scholarships in a non-formal studio environment.
Scholarship Awards
As part of the process each dancer fills out "scholarship forms" to highlight which schools and studios they would like to have look at them for scholarship considerations. During the week-long competition, dancers attend 2-3 Scholarship Classes, where the judges sit and observe. The judges look for overall performance, how well a dancer makes corrections, how they jump and turn  and react to new directions. All in order to see if that dancer might be a good fit for their company or school.  Dancers can receive scholarships for a summer, a year or even get a placed in a company. Sometimes the exposure a dancer receives in the classes is better than the actual competition. Christina mentioned a past IBA dancer, Chandler Proctor, who didn't place in the competition at all his first year, yet was offered eight scholarships. One offer was for Houston Ballet, where he is currently dancing in their 2nd company.
Grand Prix Isn't For Everyone
Christina added, "These competitions aren't for everyone." Some dancers simply don't like the pressure of competing solo on a stage in front of judges and being scored. For example, Anisa Bayliss who dances at IBA, has  plans to spend her summer at American Ballet School and was awarded a full scholarship to attend, based on auditions earlier this year. She has also attended Pacific Ballet in the past. Christina says, "there are many paths to success and competition is only one of them."
The three IBA competitors already have their plans set for this coming summer. Nikki has a full scholarship for the summer with Houston Ballet, which she received through auditions this winter. Cy will attend Boston Ballet on a full scholarship. Samantha will be spending six weeks at School of American Ballet (SAB) after having auditioned with them.
Good For Dancers, Great For Schools
The competition is the first chance many of these dancers will get to be seen on a truly international stage. But as good as it is for the students, it also helps to build the reputation of schools that attend. International Ballet Academy is a relative newcomer in the dance world. This year will be the third year they send dancers to YAGP. It is helping them to make a name for themselves.
Six IBA alums that went to YAGP in the past,  have graduated from high school and are now successfully dancing around the country. They include: Preston Chamblee at the School of American Ballet, Chandler Proctor with Houston Ballet's 2nd Company, Regan Kucera in the Colorado Ballet's Studio Company, Alexa Blazevich training with the Orlando Ballet, Xavier Nunez with the Tulsa Ballet and Paul Branco, one of the first to graduate from the school, who is a full member of the Sarasota Ballet.
https://carycitizenarchive.com/wp-content/uploads/2014/03/IBA-photo2014-e1396275925212.jpg
400
600
Lindsey Chester
https://carycitizenarchive.com/wp-content/uploads/2020/03/cc-archive-logo-450-v3.png
Lindsey Chester
2014-04-08 10:51:40
2014-04-08 10:51:40
IBA Sends 3 to New York's YAGP Ballet Competition