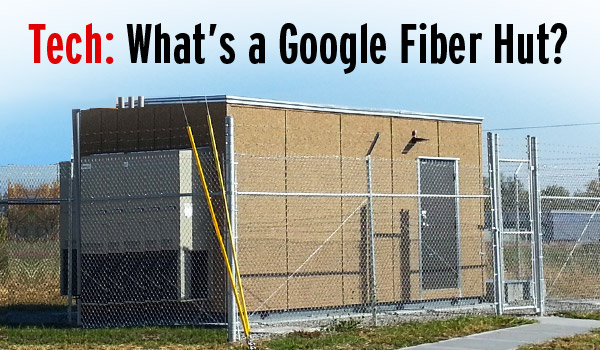 Cary, NC – As the Fiber Wars heat up in the Triangle, a new term has entered the lexicon – Google Fiber Hut. Last week, Cary Town Council agreed to allow about half a dozen Google Fiber Huts to be deployed across the community. 
Fiber Wars Heat Up in Triangle
NCNGN
Cary is a part of the North Carolina Next Generation Network (NCNGN), an initiative coordinated by six communities and four research universities to bring the next generation of broadband networks to the state.
NCNGN (pronounced "NC Engine") is working with private sector providers to offer ultra-fast internet at competitive prices.
Among the contenders to provide high-speed internet in Cary are AT&T and Google.
AT&T – GigaPower
Cary approved AT&T's plan to bring its GigaPower service to the area in April. AT&T already services Cary with its fiber-optic U-verse internet, but its GigaPower service will provide speeds of up to 1 GPS (gigabits per second).
According to AT&T, this will allow users to download an online HD movie in less than 36 seconds.The company also hopes to offer public Wi-Fi hotspots and free access to its network at as many as 100 public spots.
Google Fiber
Google selected Cary along with Carrboro, Chapel Hill, Durham, Garner, Morrisville and Raleigh as possible cities for its ultra-fast fiber internet, which promises speeds up to 100 times faster than today's average broadband connection. The town was given a checklist of items necessary to prepare for Google Fiber. Items on the checklist include providing information about existing infrastructure, ensuring access to existing infrastructure, and allowing for the construction of Google Fiber Huts.
According to the Google Fiber Blog, Google would build a fiber ring around the city that connect to a series of fiber huts. Telecom cabinets located outside of neighborhoods would split the fiber toward groups of homes. Each home would get its own fiber strand to receive Gigabit Internet and TV service.
What is a Google Fiber Hut?
Google Fiber Hut are 10×30 foot structures (see photo above) that house the telecommunications and fiber interface equipment necessary for Google to provide high-speed internet. Each hut supports about 20,000 homes.
According to the Network Hut License Agreement drafted by the Town on May 8, 2014, Google will lease land from the town at an annual cost of $2 per square foot. It is anticipated that Google will pay $4,200 to $7,000 annually to lease the space for 3 to 5 network huts.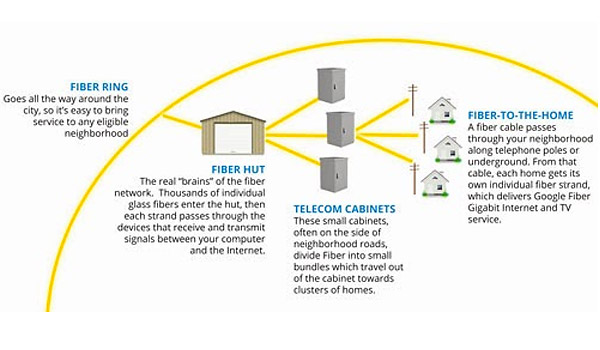 ---
Story by Kristen Chung, a sophomore at UNC Chapel Hill and summer journalism intern at CaryCitizen. Photo by CompTechRT on Blogspot. Illustration from GoogleFiberBlog.
https://carycitizenarchive.com/wp-content/uploads/2014/05/google-fiber-hut.jpg
350
600
Community Contributor
https://carycitizenarchive.com/wp-content/uploads/2020/03/cc-archive-logo-450-v3.png
Community Contributor
2014-05-13 14:55:38
2016-06-10 18:16:46
Tech: What's a Google Fiber Hut?