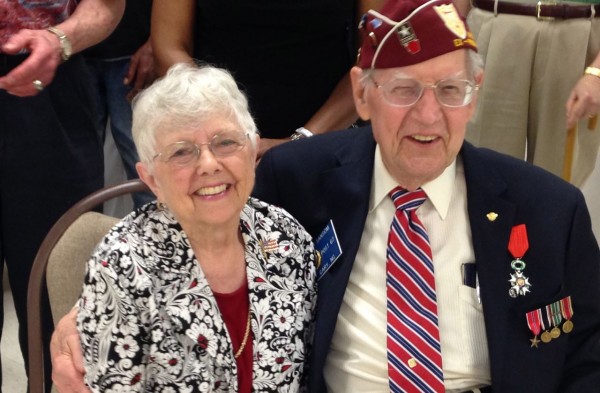 Cary, NC- James Sansome was awarded the French Legion Medal of Honor in February 2014 with 14 other area veterans in a ceremony attended by Governor McCrory in Raleigh. On Tuesday May 13, Cary's American Legion Post 67 (of which he is a member) celebrated with a  meeting in his honor.
Cary Veteran Receives French Legion of Honor
To earn the French Legion of Honor award a World War II veteran must have fought in France, have paperwork to prove it and show their honorable discharge papers. As the years wear on there are less of these esteemed veterans around. Marie Claire, who serves as the liason to the French Consul here in Raleigh, wants to be sure all who deserve it are honored by France for giving their youth to the cause of French liberation.
Cary WWII Vet War Story
James, or Jim, as he is known, was born in 1921 in Indiana, and after Pearl Harbor he signed up with the draft board. He was "called up" in October of 1942 and received 14 months of training to become a medic with the 60th Medical Battalion here in North Carolina's Camp Butner.
In January 1944, he sailed off to Britain where he drove an ambulance at D  Day+ 5, after the initial assault on Omaha Beach.
Sansome was part of four major offenses in Europe, including the Invasion at Normandy and the Battle of the Bulge.
Prisoner of War
In 1944 Jim was transferred to the Army's 28th Infantry Division which was trying to hold a 25-mile sector in Luxembourg. While working in a field hospital there, he and 24 others were taken prisoner by the Germans.
Camp Bad Orb
He was forced to work in German field hospitals because of his training, until he was transferred to Stalag IXB, aka Bad Orb, in late January 1945. where conditions were grim. Bunks were 3 high, 2 men to a bunk, one blanket and no heat. Prisoners were fed once a day with a serving of black bread and some "soup" which he called hot water. Sansome described grim funerals every day at 11:00, and added that during his short stay 65 men died.
Liberation
In late January, the allies had regrouped, and were headed towards where he was in Germany. The Germans knew they had to do something with the prisoners, so the group was moved to Limburg Prison.  It was around the end of March when the prisoners began to hear small arms headed in their direction and it wasn't long before they were liberated. Jim was airlifted to the coast of France and then to Fort Bragg, where no one was expecting him. As fast as he could, he got to Raleigh and married his sweetheart.
After the requisite amount of time, the army honorably discharged him and he decided to settle here in the Raleigh area for good. He later apprenticed in a print shop at NC State, and later worked til his retirement setting up pages for the News & Observer.
After the War
He got invloved in his church and wanted to give back to the community. He began volunteering at the prison, feeling he had something to contribute with his own prison experiences of incarceration and isolation. In 1961, he and six others opened a rooming house, to house about 20 men. This later became the Raleigh Rescue Mission on Hargett Street which now seres over 125. Their mission was to provide food, clothing and housing for the homeless.
Jim has won numerous awards including the Bronze Star for his service and he continues to serve now. Marie Claire, who interviewed him for the award, and helped push his paperwork through so that he would receive it, "If the Americans would not be there, France would not exist. The friendship between our two countries is so important. And Jim your story was very inspiring. Thank you America in the name of France"
As we approach this Memorial Day Weekend, think of the men and women like Jim who have served our country proudly, and say a prayer of thanks. Many of them are members of American Legion Post 67 right here in Downtown Cary.
https://carycitizenarchive.com/wp-content/uploads/2014/05/Jim-and-wife-e1400093349806.jpg
393
600
Lindsey Chester
https://carycitizenarchive.com/wp-content/uploads/2020/03/cc-archive-logo-450-v3.png
Lindsey Chester
2014-05-20 13:46:30
2015-12-28 14:26:19
Cary WWII Vet Receives French Legion of Honor