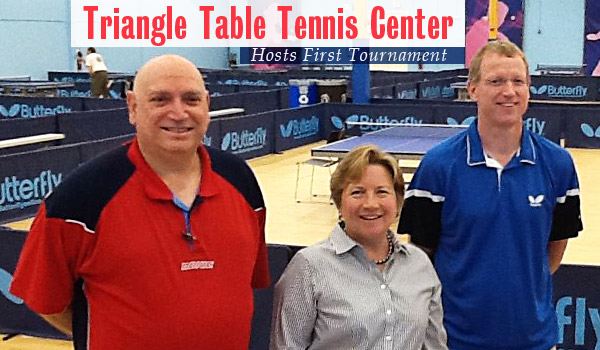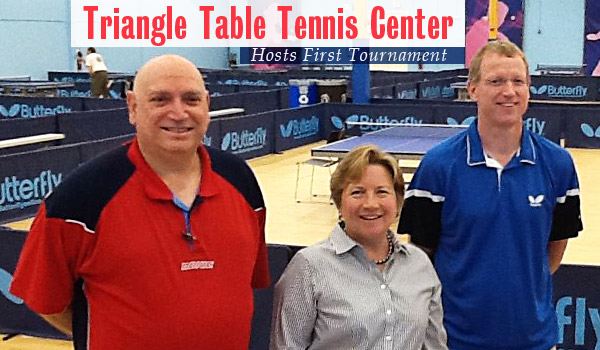 Morrisville, NC — Ann Campbell first met Mike Babuin because her son had taken up the sport of table tennis and they were at many of the same tournaments. Now they are partners in what they hope will become a premier table tennis center for the nation here in Morrisville.
First Tournament After Only A Month
Triangle Table Tennis opened this past May in Morrisville's Perimeter Park. The facility is already gearing up to hold their first competition: the Triangle June 2014 Open this weekend (June 21-22), a USATT sanctioned competition open to all levels of play. Winners can take home cash prizes in the higher level divisions.
The center has plans for a tournament every month leading up to their biggest, planned for October called the NC Open, a 4-star rated competition that should draw international players to the Triangle.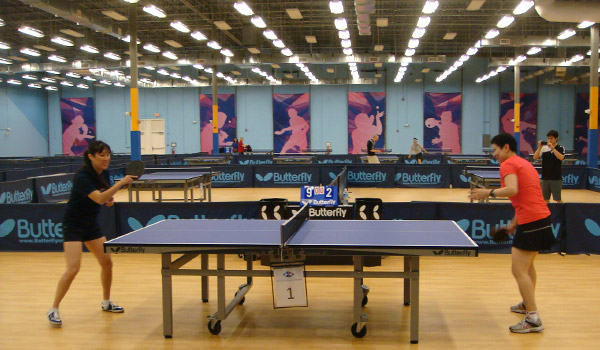 Strong Background in the Sport
Mike Babuin, program director for Triangle Table Tennis, has a long history in the table tennis world, including  the push for Cary to host the table tennis Olympic trials here in 2012. He founded the Cary Table Tennis Association and was the main organizer for years of the Cary Cup, a competition that brings international players to Cary seeking big prize money and great competition.
Table tennis is in his blood, as he also serves on the board of directors of the International Table Tennis Federation (ITTF) and is the chairman of USA Table Tennis (USATT) which is the Olympic governing body for the sport. His list of credentials goes on and on, and is the main reason that Ann Campbell relied on him as she partnered to create the center.
Ann Campbell quickly admits she is no table tennis player. Her background includes the Campbell Alliance Group as well as management consulting for the pharmaceuticals industry, which she is still involved in. She came to the sport because her son is talented in the sport, and was at many competitions around the country where they kept running into Mike.
They also partnered up with Jim Mc Queen and Thomas Gabriel. Jim was the co-founder of Raleigh's first table tennis club and is a current board member on the USATT board of directors and the USATT advisory committee. Thomas founded the Durham Table Tennis Club and has experience as the manager of the NC Museum of Life and Science Summer camp programs.
All these experienced table tennis people right here int he Triangle helped make Triangle Table Tennis a reality.
Finding a Location
They knew there is a lot of table tennis interest in the Triangle and wished to find a location that would be central to Durham, Raleigh and Cary as well as easily accessible to the main arteries of transportation. Being near the airport was a plus for national and international players.
About a year ago, Ann began the search for a suitable location, and found the current site late last year and signed the lease during the first quarter of 2014. Renovation of the former pharmaceutical warehouse took several months, but they moved quickly through planning and zoning and opened in late may.
Triangle Table Tennis Center Upgrades
The Triangle Table Tennis Center features high intensity lighting, needed to be able to accurately see a small, fast moving ball. The lighting and ductwork are elevated to a 17 foot clearance which allows players to lob the ball unobstructed. Special padded flooring, called taraflex, was installed.
All of these upgrades meet Olympic standards, and their goal is to qualify as an Olympic training center, or to host Olympic trials.
After hearing all that was done for this center, it was hard to imagine how the Town of Cary was able to host trials at Bond Park in 2012, but Mike said equipment was rented to meet the standards.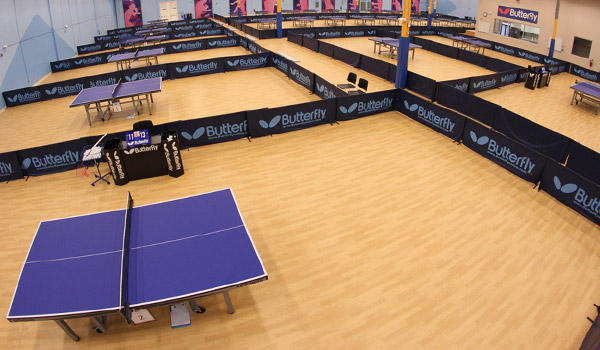 40 Tables and 2 Robots
The court set-up at Triangle Table Tennis is very flexible with movable half walls between playing areas. The center owns 40 Butterfly centerfold tables, of which 32 are usually set up with 2 being Olympic style courts, 8 are to ITTF standards and the remaining 22 are USA Table Tennis sized courts.
The center hosts group lessons, leagues, and private lessons and camps for beginner to advanced players.
Athletes can come in and use one of two robots that "pitch" the ball repeatedly to the player so they can practice their returns.
There is also a fitness center area with state-of-the-art fitness equipment that can be hooked up to a computer to maintain your fitness records. The cardio equipment is also good for warming up players, or keeping them warm between games at a tournament.
Olympic Level Coaching
The center has a strong coaching staff, including Diana Gee who represented the US in the 1988 and 1992 Olympic Games and Fei-Ming Tong , a Chinese national champion, and Olympic competitor in 2000. Ann, Mike, Jim and Thomas's strong connections in the sport enabled them to attract top talent.
Their goal is to have the center become a national training center for the East Coast. Mike mentioned one other center of this caliber that exists in California. They hope to grow to rival that center in the near future.
More Info
Triangle Table Tennis
2900 Perimeter Park Dr., Suite 200
Morrisville, NC 27560
http://triangletabletennis.com/
—————————————————————————————————————–
Story and lead photo by Lindsey Chester. Additional photos from TriangleTableTennis.com.
—————————————————————————————————————–
CaryCitizen is sponsored in part by Thai Spices & Sushi, located in Preston Corners.
https://carycitizenarchive.com/wp-content/uploads/2014/06/triangle-table-tennis-3.jpg
350
600
Lindsey Chester
https://carycitizenarchive.com/wp-content/uploads/2020/03/cc-archive-logo-450-v3.png
Lindsey Chester
2014-06-19 16:41:21
2019-12-08 10:13:22
Triangle Table Tennis Hosts First Tournament