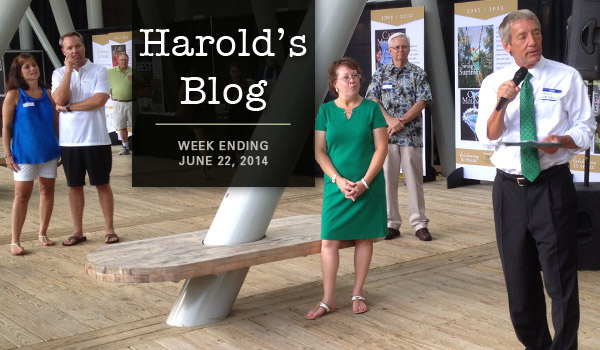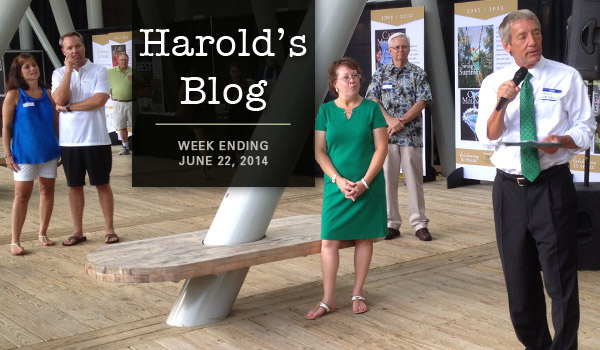 Cary, NC — This week's activities consisted mostly of meetings and events.
Monday
Monday I met with the town manager for our weekly one-on-one meeting. We discussed an ongoing development issue downtown and an annexation issue.
1/4¢ Sales Tax for Teachers
Monday night I attended the monthly meeting of the Wake County Mayors Association. The mayors unanimously approved a resolution calling for the Wake County Commissioners to add a referendum on the fall ballot that would put a ¼ cent sales tax for teacher salary increases.
2015 Budgets in Wake County
The mayors also discussed their fiscal year 2015 budgets which go into effect on July 1st. A few mayors stated that their budgets would include a tax increase for this coming fiscal year and some reported plans to increase taxes next year. Based on this information it appears that Cary will remain with the lowest tax rate in Wake County this year and next year even after next year's increase to cover the 2012 bonds.
NCGA Nixes Privilege License
The General Assembly's removal of the Privilege License was also discussed at length. Municipalities significantly impacted by this action of the General Assembly include Raleigh, Cary, Morrisville, and Knightdale. Most of the other municipalities reported impacts but it was not significant. Our meeting concluded after about an hour and a half.
Tuesday
Tuesday I presented a mid-year State of the Town address at Searstone to about 100 people in attendance. My address was based on the initial one at the beginning of the year with several updates. Some of the updated information included:
The legislative removal of our privilege license will cost the town of Cary and its citizens $1.7 million dollars next year (about 1 ½ cents on the tax rate).
The legislature has introduced a bill that would prevent Cary from protecting trees with a tree ordinance.
The legislature has introduced a bill that would prevent Cary from aesthetic controls (someone could build a shack with an orange tin roof and paint it with pink and purple polka-dots with one window… just sayin).
While our population has increased by 20,000 the last five years our operating budget as not kept up to keep taxes low.
Fiscal year 2015 budget has no tax increase with a 3.7% increase in utility bills (to pay for wastewater plant expansion and water plant expansion).
Cary's unemployment rate is at 3.6%
The Cary Arts Center has more than 450,000 visitors since it opened and has generated close to $2 million dollars in revenue.
Cary's downtown theater, The Cary, has already had about 6500 visitors and has generated about $60,000 in revenue.
My presentation along with questions and answers lasted about an hour. I look forward to visiting Searstone again someone in the near future.
Wednesday
Wednesday afternoon I attended a meeting of the Capital Area Metropolitan Planning Organization (CAMPO). There were only a couple items of significance to Cary.
Transportation
CAMPO approved an amendment to the Transportation Improvement Program (TIP) which will allow the Town's Green Level West Road widening bond project to proceed without delay.
A large part of the CAMPO meeting was focused on looking at the Strategic Prioritization Process (SPOT) scores for future NCDOT projects in the Triangle region.  Last year's new transportation funding law and an updated scoring process will likely mean that Cary and the Triangle region will see a lot more NCDOT projects to improve interstate, US and NC routes but fewer projects for state and local roads.
Based the preliminary scores, Cary could benefit from regional and local projects in 2015-2025 like new interchanges for US 64 at Laura Duncan Road and Lake Pine Drive, downtown railroad separations at Walker Street and Harrison Avenue, and road widenings along segments of Aviation Parkway, Ten Ten Road, and Jones Franklin Road. The final scores for these projects will be submitted in August.  Any projects that are successful will likely be scheduled after 2020. The meeting concluded in about an hour.
Economic Development Quarterly Meeting
Later Wednesday I attended the Economic Development Committee quarterly meeting. Some of the highlights from this meeting include:
The Cary Town Center is working on plans to update and change their facility.
There is a potential for expansion of a company in the area that would move their regional headquarters to Cary along with 1237 additional jobs.
Cary is under consideration for a major retailer that would bring a $30 million investment and 300 jobs.
The Mayton Inn's HUD loan is approved. Once the release of funds notification is made the construction process will start. This is anticipated to take place by the end of June.
A local restaurant and bar is looking to locate in downtown Cary.
There are several residential and retail projects that are close to deals in downtown.
The town's class A office space vacancy rate remains about 8%.
Cary's unemployment rate is 3.6% as of the end of April. The County is a 4.7%, the state 6.0%, and the country 5.9%.
The Chamber has updated its economic development website at http://www.CaryED.com.
There is an application that will allow you to see all development around any part of Cary at http://www.codeforcary.org/dev.html.
Our meeting concluded after about half an hour.
Thursday
Thursday I had the privilege of reading a proclamation recognizing June 20th as Cary Magazine Day honoring their 10th anniversary.
Unlike some of the other printed media, Cary Magazine focuses on capturing the Cary lifestyle and our quality of life. In addition, they do a fantastic job covering our small businesses which they will tell you is the backbone of our town. The event was well attended and a lot of fun.
Friday
Friday I participated in a meeting of NC Metropolitan of Mayors. It was reported that the budget differences between the NC Senate and House seem to be getting bigger. Rumors have an adjournment date of July 3rd but others believe that is unlikely. Teacher raises are a big issue and difference between bodies. Most of our meeting was spent discussing regulatory reform bills. Our meeting lasted about half an hour.
Cary received another accolade this week. The Raleigh-Cary metro is No. 7 on list of 'American Dream' cities according to information provided by the Cary Chamber.
AT&T Gigabit
This week the Town and AT&T announced an agreement that will provide ultra-fast internet to Cary. AT&T will provide their U-verse product over a fiber network to various parts of Cary. This will give speeds of up to 1 gigabit per second. With that kind of speed Cary residents will be able to download 25 songs in one second, or a TV show in three seconds, or a movie in about 36 seconds. Our community is hungry for ultra-high speed internet, and signing the agreement moves us one step closer to ensuring we continue to keep Cary one of the best places in the country to live, work and raise our families.
We are still working with Google about their fiber network. Google will make their announcement at the end of the year.
Emails
Emails from citizens this week included a complaint about the town's first food truck event, a complaint about a future closing on Cary Parkway at the railroad tracks at Old Apex Road, opposition against several rezonings, a request for a traffic signal, a complaint that sound at Booth Amphitheater was too low, a concern about fracking, a complaint about an apartment owner, a complaint about a proposed multi-use trail on Chapel Hill Road, and a request to have American Flags on Academy Street.
Get in Touch
This week's activities include a work session on staff evaluations (town manager, town attorney, and town clerk), a council meeting, a taping of Cary Matters, a tour of the Western Wake Regional Wastewater Facility, and dinner with a Wake County Mayor and his wife.
My next post will be on Sunday, June 29th. Although I have Facebook and Twitter accounts those are not the best means of communications with me. Please send all Town of Cary questions or comments to Harold.Weinbrecht@townofcary.org and email personal comments toaugustanat@mindspring.com.
———————————————————————————————————————
From the blog of Cary Mayor Harold Weinbrecht. Photo by Hal Goodtree.
———————————————————————————————————————
Community coverage on CaryCitizen is sponsored in part by NC Quick Pass.
https://carycitizenarchive.com/wp-content/uploads/2014/06/harolds-blog-0622.jpg
350
600
Harold Weinbrecht
https://carycitizenarchive.com/wp-content/uploads/2020/03/cc-archive-logo-450-v3.png
Harold Weinbrecht
2014-06-23 16:59:08
2016-01-09 11:46:58
Harold's Blog: June 22, 2014