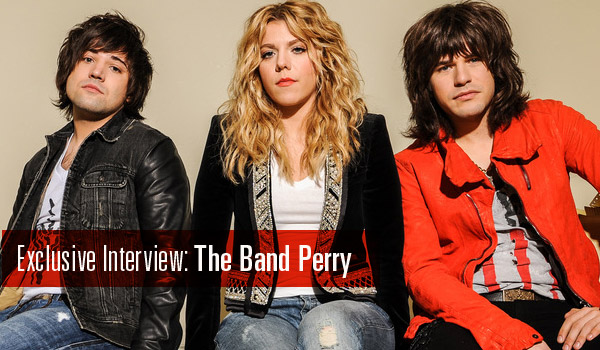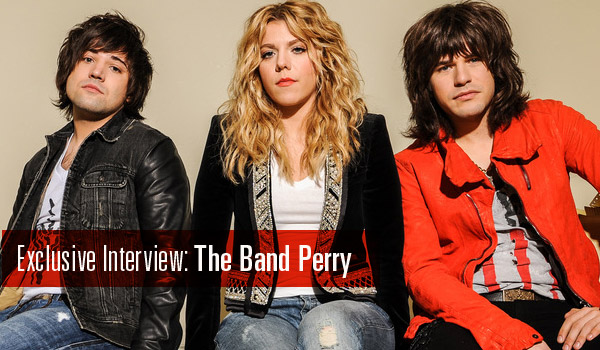 Cary, NC — The Band Perry will be coming to Cary's Koka Booth Amphitheatre on Sunday, July 13, 2014. Neil and Reid Perry from the band gave me a phone call on Friday to answer a few questions and promote their tour.
Aside from being super-nervous about talking to one of my favorite bands ever, I learned a lot about the inside scoop on what it's like to be The Band Perry.
The Band Perry: Exclusive Interview
Me: It's been a big year for The Band Perry. You penned your first #1 song, "Done," which just won a  2014 CMT Music Award for Group Video of the Year. Did you ever imagine that the band was going to be this wildly successful?
Neil: I think that the one thing that the 3 of us have… is our competitiveness. That pushes us. Getting an award for a music video is really special. We feel like the visual is the other half of what we do.
Reid: We do set bars and goals for ourselves…it's always wanting to reach that next certain goal…Awards are great perks along the way.
Me: The video for "Chainsaw" just came out in May. Can you tell me a little bit about how you made the video?
Reid: We actually did that out on a tree farm out in the Pacific Northwest. Our day started at about 4 AM and then it actually ended at 4 AM the next day. It was a really interesting shoot.
Most of the [videos] we've done have been in cities or in studios, but for that one, we in the middle of nowhere…it was really cool. It was a really fun shoot. Really different than what we've done before.
Me: In March, The Band Perry wrapped their first-ever headlining tour, the "We Are Pioneers World Tour" through Europe, Canada and the United States. The band played in 42 States, 15 Countries, and logged over 147,962 MILES. What was that like?
Neil: That was really exciting. I think our first headlining tour will always have a special place in our hearts. It was a lot of work, a lot of preparation. It was exciting coming up with our own stage production….We are extremely thankful that we had the opportunity to go over to Europe and so many other countries and play and then to Canada and the US. ..having giant sing-a-longs every night…Fans coming out and telling us how much the songs affect their lives…it was an amazing tour to be a part of.
Me: What do you guys like to do when you're not on tour?
Reid: Ha…For us, I feel like we're constantly on tour. We got home yesterday morning at about 2 AM and left at about 2 PM to head up to Canada where we have a show today.
Down time is few and far between. We normally do laundry whenever we have down time (hahah). But that's not our favorite thing to do.
We really do love playing live though; it actually is our favorite thing to do. It's what we did before we did interviews or wrote #1 songs.
Me: What's the weirdest, coolest, or most memorable thing that ever happened to you The Band Perry while on tour?
Reid: The first time that you have a song sung back to you, that's a really special moment. All the way from that to our bus breaking down in -40 degree weather in Canada where you have to defrost the windows with a hairdryer…eating black pudding in the UK…all of em are different and special moments.
Neil: We played a show last week and in the middle of our show, our sound went completely out! No one could hear anything and for about a minute we were just standing on stage waiting for our electronics to reboot. You just kinda have to adjust to whatever happens out there on the road and just remember it's music at the end of the day and when the sound comes back on just keep playing the show. You just kinda have to roll with the punches.
Me: What's it like to work with each other and (older sister) Kimberly? Do you guys like working together because you're all siblings?
Reid: We celebrate 16 years this October coming up of traveling and working as a family. For us, we really wouldn't have it any other way. They have your back no matter what. Yeah, there will be some fireworks along the way, but we always do walk out of a room on the same page.
The disagreements are usually over that last bowl of cereal or the TV controller.
Just because we've grown up together, we listen to the same music and believe the same things so as far as creative or business-wise, we normally have the same mindset.
Neil: We never argue about the serious stuff.
Me: Obviously you all have become extremely successful musicians fairly quickly. However, if you couldn't be successful musicians anymore, what would you be doing? What did you guys dream about doing when you all were kids?
Neil: For me, I've had two kind of other passions. I love photography. I would definitely say that among the three of us, I have a lot to say about our imaging. Another thing, I love acting. It's one of my favorite things to do. Kim and Reid say my whole like is an act….and I act up all the time hahah
Reid: I actually really love politics and I have this great power called "Working On The Weardown" which is when I repeat what I want until Kimberly or Neil go along with it, hahaha. I feel like I could have a great career in that or maybe like a lawyer.
Event Details
After talking to The Band Perry, I'll be reviewing the show in Cary on July 13 from a whole new perspective. Get tickets before they sell out.
The Band Perry
Sunday, July 13, 2014
Koka Booth Amphitheatre
Cary, NC
—————————————————————————————————–
Story by Jillian Goodtree, a junior at the University of South Carolina and summer journalism intern at CaryCitizen. Read more stories by CaryCitizen summer interns.
Photo from Republic Nashville.
https://carycitizenarchive.com/wp-content/uploads/2014/06/band-perry-interview.jpg
350
600
Community Contributor
https://carycitizenarchive.com/wp-content/uploads/2020/03/cc-archive-logo-450-v3.png
Community Contributor
2014-06-29 16:04:39
2016-01-01 19:09:30
The Band Perry: Exclusive Interview