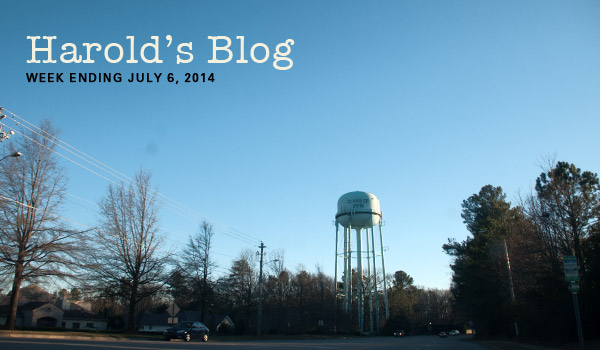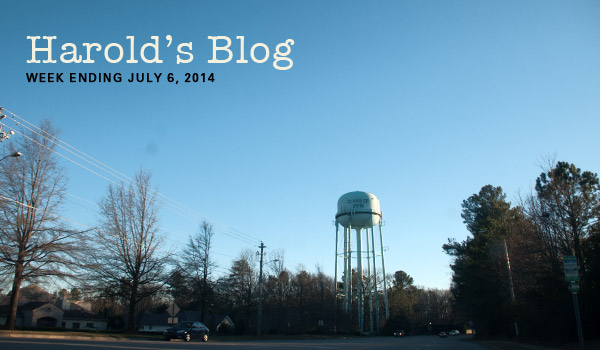 Cary, NC — This week was a holiday week and therefore was a much slower week. This is one of the few times during the year where council members get to take vacations or be with their families.
Town Clerk
Monday the council interviewed candidates for the town clerk position. The town clerk is one of three people that report directly to the town council. The others are the town manager and the town attorney. The Town Clerk is responsible for giving notice of Town Council meetings, preparing the council agenda, recording Council proceedings, serving as custodian of all permanent town records, keeping the Town Seal, attesting all Town documents, maintaining the Town Code, managing the various boards and commissions, the administration of Hillcrest Cemetery, and providing support services to the Town Council. The staff in the Clerk's office includes the town clerk, the deputy town clerk and two administrative assistants.
The interviews for the new town clerk went very well and council is hopeful that there will be a new town clerk named soon. Our outgoing town clerk is retiring as of August 1st. Without a doubt, she is the best town clerk in the state so it is a difficult task to replace her. Fortunately, she has trained a great staff and I am sure they will keep things running smoothly.
Tuesday I was scheduled to meet with both the town manager and the town attorney in separate meetings. Since council spent time with them giving annual reviews last week there wasn't much else to talk about. So my meetings with both of them were brief and via the phone.
Fourth of July
Friday night was perfect weather wise for the town's annual Fourth of July celebration with low humidity and mild temperatures. I, along with my entire family, attended the symphony and fireworks at the Booth Amphitheater. I gave a few welcoming remarks before the symphony's fantastic performance. The fireworks show was amazing as usual. In all, it was a great celebration.
Homebuilders
Emails this week included a report from the Homebuilders Association. In their report it showed that Cary had twice as many residential permits pulled than any other municipality including Raleigh for the month of June. We also had more remodeling permits pulled than any other municipality. We continue to show slow steady growth and our challenge of providing adequate infrastructure remains.
Maynard Water Tower
We also received notification and staff reports this week regarding the Maynard Road water tower. Initially council was told that saving the old tower would be cost prohibitive and could have other issues. This report, which is coming to council for a decision on July 17th, will have four options with two including refurbishing the Maynard water tower. The option recommended by staff will preserve the Maynard Road water tower across from Cary High School and add an additional water tower off Kildaire Farm Road. I suspect council will support this option.
State Budget
I also received several emails this week from the NC Metro Mayors Association staff about the state budget. They believe that compromises are being made. Here is how they described it:
"In a highly unusual move, the House and Senate gathered together in a committee room and the two head budget chairs made budget compromise offers to one another in a public meeting.  Senator Brown likened the back and forth to selling a car, to which Representative Dollar responded that the House had not bought the car, but liked some of the features.  The public negotiations were limited to specific revenue estimates on the lottery, Medicaid, and reversions.  Once the two chambers agree on revenue numbers the subcommittees can begin negotiating spending plans."
I am disappointed that our representatives continue to support bills that will strip away authority at a local level including our ability to protect trees and to protect town aesthetics.
Projects Under Review
Emails from staff this week include several projects under review. Some of the projects submitted since the beginning of May include:
70 single family homes in the Indian Wells subdivision on Indian Wells Road.
A 39,420 square foot medical office building on Cary Glen Boulevard.
43 single family homes on White Oak Church Road.
A 2,168 square foot auto repair shop on Tryon Road.
A 3,624 square foot bank on O'Kelly Chapel Road.
2 modular classrooms at Laurel Park Elementary.
2 modular classrooms at Mills Park Elementary.
53 townhomes on Waldo Rood Boulevard.
A 6,200 medical office building on Davis Drive.
110 townhomes on River Pine Drive.
An 8,000 square foot bank on Davis Drive.
73,550 square feet of commercial at NC 540 and NC 55.
100 townhomes on Weston Parkway.
To view the entire list of projects under review go to http://www.townofcary.org/Assets/Planning+Department/Planning+Department+PDFs/planreview/Active+Projects+in+the+Review+Process+%28sorted+by+date%29.pdf.
High Profile
The town manager also sent an email to council members updating them on several high profile issues:
Morrisville Parkway/Triangle Expressway Interchange: staff met with the new Turnpike Authority Director and other staff. They are interested in providing some funding for the interchange from unspent bond proceeds but they did not have specific numbers. It is likely we will need some additional funds to partner on the project. We are working on a revised cost estimate and have a follow up meeting on July 17. Their goal is to present to the Board on September 4. Nothing definitive yet, but staff is hopeful something will work out.
Waldo Street Drainage Improvements: staff will begin this stormwater improvement project soon. Some minor traffic impacts and Waldo Street closings will occur during construction. The Methodist Church and Waldo Street has a flooding problem this new pipe installation should relieve. Work is planned to start July 14 and be complete before spring. Notices are being mailed to adjacent property owners.
Jones House: We are nearing the completion of the Jones House and the opening of "Belle at the Jones House" which is the name of the farm to table restaurant and bakery of our tenant. We had two additional repairs to the house not originally budgeted as part of the renovations: replacing the roof and repainting the front of the house. After assessing the current state of the roof, it was determined that patching areas of the roof would not be a sufficient solution because the points where the metal was attached to the roof were so warn that wind from a storm would continue creating holes, which would lead to constant patching and continued damage. The roof will need to be replaced and staff believes replacing now rather than in a year or so as to avoid disrupting the operation of the tenant and potentially incurring higher costs. The repainting portion of the house will be focused on the front (porch area of the house). Much of this area is pitted and worn and the repainting will include smoothing those areas and then painting. The funds for additional work will come from the fiscal year 2014 Downtown Budget that has already been approved for capital project work downtown and requires no additional council action. Some have inquired about the wood stacked on the front of the house and I wanted to share that this reclaimed wood is being incorporated into portions of the interior design (bar and cabinet display areas). The wood pile will be gone by the end of next week and you will start to see new landscaping going in around the house. The tenant is working towards an August open date and all the work the town is responsible for will be completed in time to accommodate the tenant's schedule.
Mayton Inn: Staff believes that the HUD Release of Funds for the Mayton Inn project likely will be transmitted around July 10 (that is probably the earliest date). Demolition of the existing Thompson building on the hotel site should commence shortly after that.
The town manager also notified council of a brief vacation which is well deserved.
Emails
Emails from citizens this week included a complaint about cluster mail boxes required by the United States Postal Service, a thank you for helping with a burned out street light, and a request to investigate smart benches.
Get in Touch
This week will be another relatively slow week. Activities will include a couple of meetings and a quasi-judicial hearing.
My next post will be on Sunday, July 13th. Although I have Facebook and Twitter accounts those are not the best means of communications with me. Please send all Town of Cary questions or comments to Harold.Weinbrecht@townofcary.org and email personal comments to augustanat@mindspring.com.
—————————————————————————————————————————————————
From the blog of Cary Mayor Harold Weinbrecht. Photo by Hal Goodtree.
https://carycitizenarchive.com/wp-content/uploads/2014/07/harolds-0706.jpg
350
600
Harold Weinbrecht
https://carycitizenarchive.com/wp-content/uploads/2020/03/cc-archive-logo-450-v3.png
Harold Weinbrecht
2014-07-07 14:16:40
2019-12-07 17:00:36
Harold's Blog: Water Tower, State Budget