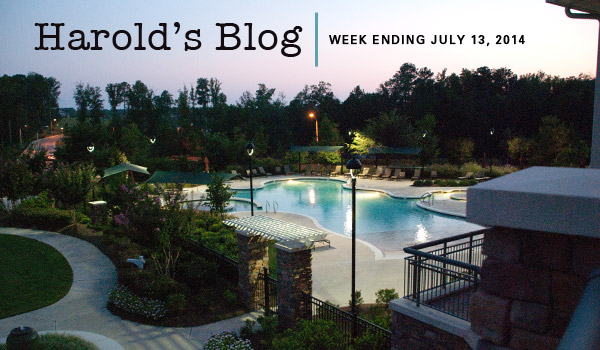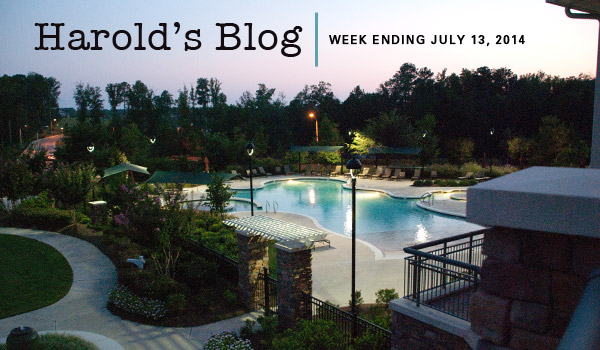 Cary, NC — This week was a typical slow post July 4th week.
Tuesday – Creative Arts Academy
Monday was open since the town manager was on vacation, so my first meeting was on Tuesday. Tuesday I met with Sean Ingram who is the founder and director of the Sean Ingram Creative Arts Academy.
Their mission is to cultivate the imagination of youth to find creative freedom without limitations by creating an expressive environment of learning geared towards training them how to progressively analyze, communicate and write effectively for success. In our meeting we discussed his work with the Wake County public schools. We also discussed how to get each community in Wake County to provide support.
Our meeting was less than half an hour.
Wednesday – Center for Volunteer Caregiving
Wednesday I met with a consultant who is doing a study for the Center for Volunteer Caregiving. He is basically trying to find out if people are aware of the center's mission and how much people know about the center.
The Center for Volunteer Caregiving is a private, nonprofit, faith based organization formed in 1992.  Their mission is to provide volunteer services to help Wake County seniors, family caregivers, and adults with disabilities maintain independence, dignity and quality of life. In my talk with the consultant we talked about the town's awareness of their mission and how we could partner better. I believe this will be a significant service organization as we move forward since it mostly helps seniors and since 4,000 Cary citizens are turning 65 every year.
Our conversation lasted about 30 minutes.
Maynard Road Water Tank
Later Wednesday I headed over to see the public information session on options for Maynard Road water storage tank. I was only able to talk with a couple of residents. But staff reported that most people they talked with were pleased at the findings and the recommendation to save the Maynard Road tank. There were also several residents that spoke in favor have the new tank near Kildaire Farm Road and Maynard Road.
Council will choose from four options at their July 17th meeting. Staff is recommending the refurbishing of the Maynard Tank and the building of an additional tank at the Kildaire Farm Road and Maynard Road site.
New Town Clerk – Sherry Scoggin
Wednesday afternoon the town did a press release announcing our new town clerk Sherry Scoggins. Although the council interviewed several excellent candidates, we believe that Ms. Scoggins is the best fit for Cary. My comments from the press release were:
"On behalf of the entire Cary Town Council, I want to say how thrilled we are to have Sherry joining us in Cary. Our retiring Town Clerk Sue Rowland has set a tremendously high bar for her successor. The good news is that in addition to being supremely qualified, Sherry's positive, energetic, and collaborative approach to finding a way to get almost anything done is exactly what we must continue to have in our Town Clerk.  Sherry is truly impressive and certain to be a perfect fit."
Sherry will start July 28th and will hit the ground running. Of course she will have the support of our excellent town clerk staff.
Thursday – Peninsula at Amberly
Thursday the council held a quasi-judicial hearing for the Peninsula at Amberly subdivision Plan.
This project was originally approved in 2004 with eight phases. The developer and the bank that financed the developer went bankrupt during the recession. As a result only the first four phases were built. Phases five through eight stopped after completing water and sewer lines and some grading. The approval for phases five through eight expired and thus the reason for the quasi-judicial hearing.
The new developers were proposing essentially the same site plan as was proposed ten years ago. However, town requirements have changed a little since then and include new water line criteria, new cul-de-sac length limits, and transportation improvements. The developer provided testimony that proved the water lines would be acceptable as is from a certified engineer. In addition, they provided testimony that the cul-de-sac length was necessary because of site boundaries of the American Tobacco Trail and the Corps of Engineers land. The developer also proposed to provide over $55,000 for road improvements since there is no current need for a four lane road in that area.
The council agreed with these proposals and the subdivision plan was approved unanimously. The council discussion included the new US Postal Service requirements for cluster mail boxes and the developer has adequately planned for this. Our hearing concluded in a little over half an hour.
Saturday – Carroll Ogle
Saturday I attended a memorial service for Carroll Ogle at the Methodist Church on Academy Street.
Carroll and his wife Sheila are well known in Cary especially for their work in the downtown area. They renovated the "Pink" house on Academy Street which is a town landmark. They also renovated the Matthews House on Chatham Street which is another historic house.
Carroll loved Cary and it showed. We are all better off for his love and work in Cary. Rest in Peace Carroll.
#8 Best Place for STEM Graduates
In a tweet from the Raleigh Chamber this week, the Raleigh-Cary Metro is @NerdWallet's #8 Best Place for STEM Graduates. Yet another accolade for the great place we call home.
Emails
In emails from staff this week council was notified that the town received the signed authorization for the Release of Funds from HUD. This was the last obstacle for the beginning of the Mayton Inn.
Demolition of the existing building at 301 S Academy Street is scheduled to start next Thursday, July 17 and will take approximately 7-10 days.
Emails from citizens this week included complaints about the US Postal Service's cluster mail boxes, a complaint about the town's email, a concern about safety in refurbishing the water tower on Maynard, a comment about a proposed rezoning on Holly Springs Road at Cary Parkway and comments about other proposed rezonings.
Get in Touch
This week the pace will pick up a little with meetings and events almost every day. They include a regularly scheduled council meeting, staff meetings, a Capital Area Metropolitan Planning Organization meeting, and a private meeting with Clay Aiken.
My next post will be on Sunday, July 20th. Although I have Facebook and Twitter accounts those are not the best means of communications with me. Please send all Town of Cary questions or comments to Harold.Weinbrecht@townofcary.org and email personal comments toaugustanat@mindspring.com.
————————————————————————————-
From the blog of Cary Mayor Harold Weinbrecht. Amberly photo by Hal Goodtree.
https://carycitizenarchive.com/wp-content/uploads/2014/07/harolds-blog-0713.jpg
350
600
Harold Weinbrecht
https://carycitizenarchive.com/wp-content/uploads/2020/03/cc-archive-logo-450-v3.png
Harold Weinbrecht
2014-07-14 13:55:56
2016-01-12 17:33:04
Harold's Blog: July 13, 2014