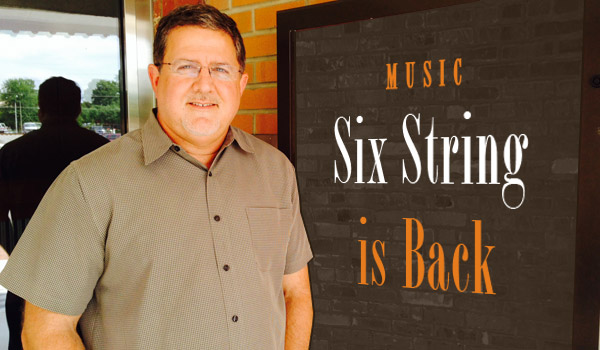 Cary, NC – Back in 2000, the Six String Cafe entertained crowds in Mac Gregor Village with original music acts and a club atmosphere. After lying dormant for almost nine years, Six String is back.
The experience was unique, especially at that time in Cary, where chains ruled, and only a few bars were playing live music. "A lot of people will get food and drink if music is provided, (at the Six String) music was the focus and food and drink were provided" recalled David Sardinha.
Six String Closed After Five Years
The music listening room had a dinner theater atmosphere, and was very popular for five years, becoming nationally ranked as a quality place to hear live music shows. Then the landlord decided not to renew the lease after its fifth year, and owner David Sardinha closed shop.
After a brief stint in 2010 at the closed Bullwinkle's location on Buck Jones Road (now Cypress Manor),  Sardinha decided to take a break from the entertainment business and went on to form several other ventures including a current business as a private marketing company.
Downtown Renovation Sparks Rebirth Of Concept
But somehow music remained in his blood. Over the years he had produced some Six String shows out at Koka Booth, and had worked with both Becky Colwell (manager) and Lyman Collins , cultural arts manager for the Town. As a resident of Downtown Cary, and longtime advocate for revitalization of the area, Sardinha was eager to see The Cary open after its renovation project. It got him thinking about hosting shows there. In March he called Lyman Collins. Oddly enough, Collins had been searching for David's number all along with a similar idea.
The thought was to bring some of the original live music as periodic entertainment to The Cary theater, and maybe The Cary Arts Center as well. And so Six String Presents was born, as a subcontractor/ booking company for quality concerts to fill these venues with that Six String vibe.
About six weeks ago, Sardinha started working on booking acts and rounding out a series that will begin this weekend with the first show on Saturday, July 19, 2014 featuring Claire Holley and The Jon Shain Trio.
The theater will be set up with cafe tables down front, and the intimate feel those 178 seats can provide along with stellar acoustics. Most shows will run $15-$20 and David will see where the schedule takes him and if crowds will return.
Make Cary Cool
I asked him why he wants to take on this project and David said,  "To make Cary cool. There's already a lot underway to make Cary a great place, and I want to add to that."
Sardinha continued, "Why can't that be part of Cary's identity, to go see a show where there's no traffic, no crime, and appropriate for all ages?"
He has been wildly surprised at the immediate outpouring of support – his original mailing list is about 1500, which was created in the days prior to Facebook and Twitter. Those two social media tools have helped him spread the word beyond the old fan base, and with the Town's help he hopes to have packed houses for his shows.
Two Shows a Month
The current schedule is to have about two shows per month with mainly acoustic music. Most evenings will feature two acts with an intermission, and a third combined set.
Six String won't be tied to one type of music, or just one venue. In fact, David is currently looking at other venues to add to the mix, for different types of shows. Maybe Cypress Manor, or a large outdoor venue will round out the schedule. This first series is a test to see if the concept works. After the public responds, David can adjust and grow the concept before investing in a venue with all the planning and capital that entails.
Shows are currently programmed through the end of the year, with just the first four announced at the time of this publication. (see below). David spoke of shows for October through November including:  Jack Lawrence, and David LaMotte (an original Six String act), Michael Reno Harrell, and the first Cary Arts Center show will be Ellis Paul. Look for more to come as schedules and plans are fully finalized.
The Six String hopes to bring a little "Cool" to Cary- we like that! Like em on Facebook.
Upcoming Shows from Six String Presents
Claire Holley and The Jon Shain Trio
July 19, 2014 – 8pm – Tickets $15.00
Chuck Brodsky and Pierce Pettis
August 1, 2014 – 8pm – Tickets $15.00
Craver, Hicks, Watson and Newberry
August 29 2014 – 8pm – $15
Robbin Thompson, featuring Jeffery Hyde Thompson
September 6, 2014 – 8pm – Tickets $20.00
Jennifer Daniels & Jason Harrod
September 26, 2014 – 8pm – Tickets $15.00
Other shows announced include:
October 10, 2014 : Jack Lawrence and Tommy Edwards
October 24, 2014 : Chris Rosser, Joe Ebel and Annie Lalley
November 1, 2014 : David LaMotte
November 14, 2014 : Jack Williams and Michael Reno Harrell
November 22, 2014 : Ellis Paul with Eliot Bronson
December 5, 2014 : Jonathan Byrd and The Pickup Cowboys with Corin Raymond
More Info
——————————————————————————————————————
Story and photo by Lindsey Chester.
——————————————————————————————————————
Cultural Arts on CaryCitizen is sponsored in part by Whisk of Cary.
https://carycitizenarchive.com/wp-content/uploads/2014/07/six-string.jpg
350
600
Lindsey Chester
https://carycitizenarchive.com/wp-content/uploads/2020/03/cc-archive-logo-450-v3.png
Lindsey Chester
2014-07-15 13:49:45
2014-07-18 11:34:13
Music: Six String is Back