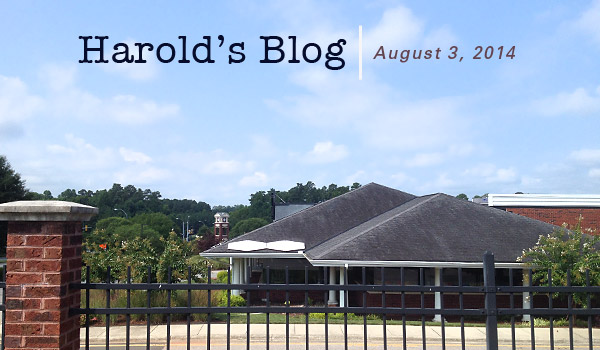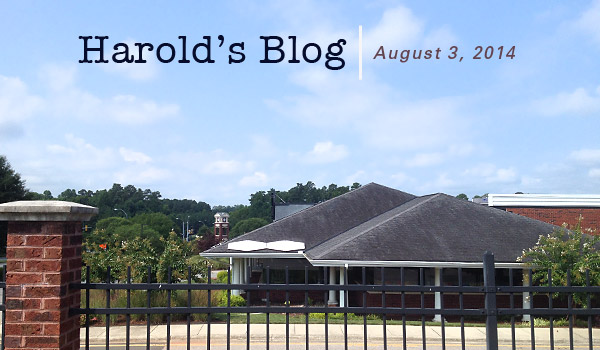 Cary, NC — This was a busy week that included a couple of historic events: the swearing in of a new town clerk and the recognition of 50 years of service by Cary Rotary clubs.
Monday – 4 Meetings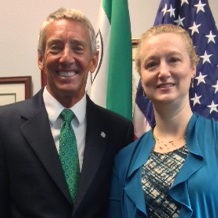 Monday morning I had the honor and privilege to administer the official oath of office to our newly appointed town clerk Sherry Scoggins. She is replacing Sue Rowland who retired at the end of August. Cary is blessed to have had Sue Rowland serve for 22 years and to find such a great clerk to replace her. I look forward to working with Ms. Scoggins and believe she will do an outstanding job.
Later Monday I contacted council members to get their questions or concerns about Thursday's regularly scheduled council meeting. Council members I contacted expressed concerns mostly about the Harrison Avenue Street conversion and the Pritchet rezoning at Cary Parkway and Holly Springs Road.
Monday afternoon I met with management, directors, legal, and administration to go over the agenda items. We talked about council members concerns as we went over the items. Our agenda review lasted less than thirty minutes. I estimated that Thursday's meeting would end around 8:30 PM.
My last meeting on Monday was with the town manager. We only had a couple of topics to talk about so our meeting only lasted a few minutes.
Tuesday – Tree Ordinance
Tuesday the council held a work session to discuss the tree preservation ordinance. As a result the council agreed to the following tier one priority list:
Any upper story tree 40 inches and greater and any understory tree 15 inches and greater in prominent locations (i.e., along major roadways).
Any other hardwood champion tree (oaks, poplars, etc) in prominent locations including groupings.
Groups of two or more hardwood champion trees that share the same critical root zone located in non-prominent locations.
Any grouping of a champion tree and a specimen tree less than 18 inches located in non-prominent areas on a site.
Any single upper story tree 40 inches and greater and any single understory tree 15 inches and greater located in non-prominent areas.
Council then reviewed tier two priorities, authority for removal, champion trees in bio-retention streetscape, and the current clear cutting ordinance. Some of the criteria for removal of champion trees include a life expectancy of less than ten years, greater than twenty percent radial trunk dieback, and two or more major dead limbs. The revised tree ordinance will be presented to council on August 28th. The work session concluded after about an hour and a half.
Later Tuesday council said their private goodbyes to our long time town clerk Sue Rowland. She not only provided a great service to the town, staff, and council but was a friend to all. She will be greatly missed.
Wednesday at Waverly
Wednesday I attended Wind Down Wednesday at Waverly Place and talked with several business leaders. Waverly is quickly becoming a destination and businesses are filling up the center. In my conversations I understood that there were very few vacancies remaining.
Thursday Council Meeting
Thursday's council meeting had three topics that generated most of the discussion.
A public hearing for a townhome proposal with six units to an acre on Holly Springs Road concerned me. That proposal was forwarded to the Planning and Zoning board for their review. I am skeptical and will need more to convince me that the proposed density is the best use of that land.
Another topic that generated discussion was staff's proposal for a pilot program to narrow Harrison Avenue to two lanes with a turn lane and bike lanes between Maynard and Chatham. Council seemed to have concerns with this and asked for a public hearing which will be held at our August 14th meeting.
The other major topic of discussion was the Pritchet rezoning of single family homes at Cary Parkway and Holly Springs Road. This proposal has seen several revisions and has been delayed several times. Even though there was a valid protest petition, requiring six of seven votes for approval from the council, it passed. My feeling was that 75% of this proposal was good and the remaining 25% was questionable with its density. However, the applicant made several concessions which I believe will prove that this proposal will blend nicely into what is around it. This was a very tough decision for me for several reasons. One reason was that I live very close to the proposal and literally heard from my neighbors about it.
Friday – 50 Years of Service from Cary Rotary
Friday was a tribute and a dedication of 50 years of service by the Cary Rotary clubs. A monument including a time capsule was unveiled at the Cary Chamber of Commerce to mark this occasion. The ceremony had over a dozen speakers including myself. Here is an excerpt from my comments:
… 50 years ago in 1964 milk was less than a dollar per gallon. It only took a nickel to mail a letter, and $20,000 could get you a new home. I was a living on Waldo Street and walking to Cary Elementary every day by a chicken coup. I didn't know if but my uncle, Fred Bond, would soon be elected mayor. The population here was about 5,000, and our community proudly found itself with its first Rotary Club.
Today, we're so fortunate to have five active Rotary Clubs that continuously give time and talents to benefit Cary. … 50 years is a long time. And during that time our five Cary rotary clubs have never deviated from their mission: to provide community service at its best. …
The ceremony lasted about an hour. The rain held off and it was a great event. The Rotary will continue the celebration of 50 years of service at a gala to be held on August 15th.
After the ceremony I traveled to Greenville to help my daughter move into a house for her senior year at East Carolina. I spent the remainder of the weekend catching up on work.
Emails from Staff
Emails from staff this week included a reminder about the hometown spirit award. The Hometown Spirit Award is given annually to a Cary resident who enhances the quality of life in Cary by preserving, promoting and carrying out positive and quantifiable traditional small-town community values and traits as embodied in the following criteria:
Helps out neighbors and fellow Cary residents
Demonstrates hospitality
Promotes and preserves traditional American past-times
Shows a concern for preservation and works to preserve traditions and the small-town atmosphere in the community
Promotes entrepreneurship through supporting locally-owned business
Promotes a sense of community in their neighborhood and all of Cary
Demonstrates patriotism through promotion and preservation of the country's symbols and dedication to the U.S. military, past and present
Serves the community through business
Applications will be accepted from August 1st through September 8th. The winner will be recognized at November 20th council meeting. So if you know of someone that should be considered PLEASE nominate them.
Other emails from staff included the 2nd Quarter report. Here are a few of the highlights:
The Town of Cary is now 36,806 acres or about 57.50 square miles.
As of July 1st, 2014 the Town of Cary's population is estimated to be 149,854, which is a twelve month increase of 3.36%.
The average unit size in this quarter was 4,027 square feet, which is a slight increase in home size compared to the previous quarter.
The average construction value of new home in this quarter was $219,375.
There were 25 permits issued for commercial new construction in this quarter, totaling 337,776 square feet which is an increase of over 13% from last quarter.
Cary issued 25% of all new single-family dwelling permits in Wake County for the months of April and May. This was the most of any other jurisdiction in Wake County.
Construction for the park on the old Bartley farm should begin this fall and conclude next fall.
The downtown park construction should begin next spring.
Construction is underway and on schedule for both the expansion at the water plant site and the raw water pumping station on Jordan Lake.
41 apartment communities representing a total of 9,808 apartment units are actively participating in an education and zero crime tolerance program called Project PHOENIX.
3% of all calls answered by our fire department were categorized as fire incidents. Over 60% were EMS and rescue.
The Cary Arts Center saw an overall increase in attendance 11.5% during the last 12 months.
Aquastar cost savings and benefits were recognized nationally when the Town received an Award for Excellence from the Government Finance Officers at the national annual conference in May 2014.
The old Mitchell's Pharmacy store adjacent to the Cary Theater was leased for a craft beer store.
The Cary Downtown Farmer's Market relocated to the lawn of the Ivey Ellington Waddell House on Chatham Street, which has proved successful to the market and had increased foot traffic for neighboring businesses.
The NC Legislature has approved a bill restricting the privilege license tax which will cost Cary $1.7 million in revenue annually.
The NC Legislature has approved a bill, the Energy Modernization Act that provides for permits for horizontal drilling to be obtained as soon as the rules are complete.
The report can be read in its entirety at http://www.townofcary.org/Assets/Town+Manager$!27s+Office/Quarterly+Report+Documents/Second+Quarter+Report+2014.pdf.
Emails from Citizens
Emails from citizens this week include inquiries about a traffic signal, concerns about our current recycling, several comments about the rezoning at Holly Springs and Cary Parkway, a concern about the police click-it-or-ticket project on Harrison Avenue, and several invitations.
Get in Touch
This week will be a slower week for me. It includes an Eagle Scout ceremony, a quasi-judicial hearing, and a few meetings.
My next post will be on Sunday, August 10th. Although I have Facebook and Twitter accounts those are not the best means of communications with me. Please send all Town of Cary questions or comments to Harold.Weinbrecht@townofcary.org and email personal comments to augustanat@mindspring.com.
———————————————————————————-
From the blog of Cary Mayor Harold Weinbrecht. Lead photo by Hal Goodtree. Photo of Mayor Weinbrecht and Town Clerk Sherry Scoggins courtesy of Harold Weinbrecht.
https://carycitizenarchive.com/wp-content/uploads/2014/08/harolds-blog-0803.jpg
350
600
Harold Weinbrecht
https://carycitizenarchive.com/wp-content/uploads/2020/03/cc-archive-logo-450-v3.png
Harold Weinbrecht
2014-08-04 16:15:04
2019-12-08 10:13:27
Harold's Blog: 8/3/14