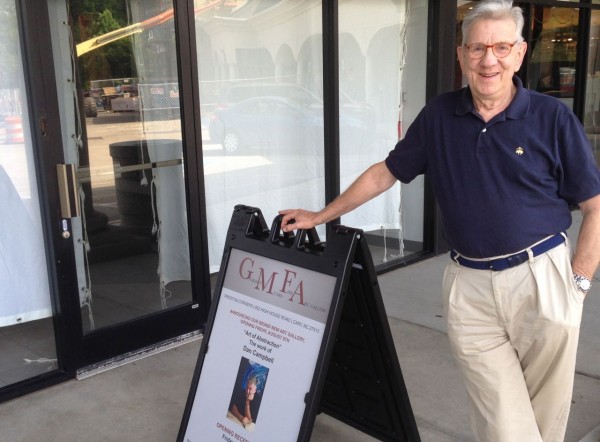 Cary, NC- Gordon Munroe Fine Art Gallery opens this Friday August 8 with a show by Cary artist Dan Campbell. But how did a transplanted English photographer come to open a fine art gallery in suburban Cary?
Gordon Munro is a renowned commercial photographer shooting fashion, beauty, editorial and corporate portraiture.
Cary By Way of England and New York
Gordon, originally from England, lived in New York since the 60's, having worked with the likes of Irving Penn on all manner of beauty and fashion commercial shoots. About 8 years ago, he moved from New York City and settled in Cary's Preston area.  For several years he continued to commute to the city on commercial shoots, while also developing local clients like Novant, Duke and La Farm Bakery (he shot the book, A Passion For Bread). Slowly he pulled back from those long distance jobs as the travel became an increasing hassle. He didn't exactly retire, but didn't take on new Northern clients as his business blossomed here in North Carolina.
Preston Corners Studio
Last year, he approached the owners of Preston Corners about leasing space for a commercial photo studio where he could shoot his commercial portraits. He was looking for a month-to-month deal. Several of the spaces in this shopping strip have stubbornly remained vacant through the recession, and one in particular had been a framing studio in the past. Real Estate brokers Averson and Young struck a deal he liked and six months ago he moved into Preston Corners with his studio.
Originally, he worked in the back and hung his photographs in the front area. His daughter, Lizzie, was the one that said "this would be a perfect gallery". Gordon had spent years perusing the collections in New York's SoHo and Meat packing districts and the idea grew on him. He was already teaching a studio lighting class at UNC-CH and his daughter suggested he have student shows in the space.
Met First Artist Dan Campbell
At about the same time, he was networking to grow his business, he met artist Dan Campbell through a mutual friend. Dan had recently decided to give corporate America up after an epiphany led him to "love what you do and do what you love". Instead, he saw painting as his natural calling. Dan had been painting all his life, but never before as a career. "If I'd done this 20 years ago, I wouldn't have been successful. What I learned in business about marketing and networking created this opportunity."
That knowledge made an opportunity for Gordon, as well, who chose Dan as the first artist to be exhibited for the opening show which starts this Friday night, August 8. Gordon is grateful for Dan's marketing experience, he added: "once I opened the studio, I didn't know how to publicize it".  Dan's ideas on how to get the word out, along with his extensive personal connections have proved invaluable.
The gallery will highlight one artist per month, showcasing different types of art (photography, painting, sculptures etc). By using the entire space for one artist, Gordon feels he can allow an artist to showcase an entire body of work, rather than one or two pieces, and are more likely to appeal to a wider audience. Dan added, "Art is so personal, and having twenty-five paintings up at once is a great opportunity as an artist."
The Current Show- "The Art Of Abstraction"
Dan Campbell describes his art as "contemporary abstract" and said this show could have easily been called "Blurring the Lines".
"I really try to be very different, using vibrant color and texture" . One piece, called Epiphany, he created specifically for this show. He says it's "a visual impression of the moment I decided I need to be painting".
Right now he calls himself an early emerging artist, even though he's in his fifties. Its the stage he is in his painting career. He is working on different subjects and says he is taking direction from what people say they like. Some paintings are purely abstract, others hint at sailboats or scenes at the beach. He calls every painting an incredible learning experience"
 What's Next
The next two months, Gordon Munro Fine Art Gallery (GMFA)  has shows booked for North Raleigh sculptor, Nicola Godfrey and  New York artist ,Richard Desjardins. Gordon has been told that "once the gallery opens, people will be coming to him" to show their work, and the space will be booked up. As time goes on, he may repeat artists if they have the body of work to support a new show.
Event Info
Gordon Munro Fine Art Gallery Grand Opening
Reception for "The Art of Abstraction", paintings by Dan Campbell
Preston Corners, 952 High House Road (corner of NW Cary Parkway)
6:30pm-9pm
with wine, acoustic guitar music and lots of contemporary art.
Additional info can be found on their facebook page 
————————————————————————–
Story and photos by Lindsey Chester
————————————————————————–
https://carycitizenarchive.com/wp-content/uploads/2014/08/Gordon-Munro-and-sign-e1407339381342.jpg
442
600
Lindsey Chester
https://carycitizenarchive.com/wp-content/uploads/2020/03/cc-archive-logo-450-v3.png
Lindsey Chester
2014-08-08 16:23:15
2016-10-25 16:35:32
Photographer Opens Art Gallery in Cary