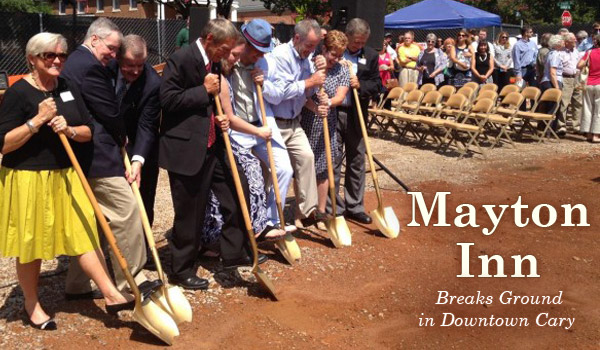 Cary, NC – After many delays, the Mayton Inn finally broke ground on Academy Street in Downtown Cary on Wednesday, August 14, 2014.  A large crowd gathered to take part in the groundbreaking ceremony that was one part official business and one part party. Owners Colin and Deanna Crossman welcomed guests with tents full of food and champagne. Architectural renderings of the luxury boutique-style hotel along with designer sketches depicting the future interiors were on display for the curious.
Public-Private Partnership
The crowd was excited to cheer on the $12 Million public-private partnership to invest in Cary's Downtown. Guests included many members of the original Mayton family, Sheila Ogle of the Matthews House, Kyle Greer and Howard Johnson of the Cary Chamber of Commerce, Scott Korbin, owner of a downtown real estate firm, Barbara Shepard, president of Sister Cities Association, Doc Thorne, former president of the Heart of Cary, Joy Pike and Denise Russo both of the Heart of Cary Association. Town staff included: Ed Gawf, former Downtown manager, Ted Boyd current downtown manager, Lyman Collins, Cary's cultural arts manager, Carrie Roman Assistant Public Information Officer, Scott Hecht public works manager, Town Council members: Jack Smith, Don Frantz, Lori Bush, Gale Adcock and Ed Yerha along with Mayor Weinbrecht who made opening remarks.
Mayor Weinbrecht said that he is proud of "the Crossman's and their commitment to Downtown with a $12 million private investment. " He went on to add, "We owe you gratitude for sticking it out, because you could have taken your business anywhere. We are very excited".
Howard Johnson, president of the Cary Chamber of Commerce, stated in his remarks that "nothing gets a Chamber guy more excited than fresh dirt and large machinery," then seriously congratulated the Crossmans on their true partnership with the County, State and Federal level helping to make the project possible. He added that he is sure the business will bring in commerce and tourism to Downtown Cary. "I can feel the synergy building."
In his closing comments before the shovels were lifted, Colin Crossman, who also owns the King's Daughters Inn in Durham, said: "Thanks for coming to us with this idea. We are excited to be a part of the Downtown Renaissance." He alluded to then town manager, Ed Gawf, who had approached the Crossmans with the idea of doing something in Cary.
Then, the Crossmans, council members and Howard Johnson then lifted their ceremonial shovels and officially "broke ground". The real work would begin later that day. The lot will be leveled and cleared to make way for grading prior to construction.
A New Hotel, Plus Historic Renovation
Not only will a completely new hotel be built on the site, but two existing historic homes will be moved and re-purposed on the grounds.   The yellow Mayton house (which the hotel takes its name from on S. Academy) and the Waldo House, currently sitting on the town owned parkland, will be moved to the back of the property once the ground is leveled and cleared. The Crossmans will eventually live in the Mayton house after it undergoes renovations.
The timeline is anticipated to be swift with the goal to have the Inn open prior to next year's Lazy Daze Festival. It should be noted that while the Mayton Inn is being built, South Academy Street itself will be undergoing a facelift with the town's Streetscape Project that will begin later this fall.
https://carycitizenarchive.com/wp-content/uploads/2014/08/mayton-inn.jpg
350
600
Lindsey Chester
https://carycitizenarchive.com/wp-content/uploads/2020/03/cc-archive-logo-450-v3.png
Lindsey Chester
2014-08-15 11:29:23
2015-12-28 14:18:59
Mayton Inn Breaks Ground Downtown