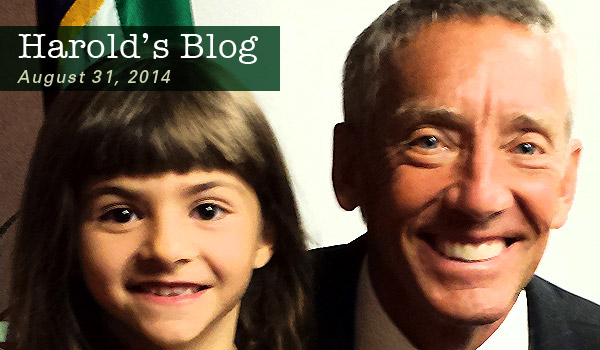 Cary, NC — It was a busy week in the mayor's office prior to the holiday weekend.
Monday
As is typical in weeks where there are regularly scheduled council meetings, I started the week by attempting to call council members for their concerns and questions for the upcoming meeting's agenda. I was able to get in touch with all council members but two. The only comments were on two public hearings. The public hearing for habitat houses always draws interest because some people don't want low income housing near their homes. This particular proposal was for houses near the west side of Evans Road north of West Dynasty Drive. The second potentially controversial public hearing was a proposal for 92 homes on 32 acres on West High Street near Cary Parkway.
Later Monday I met with management, administration, legal, public information, directors, and others to go over the agenda. Our review lasted about 15 minutes and I projected a 9 PM finish.
Following the review of the agenda I met with the town manager, deputy town manager, an assistant town manager, and public information to go over about half a dozen issues. The issues ranged from future development to development in the downtown area. That meeting lasted about 45 minutes.
Monday evening I attended a fundraiser for John Burns who is an attorney running for Wake County Commissioner. I believe Wake County needs better decision making on several issue including schools, transit, and the economy. I believe Mr. Burns would be the right guy to lead us in that direction and into a prosperous future. I was at this event about an hour.
Tuesday
Tuesday started with the taping of the September episode of Cary Matters. The topics were good ones and included information about the development process, school capacity, roads, and other issues related to growth. Council member Robinson and I completed the taping in about 30 minutes.
Mayor's Task Force?
Later Tuesday the council held a work session with four agenda items. First we heard from three people representing the Mayor's Task Force on Disabilities. Interestingly a mayor's task force is usually appointed by a mayor. But this group was not appointed by a mayor and they are not a town sanctioned board. However, we are always open to helping those in need and agreed to work with them on issues. They will arrange a point person to interact with a member of staff to get answers to issues and concerns. Actions needed by council will be brought forward by staff.
74 Applicants
Our second agenda item at the work session was the recommendations for boards and commissions. There were 74 applicants for Cary's boards and commissions. The liaison of each board summarized their interviews of candidates and made a motion with their recommendations. All recommendations were approved. One concern brought up during our discussion was that some of the boards may be becoming unbalanced with experts. It is important for our citizen advisory boards to provide recommendations that include the average citizen's point of view. The recommendations approved at this work session will be ratified at the September 11th council meeting.
Architectural Design Standards
The next work session agenda item was to hear an update on architectural building design standards and to provide feedback. The building design standards reviewed included materials, composition, proportion, scale, rhythm, transparency, articulation, expression, and color. The community will provide feedback in the fall of this year followed by public hearings and eventually a proposal to council in the summer of next year.
Council/Staff Retreat
The final topic discussed at the work session was on the annual council/staff retreat that occurs in January of each year. The council went through an exercise to narrow down retreat topics and priorities for the retreat.  The work session concluded after about two and a half hours.
Wednesday
Wednesday I had a private meeting which is typical during campaigning season. These will become more numerous as we approach the election.
Thursday
Student Interview
Thursday started with an interview by 2nd grader Emma Sharma (pictured above). She wanted to understand the town's role in government and my role in the town. She was as cute as can be and was a delight to be around. I hope my interview will encourage her to learn more about her town and all government.
Westhigh Proposal
Thursday night was a regularly scheduled council meeting that lasted until shortly after 9 PM. The item that had most of the public speakers was a proposal to rezone 32 acres on Westhigh Street to allow 92 homes. Residents complained of existing traffic and overcrowded schools and explained that this would exacerbate the problems. Council also expressed some of the same concerns as this proposal was sent to the Planning and Zoning Board for their recommendation. The proposal included a valid protest petition which means six out of seven council members would have to approve it when it comes back for a vote. That vote will be at least a couple of months away.
Castalia Drive
Another item that generated emails and speakers was the proposed removal of traffic calming pavement markings on Castalia Drive. Residents trying to acquire 70% of resident signatures to remove the markings asked for more time. Council, in an effort to be fair and balanced, tabled this item until our next council meeting. That decision generated several nasty grams the following day including personal attacks and statements like "kudos for not doing your job, and costing Cary residents unnecessary costs by your, and your town councils inaction."
School Capacity
In other action the council approved the Stitt proposal to all single family homes on a five acre tract with council once again expressing concerns about the lack of school capacity.
I know I have said it before but it is worth repeating. School capacity issues need to be addressed at the county level. It is important to understand that Cary projects, plans, and data are provided to the school board well in advance of any construction. The school board then plans for schools to meet each municipality's growth. However, the funding is provided by the Wake County Commissioners. Unfortunately, the current commissioners refuse to adequately fund the schools putting the school board in a no-win situation. This results in severe overcrowding, capping, and other extreme actions. These actions are being felt not only by Cary but by every municipality in the county. Hopefully, the commissioners will change their minds and start funding our schools appropriately and provide the education services we expect and deserve.
Emails
Emails from citizens included a complaint about lack of affordable housing, a request for free Wi-Fi to serve the poor, emails for and against removal of traffic calming on Castalia Drive, a complaint about last week's blog stating that the growth rate was 3% (btw, it changes as reports come up each month and quarter), a complaint about schools, and a complaint about funding the Morrisville Parkway interchange early than was planned.
Get in Touch
This week's activities include a ribbon cutting, the Cary Chamber banquet, and three Saturday events.
My next post will be on Sunday, September 7th. Although I have Facebook and Twitter accounts those are not the best means of communications with me. Please send all Town of Cary questions or comments to Harold.Weinbrecht@townofcary.org and email personal comments to augustanat@mindspring.com.
—————————————————————————————–
From the blog of Cary Mayor Harold Weinbrecht.
https://carycitizenarchive.com/wp-content/uploads/2014/09/harolds-blog-0831.jpg
350
600
Harold Weinbrecht
https://carycitizenarchive.com/wp-content/uploads/2020/03/cc-archive-logo-450-v3.png
Harold Weinbrecht
2014-09-02 13:35:22
2016-01-12 17:33:05
Harold's Blog: School Capacity, Westhigh & More