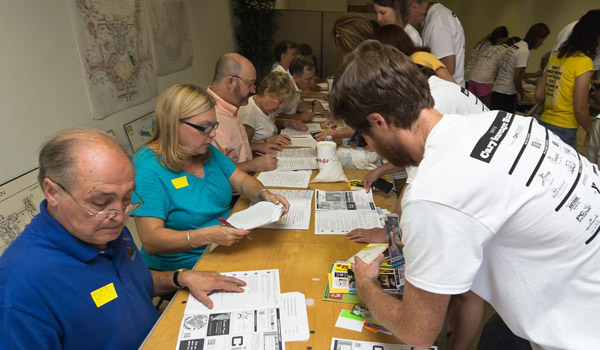 Cary, NC — The Cary Scavenger Hunt has many excellent ways to connect with your community, but one of the most fun is who you meet when your scores are tallied. We employ Cary Celebrities. Really.
Celebrity Judges
This is the 5th year that CaryCitizen has produced the Cary Scavenger Hunt, and the 4th year we have employed some of Cary's  famous faces to help with the task of scoring our teams' efforts.  We would like to take a moment to introduce you to these illustrious folks. If you have signed up to be a part of our adventure, you will meet them in person. You'll be glad you did!
Our Judges include Mayors, Police Chiefs, presidents of non-profit organizations, and directors of Town of Cary departmental staff.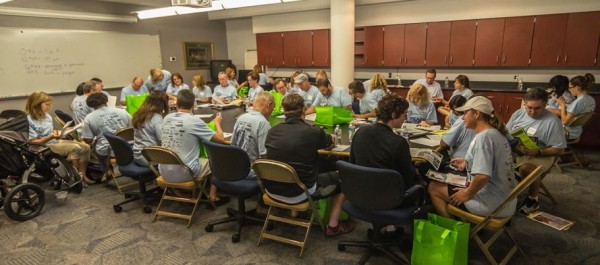 Meet the Judges:
Doc Thorne– owner of the Cary Invasion basketball team, long time Downtown advocate and past Heart of Cary President
Kris Carmichael– Director of Page-Walker Arts and History Center
Peggy Van Scoyoc– Historian, author of Just a Horse Stopping Place, and Desegregating Cary
Marla Dorrel– former Town Council member and head of the Kids Together organization that built the park of the same name
Carlotta Ungaro– Morrisville Chamber of Commerce president
Glenda Westbrook– co-owner of Cary Pottery and VP of Westbrook Associates, real estate development company
Pat Bazemore– Cary's Chief of Police
Jack Smith– current town council member, who is serving his serving his seventh term in this position representing District C.
Elizabeth Parker– Marketing director for the Matthews House in Downtown Cary
Doug Mc Rainey– Town of Cary's Director of Parks, Recreation & Cultural Resources Department
Sarah Preston-Performing Arts/Operations Coordinator
Rachel Baranski– Town of Cary's Youth Theatre Coordinator
Don Hamilton– Captain in the Town of Cary's Criminal Investigation Unit
Susanne Portonova– House Manager & Program Assistant for the Cary Arts Center
Howard Manning– president of Dorcas Ministries
Joy Ennis– Downtown Theatre and Events Supervisor
Denise Russo– Heart of Cary Association Board member
Mary Davis Wallace– Cary Visual Art director
Mark Stohlman– Town of Morrisville Mayor
High-Octane Competition
Cary's own mayor will be competing on a team again this year alongside council member Lori Bush. They will challenge a team that includes another Town Council member, Ed Yerha.. Think you can beat these folks? People did last year, that's why they are back to try to take the title. Maybe you could win instead?
Volunteers
We would like to thank some other volunteers that you will also meet during the day when you check in. Thees folks are the back bone of MANY Cary events, and they graciously have joined CaryCitizen again this year to lend a helping hand.
Bright and early on event day morning you will be greeted by Barbara and Phil Shepherd. You may know them from the Sister Cities Organization (they created the Beer Garden at Lazy Daze) and both serve on numerous other advisory boards. David Lindquist is the current chair of Parks Recreation and Cultural arts advisory board, and is an accomplished singer with the Concert Singers of Cray. Vicki Scoggins Johnson of Morrisville's Town Council will be checking you in during the morning.
In the afternoon, our staff includes Joy Pike and her husband Dan, who are consummate volunteers, serving on the Heart of Cary Association, and on the Festivals committees that produce Lazy Daze, Spring Daze and Ole Time Winter Festival. They will be keeping you in line this  year! They are joined by Ian Henshaw of the Tech Tank Force Renee Groom and Husband Larry of Heart of Cary and Avon cosmetics among other groups. We have even recruited our accountant, David Prins of Mindful Financial to help us this year.
Live Scoring by Wake Robotics
And the piece de resistance- we have live scoring will be provided thanks to software created exclusively by Wake Robotics.   The group will be on hand to assist with any technical difficulties. But we know scoring will go faster than ever and teams will be able to see how they did immediately, and compare their results with other teams in a scrolling leaderbaord that can be viewed from monitors on site as well as mobile devices. we will keep the scores live til NEXT YEAR!
So what are you waiting for? Come join the fun- your adventure awaits!
Register
Cary Scavenger Hunt
Saturday, September 13, 2014
Register
https://carycitizenarchive.com/wp-content/uploads/2014/09/scav-judges.jpg
350
600
Lindsey Chester
https://carycitizenarchive.com/wp-content/uploads/2020/03/cc-archive-logo-450-v3.png
Lindsey Chester
2014-09-11 11:13:01
2014-09-11 11:13:01
Cary Scavenger Hunt: Meet the Celebrity Judges