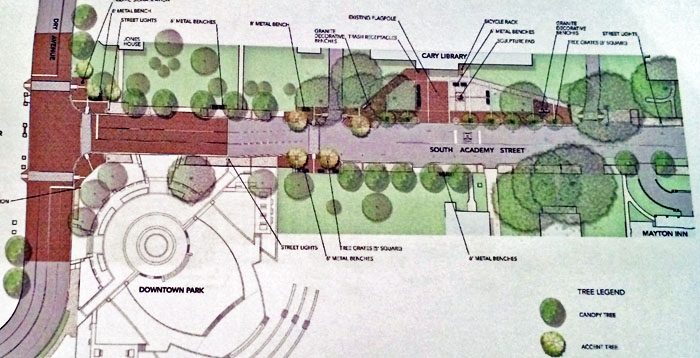 Cary, NC — At our Cary Town Council work session this week, we saw updated designs for the Downtown Park and Streetscape.
I love how this area will entice our citizens to come downtown with a beautiful park, a lovely street, along with our Cary Art Center and the revitalization that is occurring downtown.  With the new fountain and wonderful welcoming streets, there will be something for everyone to enjoy.
Academy Streetscape
The streetscape project includes a number of components:
"Rooms" at selected locations on Academy Street
Modification of the intersection at Academy and Dry – widening the street into the park to provide exclusive right turn lanes onto Academy when coming from Kildaire
New light pole options (allowing flags and other hanging ornamentation)
Street tree lighting (up lighting and string lighting in the trees.)
Benches, with artistic components
Electrical infrastructure locations (big power distribution boxes (4 ft tall) and smaller pedestals (18" tall)
Park and Street Benches
Previous to this meeting, council had already given feedback and chose a number of granite benches and the accompanying artwork with a music theme. Some of the benches are shaped like dulcimers, others like violins; I think they will be beautiful. Our goal at this point was to discuss some of the quotes that will be engraved on the benches. The idea proposed was for the quotes to make references to music, dance, singing and song, linking it to our town or state if possible (perhaps by choice of the author) and also to the location.
For example, the dulcimer benches would incorporate quotes from North Carolina poets such as Dr. Maya Angelou and R.R. Richardson.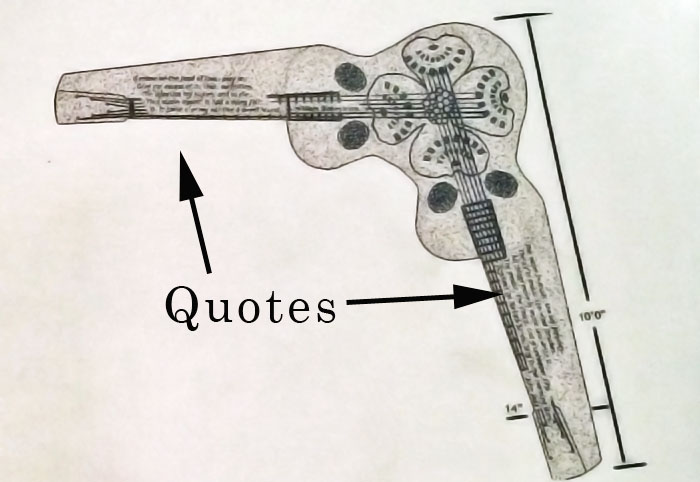 Overall, I like the concept and idea, and many of the quotes chosen. I had a concern with one of the quotes, however. This one:
"'Tis God gives skill,
But not without men's hands: He could not make
Antonio Stradivarious's violins
Without Antonio."
My concern with this quote was its mention of God. I am leery of using Public funds to put a quote that mentions God on a public bench. Don't get me wrong, I like the quote, and I understand that it was hanging in the nearby Violin shop when the artist was scoping locations. But I do believe in the separation of Church and State, and am sensitive to the fact that not all of our citizens would appreciate the expenditure of our taxes on a quote that mentions a God. I suggested another quote – a famous one from William Shakespeare,
"If music be the food of love, play on"
But I was outvoted. Moving on.
Our Park Fountain
The next section covered the fountain – the iconic entry to our Downtown Park.  Presented with sketches and options associated with the fountain, Council was unanimous in our praise of the design – simple, yet elegant. We decided on adding an additional water pump, to provide options for water usage, asked staff for additional costs for lighting, and turned down additions of adding bronze to the bowl and bronze columns. I cannot wait for this fountain to be constructed, and for the first wedding pictures to be taken in front of it. It will be stunning!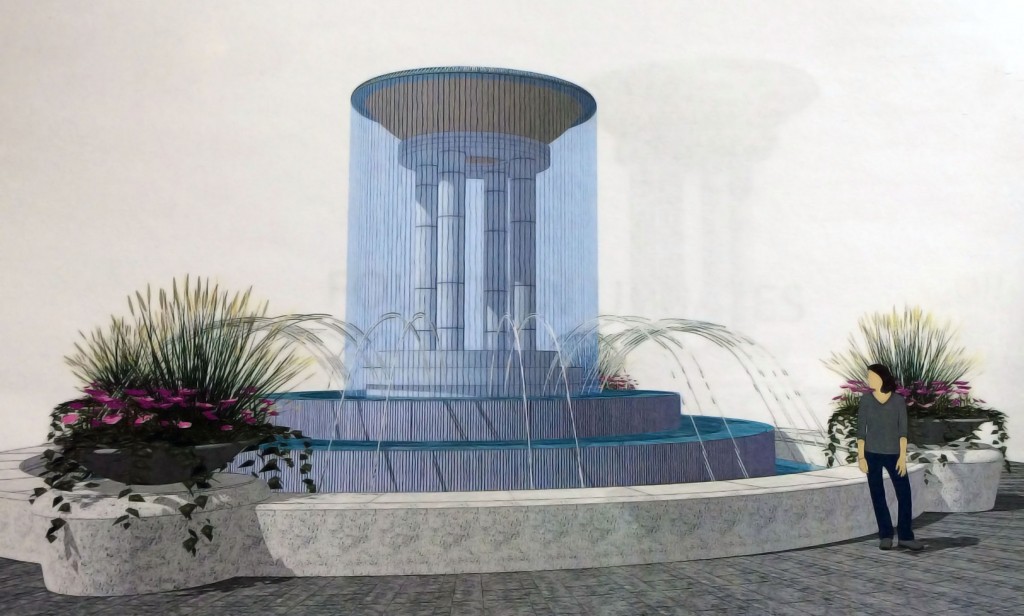 Next steps
After staff completes right of way acquisition for the streetscape, we will soon see things happening downtown.  Please be patient as construction begins, and detours are added to allow for the work to move forward.  Here is the timeline:
November 2014 – Design complete
Spring 2015 – Begin construction
Summer 2016 – End construction
As always, thanks for listening and please feel free to contact me with any questions, comments or concerns.
—————————————————————————————————————–
Story and photos from the blog of Lori Bush, At-Large member of Cary Town Council.
—————————————————————————————————————–
Downtown coverage on CaryCitizen is sponsored in part by Heart of Cary Association.
https://carycitizenarchive.com/wp-content/uploads/2014/09/downtownstreetscape.jpg
358
700
Lori Bush
https://carycitizenarchive.com/wp-content/uploads/2020/03/cc-archive-logo-450-v3.png
Lori Bush
2014-10-02 10:14:47
2014-10-02 10:21:43
Lori's Blog: Upcoming Landscaping