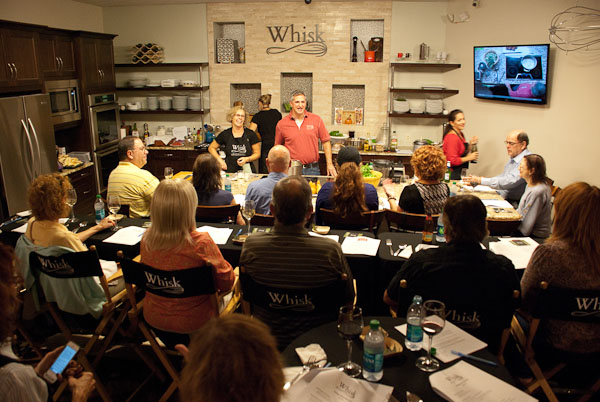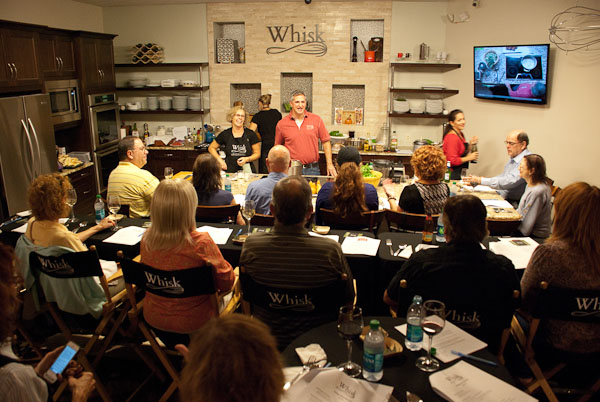 Cary, NC– Whisk, the kitchenware store located in Waverly Place, celebrated their one year anniversary last week with a French Dinner Menu class taught by the owners. Owners Dan and Diana Saklad have a passion for cooking and love to have the proper tools to get the job done. Their store stocks just about every quality tool you can imagine for the kitchen.
The couple had previous careers before they decided to turn their passion for cooking into a business. They have always loved to travel, and expressed their love of French food as a reason for the evening's menu selection. The evening was billed as a multi-course menu and came with wine pairings for the various courses. It certainly looked ambitious!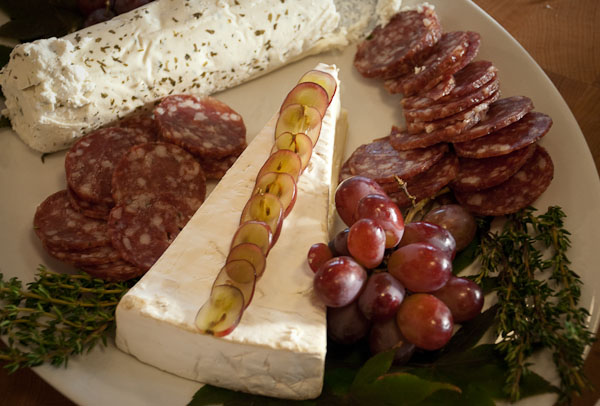 The Menu
Titled: "French Revival: A Bistro Dinner" the couple prepared to make the following:
White Bean Puree with Garlic Vinaigrette and Croutes ( a hummus-like spread on toasted baguettes)
Potage Saint-Germain (a blended leek and pea soup served hot)
Boeuf a la Bourguignonne (beef burgundy)
Lambs Lettuce Salad with Roasted Beets, Roquefort, Toasted Walnut and Shaved Onion (a lettuce-based salad)
Bosc Pear en Croute with Rum Hard Sauce (pears wrapped in puff pastry)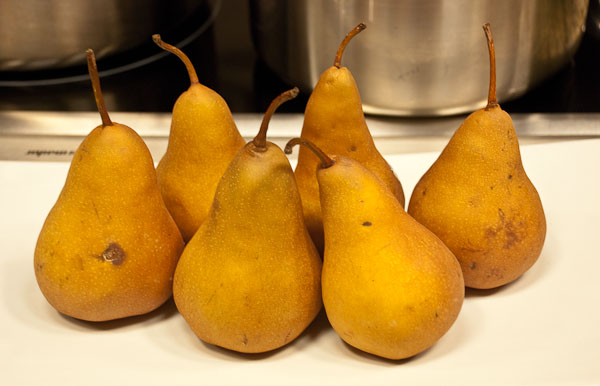 Repeat Customers
All cooking classes can be found on the website, but do book fast. Classes typically sell-out in advance. This sell-out class was attended by about 20 foodies.  As the class started, Dan asked how many had been to a Whisk class previously- about half the audience raised their hands.
CaryCitizen spoke with Mike and Kathy Wilson of Apex, who have attended many Friday evening classes.  Mike expressed how he likes to peruse the class selection online to see what may interest them. Admitted foodies, they are fans of many cookbook authors and have been to several events where celebrity chefs taught the class.
They have learned "efficient prep, and picked up a few new dishes to try." Mike added " you always get a coupon, and I love to come back another day to focus on how to use it."
Kathy said it's a great Friday night "Date Night" for them and for about the same cost as a restaurant meal, but much more fun.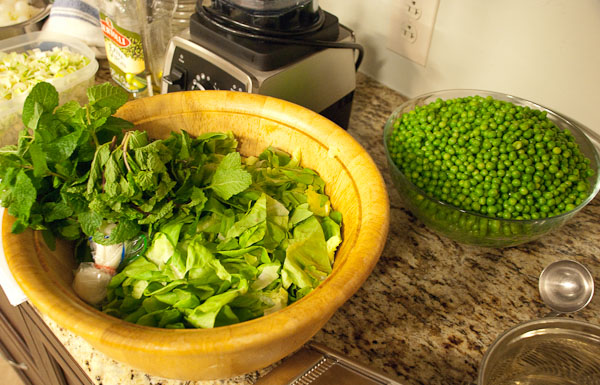 Casual Format
The format is very casual with much banter between the hosts and the audience. A live camera above the cooking area is hooked up to a 50″ TV on the wall  and shows attendees the view from above that they may miss from their seats. After each course was finished, samples were passed around to all the attendees.
Dan handled teaching the appetizer, soup and beef dish with gusto. The relaxed format allowed for mistakes to be made where everyone had a good laugh. As Dan made plain, "everyone makes mistakes" but don't be afraid to try something in the kitchen.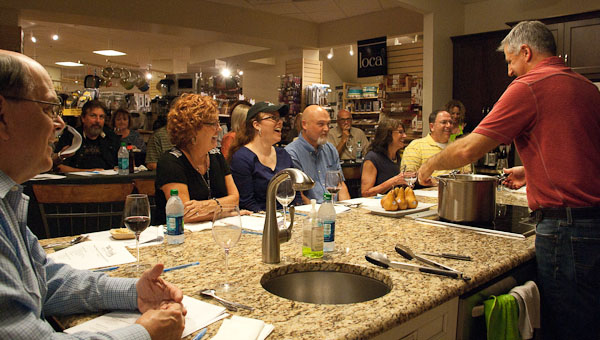 Diana created the dessert, observing that when she cooks at home, everyone likes to hover in her kitchen. With that in mind,  she always saves a few tasks for her guests.
The class was no different, as she called for a few volunteers to assist with peeling and wrapping bosc pears in puff pastry. The casual hands-on demonstration allowed the guests to experience the creation themselves and be less intimidated of making the dish later in their own homes.
Unscripted, Dan and Diana took the class through prep for each course, with notes on how ingredients can be substituted, and what tools make some tasks easier for the chef. Everyone was having a great time, learning these tips, drinking different wines as each dish was sampled, and not afraid to ask questions during the prep.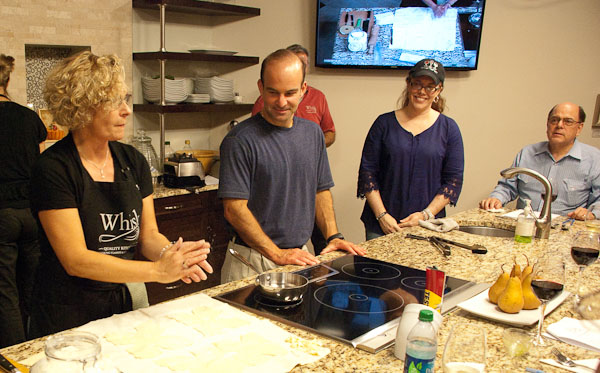 Simple Tips
Here's a couple tricks we picked up:
Slice and chop your leeks and then submerge in water to remove the gritty sand found in this vegetable.
To roll out puff pastry, lay out a special cloth (they happen to sell) that eliminates the problem of the dough sticking to your countertops.
To cut the sharp taste of raw garlic in an uncooked dip, blanch cloves for 2 minutes before using.
When making a stew dish like the Beef Burgundy, use a cheaper cut of meat, which actually will add more flavor to your dish, especially as it will be marinated at least overnight.
Whisk offers patrons a unique experience of learning to cook and enjoy dishes in an environment very like their own homes. With tips on ingredient substitutions, tricks of the trade, and use of some labor-saving tools, the store makes cooking a fun adventure. A wide variety of class times and subjects are offered.
From weekend cooking with the kids, to daytime, stay-at-home Mom cooking tips, to the Friday night date night, there is something for everyone who is interested in improving their techniques and cooking knowledge.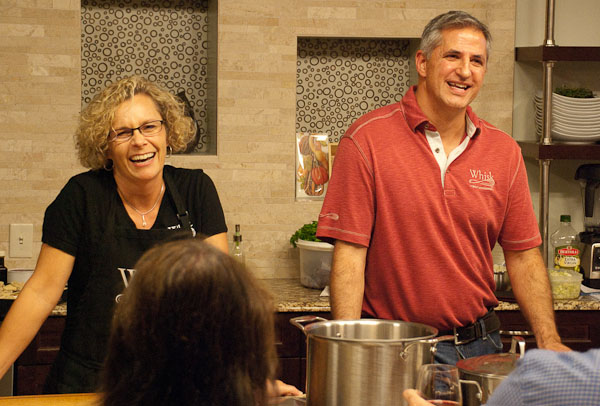 ———————————————————————————————————
Story by Lindsey Chester and photos by Hal Goodtree.
———————————————————————————————————
The Food Column on CaryCitizen is sponsored in part by Whisk of Cary, celebrating their first year at Waverly Place.

https://carycitizenarchive.com/wp-content/uploads/2014/09/whisk-anniversary-1.jpg
402
600
Lindsey Chester
https://carycitizenarchive.com/wp-content/uploads/2020/03/cc-archive-logo-450-v3.png
Lindsey Chester
2014-10-02 13:49:37
2019-12-08 10:10:59
Whisk Celebrates First Anniversary