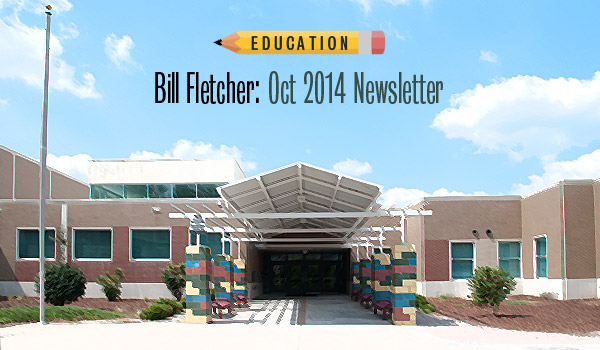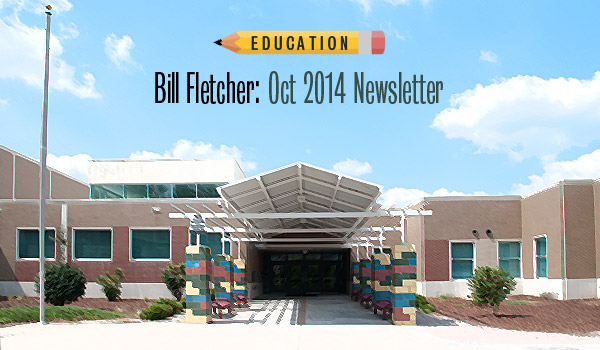 Wake County, NC — Thoughts for October 2014 from Bill Fletcher, Member Wake County Board of Education. 
Catching up with growth! With what other infrastructure would you equate our schools' fiscal plant? How does our community plan for future water usage? How does Duke Energy prepare to meet the growing demands for power? Both build the infrastructure necessary to always have enough capacity to meet demand…even if some capacity is not immediately consumed. Let's put school capacity right up there with water supply! Build the schools we know we need before the people get here.
Remember to vote November 4!
Teacher compensation and employee relations?
While the Legislature increased the teacher salary schedule for most teachers, they also created five-year periods where no salary increase is expected. How might the District respond to these Legislatively-created "dry spells"? Discussion soon.
The General Assembly also ended "Career Status" for teachers. Career status includes some due process protections but not anything like university-type tenure. The District is evaluating options to provide some level of due process assurances in local contracts.
Transportation ups and downs!
The optimization of the district's transportation routing system has resulted in a significant efficiencies including reducing the need to purchase more buses. It is costing less to operate the 908 buses currently on the road than projected.
There are 908 budgeted driver positions plus 50 permanent substitute driver positions. BUT the District still has great difficulty recruiting and retaining qualified drivers. There are 52 open positions for sober drivers with a CDL who will show up at 5AM, work 6 to 7 hours a day on a split shift for $11/hour plus benefits for 10 months of the year. Do you see a problem here? Any change in compensation for drivers must be done in concert with a comprehensive wage study across all non-certified positions.
Staff presents updated budget
The State's 2014-15 Budget requires some increases/reallocations of local funds to match state changes. About $12MM of local funding must be reallocated. It was feared this would eliminate planned instructional initiatives in our weakest performing schools. Staff identified how to absorb most of the state match and implement the promised academic programs albeit at mid-year. Film at eleven!
Check progress on the new Strategic Plan
Current work can be seen at www.wcpss.net/vision.
Draft #2 student enrollment plan on view
On October 7, staff unveils a revised draft enrollment plan for 2015-16. Goal is to populate several new schools and to provide better calendar alignment between elementary and middle schools. To check your address, go to http://wwwgis2.wcpss.net/addressLookup/ Comment at www.envisionwake.mindmixer.com.
Questions about Student Enrollment for this year?
Office of Student Assignment: 919-431-7300 http://www.wcpss.net/parents/student-assignment/ Foreign languages: 919-431-7404 http://www.wcpss.net/parents/center-for-international-enrollment/
Factoid #4
The state accounting system has in excess of 73,000 account codes in the budget.
Parent chats
1st Thursday, 1PM, Cary Chamber, 315 N Academy Street, Cary
and 3rd Monday, 11AM, Caribou Coffee shop, 109 SW Maynard, Cary
Get in Touch
BFletcher@wcpss.net  ||  Voice Mail: 919-431-7332   |  Mobile: 919-880-5301
———————————————————————————————————————————–
Story by Bill Fletcher, Member Wake County Board of Education. Photo by Hal Goodtree.
https://carycitizenarchive.com/wp-content/uploads/2014/10/education-fletcher-oct-2014.jpg
350
600
Bill Fletcher
https://carycitizenarchive.com/wp-content/uploads/2020/03/cc-archive-logo-450-v3.png
Bill Fletcher
2014-10-09 16:08:49
2014-10-09 16:15:02
Education: Bill Fletcher October Newsletter