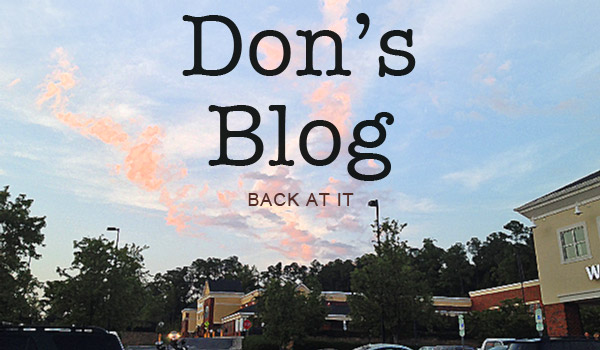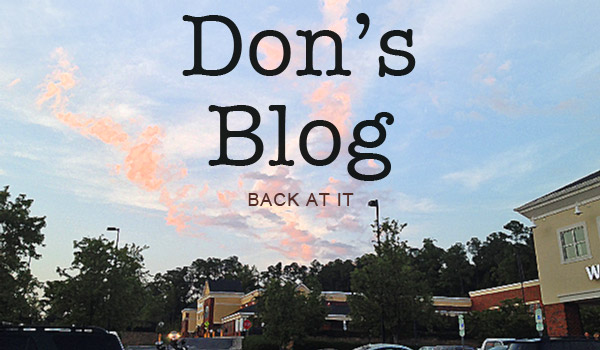 Cary, NC — I want to thank all of you who have reached out to check on me as I deal with my back issues. It really means a lot to me.
My Aching Back
The problem(s) I am having is a ruptured disc in my lower spine and spinal degeneration. The docs can explain it better than I can but basically the disc/debris are impacting a nerve which is causing excruciating pain in my right leg. Some days are better than others, but at times it can feel like I dipped my leg in a deep fat fryer, and all I can do is bury my head in a pillow and scream…and I'm the guy who doesn't even know I cut myself at work until I see the blood on the floor.
Now I know what you women might be thinking. Well, if the pain is even remotely close to what child birth feels like, I am so, so sorry, Lisa. It won't happen again I promise ;-) (it's a joke ok?)
Since I have already had two fusions in my neck, I am trying to tough it out as best I can in the hopes it will heal over time and avoid another surgery. The docs say I've got a 50/50 chance so I'm going for it.
We are currently attacking this with a combination of chiropractic care and medication. We are working towards physical therapy, but we have to get the pain under control first…without so many drugs.
My chiropractor is Dr. Tracy Watson at Cary Chiropractic. He's awesome; a straight shooter – no BS kinda guy. He doesn't sugar-coat anything and makes no promises that he can't deliver on. He has also gone above and beyond what I would have ever expected from a doctor by seeing me on Saturdays and Sundays when he is normally closed, and even hand delivering my MRI results to me at work. I was, at first, seeing him twice a day. I'm down to about twice a week now. I genuinely feel better each time I leave his office, but given the physical damage there is only so much he can do over a short period of time (a little over a month). I need to slow down and take it easy to give the disc time to heal…which is really hard for me.
My neurosurgeon is Dr. Robert Lacin at Rex Neurosurgery. He's the surgeon who did my previous fusions. He's great too. I went to see him early on for his opinion. He believes there to be a chance that I could heal without surgery and encouraged me to try. To me, a surgeon who recommends not surgery just yet says a lot about his character and integrity. He prescribed oral steroids which helped, but didn't last.
He then recommended that I see Dr. Singh over at Cary Orthopedics for a direct steroid injection to the affected area on my spine. I had the first treatment today and am currently resting in bed….blogging…..because daytime TV stinks! ;-) Seriously – umpteen thousand channels and nothing on. I can only watch Sportscenter so many times.
My first impression of Dr. Singh is, "wow". A doctor who actually spends time reviewing your reports, X-rays and MRIs with you and explaining everything in detail and in a way that a guy like me can understand. He demonstrated a genuine compassion for my well-being and really worked hard to make sure I was comfortable throughout the treatment – not to mention that working a needle through my spine via X-ray is pretty dang impressive! But on the outside I was like, "Ya, well, I need to use a bore-scope every now and then to my job too." ;-) He was impressed….sort of….maybe not.
I will have at least one more injection if not two more. Keep your fingers crossed! And thanks again for everyone's thoughts and prayers!
Race Car
Enough of that, let's talk about something fun! Pop Quiz; what is the most awesome word that is spelled the same both forwards and backwards? RACECAR! A few of you have asked how long until Roger Penske calls….ok, so maybe no you didn't ask that, but you have asked how my season went.
We finished 7th in points out of 23 with a best finish of 3rd. We started the season late and missed the last race of the season due to my back. I started 5 of 11 races so I'm pretty pleased with the results all things considered. I'm really looking forward to running the full season – and for a championship – next year, but honestly I'd just be as thrilled to get my first win. Championships come with wins.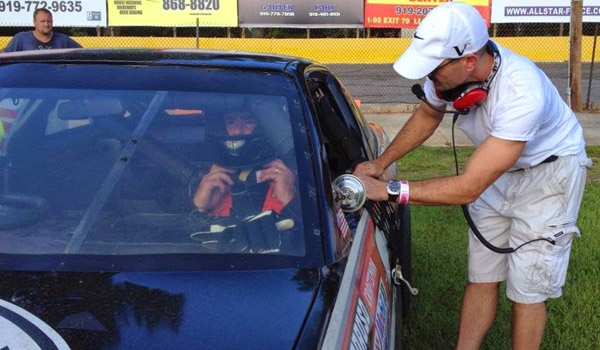 Thanks so much to everyone who helped in the pits – especially my brother, Dan and Darryl – and for all my fans for coming out to cheer me on. Ya'll are the best!
Ok – enough about me, let's talk about you, Cary.
Amberwood Apartments
I am pleased to report that Cary has reached an agreement with the Amberwood apartment complex to replace the trees that were cut down and repair the damage to the buffers that occurred a few months ago.
The gist of the agreement states that:
Amberwood agrees to the Town of Cary's re-vegetation plan
Amberwood will deposit $40,000 into an escrow account to ensure they comply with the re-vegetation plan which will begin next month and includes the planting of 110 trees and over 130 shrubs
Upon completion of the re-vegetation plan, Cary will refund to Amberwood $30,000. $10,000 will remain to cover maintenance costs and replace any dead vegetation
Cary will waive the $70,000 fine accessed to Amberwood.
The last one was a little tough for some on the council to swallow at first – myself included. The feeling was not only should Amberwood repair the damage they did, but that there should be some form of punishment for violating the town's ordinances.
That said, the reality is that this would have ended up in the courts. Sure, we might have won – but at what cost? Not to mention that the fine(s) would have gone to the court system and not the re-vegetation plan. And in the end our goal was to right the wrong that was done. This agreement does that.
Fire Station #2
In other good news – at our most recent meeting, the council approved the bid award for Cary Fire Station #2 in Downtown. The project includes the construction of a new 13,395 square foot 2-story, 2-bay fire station and associated site improvements located at 601 E. Chatham Street. Construction of this project is scheduled to begin this winter and take approximately a year to complete.
As part of the station relocation plan, the existing Fire Station #2 will remain open and convert a ladder or rescue company resource to an engine company resource to better serve the Walnut Street corridor.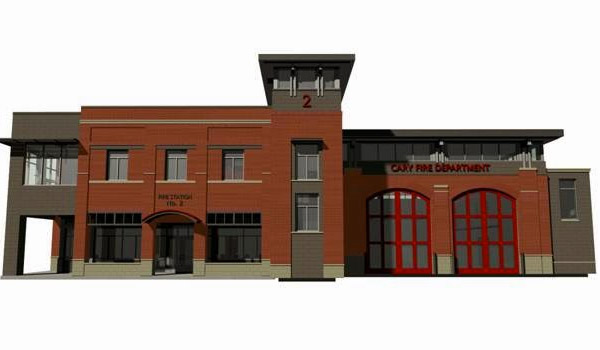 Early Voting
Early voting begins Thursday, October 23 at the Herb Young Community Center in Downtown Cary and runs until November 1st. You can vote early in person on weekdays from 11-7, Saturdays from 9-1 and Sunday from 1-5. Please also know you do NOT need a picture ID to vote yet. That law doesn't take effect until the 2016 elections. But don't let the grass grow under your feet if you don't have a picture ID yet – you only have about 740 days to get one for FREE before you need it.
Vote early or vote on Election Day, November 4th. Just make sure you vote! The direction of our state and nation depend on it.
Veteran's Luncheon
Please also consider attending Cary's annual Veteran's Luncheon on November 7th from 11:30-1 also at the Herb Young Community Center downtown. This event is always a wonderful tribute to those who have served in our nation's armed forces. While the event is free, given its popularity the town is asking for folks to pre-register so that they have an accurate head count for the event. Council member Jack Smith will also be speaking at the event, so if you want to hear what things were like during WWI, you won't want to miss it. ;-) Hi, Jack! Love ya man! ;-)
Halloween in Cary
The town also has quite a few Halloween events coming up – you can learn more about those here. Which BTW, if you aren't getting the town's email alerts, you really ought to sign up for them so that you are better informed of what's going on in and around Cary. You can sign up here.
The Green Elf
Oh, and last but not least, if you happen to see a neon green egg around town without a side of ham, it's not a lost Dr. Seuss prop or an alien spaceship. It's just Lori. Are you really surprised? ;-) I say it needs a little more bling – like maybe racing stripes and spinners and a bigger battery…or two. Let's see what this thing can do! LOL…. How about it, Lori! ;-)
That's about all for now. As always, thanks for reading!
—————————————————————————————————————-
From the blog of Don Frantz, Member of the Cary Town Council District B. 
—————————————————————————————————————-
CaryCitizen is sponsored in part by Fit & Able Productions.


https://carycitizenarchive.com/wp-content/uploads/2014/10/dons-blog-1023.jpg
350
600
Don Frantz
https://carycitizenarchive.com/wp-content/uploads/2020/03/cc-archive-logo-450-v3.png
Don Frantz
2014-10-23 16:20:17
2019-12-08 10:14:35
Don's Blog: Back at It