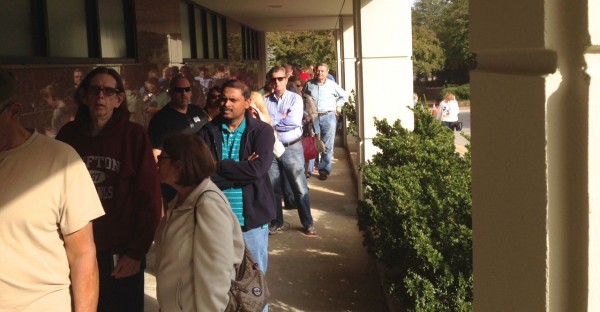 Cary, NC — Early voting started here in Wake County for the 2014 Elections on Thursday, October 23, 2014. I decided to give it a try on Day 2, Friday, October 24, and was surprised by the large crowd at Herb Young Community Center in Downtown Cary.
That's right– crowded! My 20-year-old daughter is home from college on Fall break, and our plans were to vote quickly and then go out to lunch. The line was so long and our schedule so tight that we decided to come back later.
15% Will Vote
Statisticians state that this current election have low voter turnout. Some say only 15% of registered voters will bother to show up at the polls at all. That is a shame when you think about the offices that are running for election. These local positions decide how your local tax money is spent. The Wake County Commissioners themselves hold the purse strings on a budget just over $1 billion. Schools, roads, public transit, and safety are all in the hands of these local officials.
Democracy is Alive and Well in Cary
After lunch, I headed back downtown at 3:30 and was directed to park at the Herb Young Parking Deck. The first sign that I would experience a wait was the lack of parking. I parked on the roof of a deck that is normally empty!
As I wandered over to the community center, I saw that the line extended down the sidewalk past numerous signs and political pundits handing out pamphlets. I ran into a friend and we both remarked on the crowd while trying to estimate what our wait time would be.
The Process
When we entered the building, the room to the left of the doorway was packed with voters filling out forms in the several dozen carrels set up for the express purpose of privacy when voting. The volunteers at the tables said the crowd had not let up all day.
The first table checks your name and verifies your address on their laptop computers in a registered voter database. They hand you a form, which you sign, and then they counter-sign the form and hand the paper to you. You present this form at a second table where you exchange it for your particular district's paper ballot.
You then proceed to the nearest open carrel to fill out all the bubbles–front and back (there are a lot of offices up for election)!
After filling out my ballot, I walked over to the machine and fed the paper in. On that machine I was voter # 1064. There was a second ballot-taking machine next to mine which displayed 1056 votes accepted. This was after only two days of early voting. Voting would continue that evening until 7:00pm.
When can you vote?
The whole process, wait time included, was about a half hour. Not because the people were slow, but because there were THAT many voters. I was encouraged. Maybe we will beat that 15% in our area of Wake County after all?
Early Voting Times
Any registered Wake County voter can vote at any early voting location. The volunteers look up your name and ask you to recite your address. They check you out on a computer voting database. No ID required until 2016 (no comment).
Cary Location:
Herbert C Young Community Center, 101 Wilkinson Ave, Cary, NC 27513
Monday, October 27 through Friday October 31,  11:00 am- 7:00pm
LAST Early Voting Date:  Saturday, November 1, 9:00 am- 1:00pm
No Excuse Not to Vote
There are eight early voting locations in Wake County, and we are very fortunate to have a convenient location right here in Downtown Cary. View all Wake County Early Voting locations
here
.
Election Day is Tuesday November, 4, 2014. Not sure of your current polling place? You can look up by your street address here.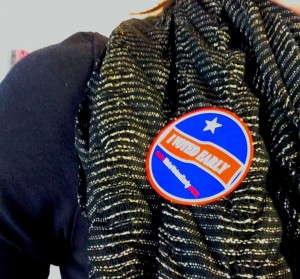 __________________________________________________________________________
Story and photos by Lindsey Chester.
https://carycitizenarchive.com/wp-content/uploads/2014/10/line-e1414187685679.jpg
312
600
Lindsey Chester
https://carycitizenarchive.com/wp-content/uploads/2020/03/cc-archive-logo-450-v3.png
Lindsey Chester
2014-10-27 15:32:04
2014-10-27 15:56:50
Early Voting is Busy in Cary