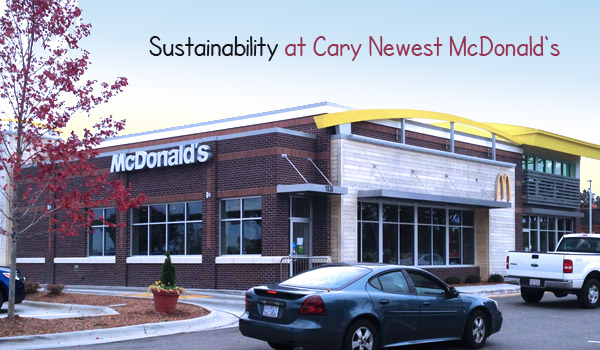 Cary, NC — Ric Richards, owner-operator of three McDonald's restaurants in Cary, has made it his business to make his stores as green and sustainable as possible. After all, doing so simply makes good business sense.
LEED Certification
The McDonald's Corporation has an ongoing initiative called LEED Volume that pushes the company to build 25 green McDonald's restaurants between 2013 and 2016. Ric owns two of these right here in Cary, and he is probably the only owner-operator to claim that distinction.
The first LEED (Leadership in Energy & Environmental Design) certified McDonald's in Cary was the Kildaire Farm Road location, renovated in 2009 (story). The area's most recent LEED restaurant, which opened in 2013 on Walnut Street in the Crossroads area, has taken sustainability several steps further.
Ric explains, "Building a green Mc Donald's, and then a second one, is our way of letting the community know we want to save our precious resources. It goes to our beliefs and value system. We are doing all we can to be relevant to our customers."
Charging Station
One of the first things you will see when you walk up to the restaurant is the free electric car charging station adjacent to the building. This is in use at least once or twice every day–some customers come in to "top off," while others may remain parked for several hours while they run errands at some of the other nearby Crossroads stores.
This charging station is one of only three in Cary–the others are Town-owned and located at the Arts Center and at Town Hall.
McDonald's is the only Cary restaurant offering this free service. There is now a trailblazer sign on Route 1 indicating the EV (Electric Vehicle) charging station and directing drivers to Ric's Crossroads restaurant.
Solar Power
When the former building at Crossroads was torn down and the new construction began, one of the first things built was the solar array in the parking lot. Many folks speculated that a Sonic was being built, as the structure looks very similar to that of their outdoor ordering service.
What was actually built was a large solar canopy covering 12 parking spaces and holding 132 photovoltaic panels. These panels generate 39.7 Kilowatts per day, roughly 10% of the restaurant's daily power usage. The restaurant converts the power from solar direct current to usable alternating current in-house, where it can be used immediately.
Ric mentioned that the investment makes great sense. He figures that as time goes on, power will cost more. The initial solar investment will make a return on the initial investment in about four years and, after that time, the power he generates will continue to save the restaurant money on their energy costs.
The panels have a life expectancy of 50-75 years with solid efficiency through the first 35. If the building were to be replaced (like the last one) the panels would remain.
Natural Light
In addition to these solar panels, the restaurant also contains solar tubes to light the interior. There are three tubes in the dining room, one in each restroom, and one in the crew room. These greatly reduce the need for electric light in the store's interior, further reducing electric costs. During the renovation process, the walls were opened up with larger windows to allow much more natural light and to reduce lighting needs.
LED Lighting
The restaurant is lit with 100% Cree's LED lighting. Although the initial investment to switch all lighting to LED bulbs is more expensive, these bulbs use much less power and last for years. This cuts down on energy usage, replacement costs, and the labor used to change the bulbs. The company worked with Cree to light every area of the restaurant including the fry stations, kitchen, bathrooms, and dining room.
Energy Efficient
All the appliances within the store are Energy Star rated, which means that they save on energy usage and have a longer usage life.
Reduced Resources Consumption
The restaurant's landscaping is done completely with drought tolerant native plants that are not irrigated, thus saving on water. All plumbing fixtures reduce water consumption by 30% including toilets, timers on sinks, and urinals. The fryers in the store are Low Oil Volume and use 30-40% less oil. The used oil is sold to an outside company that recycles it into biodiesel fuel.
Good Business Sense
Obtaining the Gold LEED certification was icing on the cake for this LEED Volume McDonald's. To Ric Richards, it was not only the right thing to do–it just made good business sense. By putting in all of these sustainable practices, he is able to see cost savings of 24% on his energy bill.
How does he know this? He can compare energy costs of this 7000 square foot 24-hour establishment with his non-LEED certified 24-hour restaurants. This restaurant uses 651, 490 kWh, while other traditional restaurants of the same size use 862,026 kWh.
Going green is good for the environment and the wallet. It just makes sense.
To learn more about the green restaurants in our area, view CaryCitizen's earlier coverage about Cary's first LEED certified McDonald's that appeared in 2009.
____________________________________________________________________________________
Story and photos by Lindsey Chester.
https://carycitizenarchive.com/wp-content/uploads/2014/11/green-mcdonalds-cary-nc.jpg
350
600
Lindsey Chester
https://carycitizenarchive.com/wp-content/uploads/2020/03/cc-archive-logo-450-v3.png
Lindsey Chester
2014-11-14 16:34:32
2015-12-29 22:52:16
Sustainability at Cary Newest McDonald's