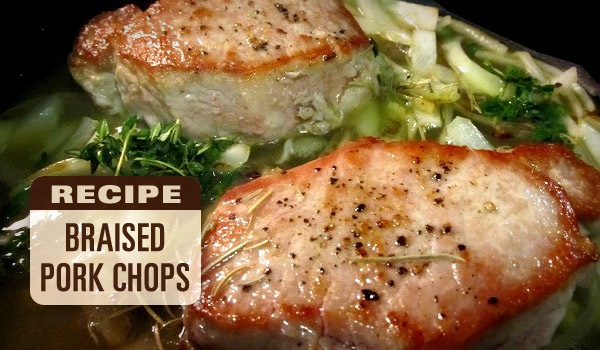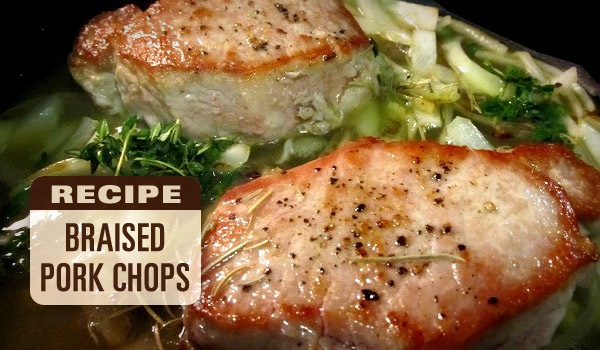 Cary, NC — My favorite method of cooking is braising. I just looked it up and found out this past weekend. Forthwith, here's a recipe for Braised Pork Chops that is simple to make and will melt in your mouth.
Braised
I always like to sear a piece of meat in a pan and then pour in some liquid and let it simmer for an hour. The meat has all the flavor you lose in boiling but is as tender as a four-hour stew.
It turns out that's called braising. Yeah, I looked it up.
Technically speaking, braising is a combination of two cooking methods: dry and hot (searing) combined with low and moist (simmering).
Searing caramelizes the surface of the meat, creating that rich, smoky flavor we associate with a grill steak. Simmering tenderizes the meat and infuses flavors from the cooking liquid.
Braising is often used for tougher cuts of meat, but Coq Au Vin (chicken in wine) is braised.
This recipe for Braised Pork Chops doesn't require much time in the kitchen, and the results are mouth-watering.
Recipe: Braised Pork Chops
Ingredients
2 Pork Chops (with the bone)
1/2 Onion, chopped
1 cup Chicken Stock
1 tsp Cooking Oil
1/2 tsp of dried Thyme or other savory herb (oregano, sage, marjoram)
Salt & Pepper
Directions
1. Heat a pan to medium-high. Pour in a little oil to coat the surface.
2. Chop up the onion. Pat down the pork chops with a towel and season with the salt, pepper and dried herbs.
3. Put the pork chops into the hot pan.
Be careful, because if you're doing it right, the meat should hit the pan with a sizzle. Don't fuss with it. The meat should release from the surface of the pan when it is properly seared–about 2-3 minutes. Remember, you're not cooking the meat all the way through at this stage. You're just charring the surface a little.
4. While you're waiting, heat up the chicken stock in the microwave. A Pyrex measuring cup is the perfect implement.
5. Pour in a tiny bit more oil and flip the chops. Add the onions to the empty spaces in the pan. You can stir around the onions a bit with a wooden spoon, but don't touch the pork chops. Let 'em sear.
6. After another two or three minutes, it's time to add chicken stock. Be careful, because adding the stock to a hot pan produces a cloud of steam. Add the stock slowly and scrape off any brown bits that are sticking to the pan (called fond).
7. Continue scraping the bottom of the pan and adding stock. When everything is bubbling nicely, season once again with a little salt and pepper and dried herbs. Cover the pan and turn the heat down to low – just bubbling, not a rolling boil.
8. Different cuts of meat require different amounts of time to tenderize via simmering. For braised pork chops, allow about 40 minutes of simmering.
While you're waiting, have a glass of wine.
To Serve
Remove the pork chops to the plate. Top with the cooked onions from the pan. Season with salt and pepper. Finally, for that restaurant finish, spray or drizzle the braised pork chops with a tiny bit of balsamic vinegar.
Don't forget your condiments. We like to add a dollop of mango chutney.
—————————————————————————————————————-
Recipe by Hal Goodtree. Photo by Mallory Dash.
—————————————————————————————————————-
The Food Column is sponsored in part by Thai Spices & Sushi, located in Preston Corners.
https://carycitizenarchive.com/wp-content/uploads/2014/12/recipe-braised-pork-chops.jpg
350
600
Hal Goodtree
https://carycitizenarchive.com/wp-content/uploads/2020/03/cc-archive-logo-450-v3.png
Hal Goodtree
2014-12-18 13:42:39
2019-12-08 10:13:10
Recipe: Braised Pork Chops