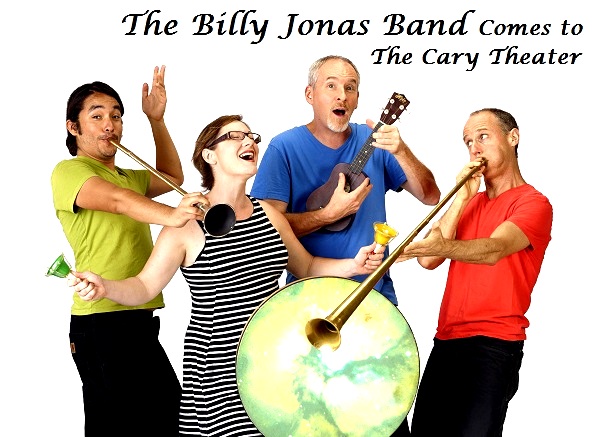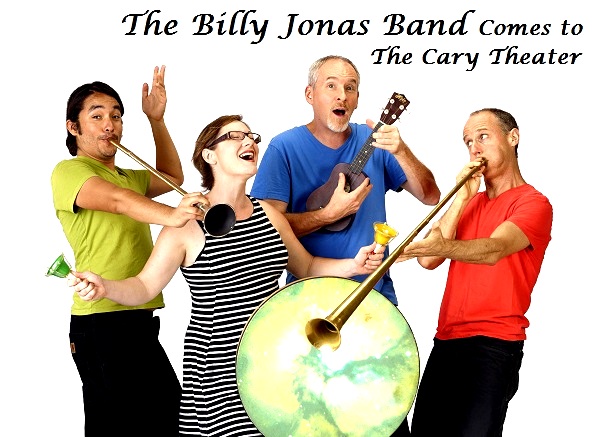 Cary, NC — The Billy Jonas Band, a group known for their "funky folk music for the whole family," is coming to the Cary Theater on January 10, 2015. I interviewed Billy Jonas, the band's lead guitarist and vocalist, to find out more about the group and about what makes their concerts so fun.
The Shows
With the help of Six Strings Presents, Cary residents of all ages can enjoy two exciting folk concerts on Saturday, January 10, 2015 at the Cary Theater downtown. A family show will take place at 3 pm, and a show for general audiences featuring Cary Cooper, a whimsical writer and performer, will begin at 8 pm.
Billy Jonas, who just welcomed a new baby girl into his family, kindly agreed to answer some of my questions about the history of his band and about their upcoming shows.
An Interview with Billy Jonas
Q: How and when did your band get started?
A: It started 20 years ago with the Oberlin College Big Bang Theory, an experimental found-sound performance art band. We began with eight of us and expanded to 12 in our 2nd year, dancing, singing, and "percussing" on anything and everything.
Q: Tell me about how you found your current band members.
A: It was much easier to organize in college! Fast forward to 2005 when I had enough momentum in my solo career to bring others on board and recreate an ensemble. A quartet is much more manageable, and we get to hone four part harmonies, which we love. We found each other through word of mouth, mutual friends, and the internet!
Q: How do each of your three other band members contribute to the music overall?
A: Ashley Jo Farmer (vocals, re-percussion) adds an exciting vocal dimension to the music. She's an awesome singer/songwriter and has her own band. Sherman Hoover (vocals, bass, marimba, re-percussion) adds some funk and his own innovative harmonies. He is an extraordinary multi-instrumentalist, arranger, and songwriter.
Juan Holladay (vocals, re-percussion), adds sweet and smokey tenor harmonies. His other band has been voted the #1 Soul band and R&B/Blues band in Western NC.
Q: It's really neat that you use found objects to make music. Would you tell me a little more about the reasoning/methodology behind this?
A: The primary instrument of the Billy Jonas Band is the audience–we love them singing along and joining in on the motions we do in our family shows. The second most important is our bodies, the greatest musical technology we know, for both singing and percussing.
Third is our found object instruments.
Using recycled materials is about value; everything matters, everything is sacred, and it all depends on your frame of reference. The Billy Jonas Band has a mission: to honor the presence, ideas, and creative potential of everyone, old and young, novice and skilled. Homemade instruments are an extension of that mission.
Q: What can you tell Cary residents about your upcoming family and adult shows?
A: The earlier family show is fast-paced with participation through out. The adult show is more relaxed with room for more introspective and emotionally nuanced songs and interpretations. Both shows will feature songs from our new CD "Build it Back Again."
Below, watch the Billy Jonas Band perform "Some Houses" and see why the band is such a hit with kids and adults. You can also listen to more music on their website.
Q: Is there anything else you'd like us to know?
A: Come prepared to be filled with joy, laughter and to have your wonder button pushed!
Event Details
The Billy Jonas Band
Saturday, January 10, 2015
The Cary Theater, 122 East Chatham Street, Downtown Cary, NC
3 pm: "Funky folk" concert for families and kids ($10 adults; $5 children)
8 pm: Reserved seating concert with Cary Cooper ($20-$25)
Tickets for the family and general audience shows can be found on etix.
Congratulations, Billy!
Billy is a busy man these days. In addition to preparing for his upcoming performances, he is a brand new dad. CaryCitizen would like to thank Billy for his time and send him a huge congratulations on the birth of his new baby girl, Laila Rose Jonas.
——————————————————————————————————————————–
Interview by Jessica Patrick. Photos from the Billy Jonas Band.
https://carycitizenarchive.com/wp-content/uploads/2015/01/Billy-Jonas2.jpg
437
599
Jessica Patrick
https://carycitizenarchive.com/wp-content/uploads/2020/03/cc-archive-logo-450-v3.png
Jessica Patrick
2015-01-06 11:17:49
2016-01-09 11:46:53
The Billy Jonas Band Comes to The Cary Theater