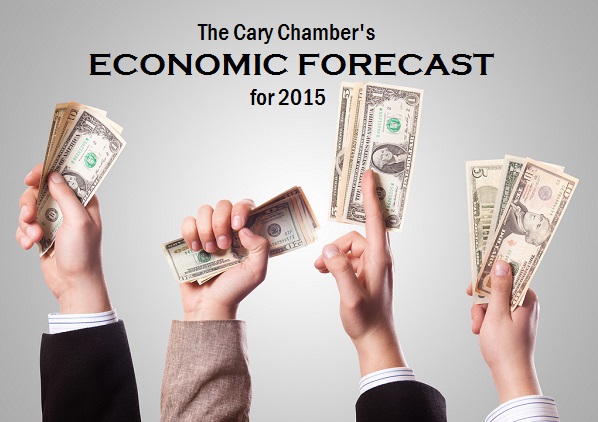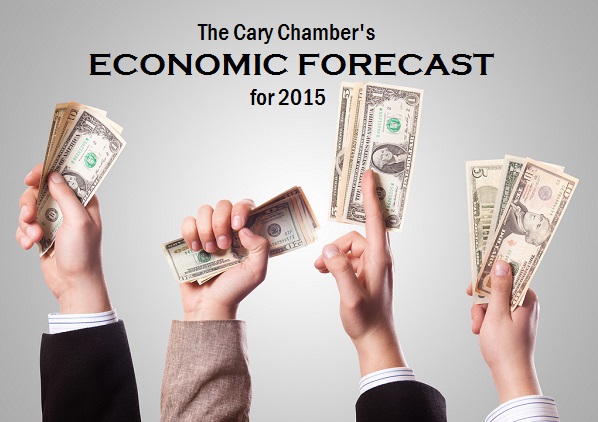 Cary, NC — Dr. Michael Walden, distinguished NC State economics professor, addressed Cary Chamber of Commerce members with his Economic Forecast for 2015 at Prestonwood Country Club on January 7, 2015. 
The 2015 Economic Forecast
Everyone in attendance was eager to find out if the current economic good times will continue to roll. The professor did not disappoint.
Dr. Walden is no stranger to Cary. This was at least his 14th economic forecast address to the group over a span of many years. He divided the talk into three areas of interest: the economic health of the nation, of the state, and then of the Triangle. The news was mostly good.
The National Outlook
Nationally, the US Gross Domestic Product (GDP) is at pre-Recession levels–accelerating to 3% growth–and consumer confidence is at a multi-year high. Why is this? Dr. Walden gave five explanations.
It's about time
There's a rebound from initial slow growth
Housing is improving (our area saw 13% increase in sales this year)
Wealth upswing (due in part to the stock market which has doubled since the depth of the recession)
Continued Federal Reserve stimulus with super low interest rates
Influencing Factors
Gas Prices
Currently, gas prices are at record lows. They are down 50%, which is like businesses and individuals getting a huge tax cut. The U.S. has doubled oil production in the last six years, leading to a world surplus.
Other economies around the world are slowing, notably China, which has slowed in oil demand. Saudi Arabia has not slowed oil production; instead, it's hoping to put others out of business (as they target regional player Iran).
Housing Boom
Housing in 2015 could hit pre-Recession levels in sales–which was not foreseen. A blip on the radar, however, is caused by The Millennials, who are not following the typical suburban home owner patterns as they delay marriage, child rearing, and home ownership. They are increasingly becoming renters who seek urban living.
Low Inflation
Is inflation too low? All eyes are on the Federal Reserve. The Fed has not moved to raise the short-term interest rate, but may have to this do soon in light of a possible smaller recession on the horizon in a few years. Raising interest rates is always tricky, as no one wants to de-rail the recovery.
Smaller Fed Deficit
The Federal Deficit has shrunk to half of pre-Recession levels.
Three Million New Jobs
All of this translates to three million new payroll jobs added nationally, jobless rates at 5- 5.5% nationally, and interest rates that remain low for borrowing.
Areas to Watch:
That all sounds rosy, but there are a couple of issues on the horizon that need to be watched.
Where are the Middle Income jobs? There have been large gains in employment for high paying, as well as low paying (mostly service) jobs–but none in middle management jobs.
Technology is replacing some of these jobs.
Another national issue is the rise of dependency demographics–in our aging society the ratio of retired-to-working people is increasing.
Another long-term issue is aging infrastructure and how to pay for improvements and upgrades. There is also question as of how to pay for federal programs like Medicare and Medicaid.
North Carolina In 2015
Things are looking pretty good in North Carolina.
The Good News
Job growth doubled in 2014 from 50,000 in 2010 to 100,000 new payroll jobs in 2014. The unemployment rate is under 7% (from over 10% in 2010). For 2015, Walden predicts another 125,000 new jobs and a jobless rate of about 5%.
There's even talk that North Carolina may finally land an auto assembly plant in a rural area in the East or Piedmont regions.
The Bad News
There was lots of growth in high paying and low paying jobs (just like the National trend), and the middle income jobs have disappeared. Walden suggested that, "There needs to be a new emphasis on good middle paying jobs and perhaps less focus on everyone going to college." Conversely, he advised folks to continue to earn higher level degrees if they can afford to.
North Carolina has seen tremendous, but uneven, growth with the urban areas benefiting the most. The Raleigh area topped the list with 12.6% job growth followed by Charlotte at 11.3%, while rural areas such as Rocky Mount actually shrank by 2.5%.
The Triangle In 2015
The Good News
This area is a leading tech center, currently rated as #2 in the nation only behind Austin, TX. Move over Silicon Valley! We benefit from the educational complex that surrounds us with its ready supply of well-trained young people. It's also a pleasant place to live and raise a family. But we knew that already!
In 2014, the area added 20,000 payroll jobs, and we currently have a low 4.5% unemployment rate. Housing sales were up 13% last year over 2013. Walden predicts this picture to get even brighter with unemployment falling to 3-3.5% and housing sales surging ahead 15%.
The Bad News
Predictions are that Wake County will double its population between now and 2050 with the additions of multi-use developments like Chatham Park in Pittsboro. Chatham Park will have a tremendous impact on roads, infrastructure, and schools by the time it's complete in 40 years.
With this growth will also come congestion and infrastructure cost challenges.
2015 looks so bright that we might have to wear shades.
Overall, the year ahead looks good, and more households and businesses are eagerly looking ahead in an improved business climate. Walden concluded by stating that, "The upcoming challenges we face will be related to growth rather than decline. More like what we experienced in the 1990's."
I think I'm ready for that! Happy 2015 to all of our fans and readers–may it be a prosperous year ahead for all of you!
——————————————————————————————————————————–
Story and photo of Dr. Walden by Lindsey Chester. Lead photo by 401(K) 2012.
——————————————————————————————————————————–
Business coverage on CaryCitizen is sponsored in part by Hopewell Academy in Cary.
https://carycitizenarchive.com/wp-content/uploads/2015/01/Economic-Forecast.jpg
422
598
Lindsey Chester
https://carycitizenarchive.com/wp-content/uploads/2020/03/cc-archive-logo-450-v3.png
Lindsey Chester
2015-01-08 13:37:24
2015-12-28 14:18:59
Cary Economic Forecast for 2015