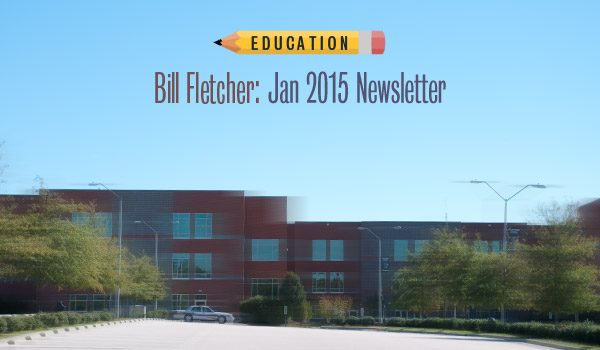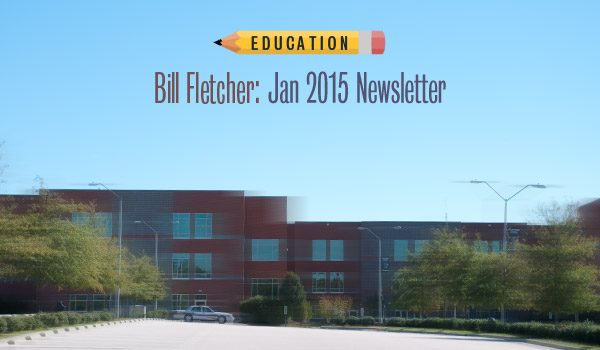 Wake County, NC — Thoughts for January 2015 from Bill Fletcher, Member Wake County Board of Education.
Strategic Plan Released
The strategic plan is now released for public comment. An adoption is expected on January 20, 2015. This is what the public said was important for students:
I am very excited to see a B-HAG, a "Big Hairy Audacious Goal," for the Board and a commitment to help every student reach their potential!
Vision: All WCPSS students will be prepared to reach their full potential and lead productive lives in a complex and changing world.
Mission: WCPSS will provide a relevant and engaging education and will graduate students who are collaborative, creative, and critical thinkers.
Goal: By 2020, WCPSS will annually graduate at least 95% of its students ready for higher education, career, and productive citizenship.
Review the presentation to the Board, or read more about the plan.
Removing Enrollment Caps
On January 20, 2015, the Board will vote on staff recommendations to remove caps at 14 schools, maintain caps at six and add caps at five for the 2015-16 academic year. To be "under the new cap," domicile must be established by January 20.
Enrollment caps are temporary capacity management tools to assure a safe educational environment at schools experiencing significant growth.
Cap removed at: Alston Ridge, Books, Cedar Fork, Combs, Forest Pines, Green, Holly Ridge, Holly Springs, Jones Dairy, Lacy, Leesville, North Ridge ES and Apex and Holly Springs HS.
Cap maintained at: Hodge Road, Holly Grove, Hunter, Mils Park and Walnut Creek ES and Mills Park MS.
Cap added at: Cary ES, Davis Drive MS and Enloe, Heritage and Panther Creek HS.
New County Commission
The first public joint meeting between the county commission and school board will occur on Monday, January 26, 2015. While the agenda has not been finalized, expect discussion on collaboration and coordination of school and county services for greater effectiveness.
When is an "A an "A?"
As follow up to my December "Thoughts," it looks like the State Board of Education will reverse course and make the new 10 point grading scale apply to all high school students with the start of the 2015-16 academic year.
I'm glad the State Board listened to Wake's appeal for change.
Factoid #7
The Wake District transportation system is among the largest and most efficient in the state with 906 buses, 2100 routes, 22,760 morning stops and more than 100,000 miles driven to safely deliver students to 172 schools and return them home each day.
Parent Chats
Parent chats are held on the first Thursdays and on the third Mondays of each month. They are not held on holidays.
1st Thursdays: 1 pm, Cary Chamber, 315 N Academy Street
3rd Mondays: 11 am, Caribou Coffee shop, 109 SW Maynard
Get in Touch
BFletcher@wcpss.net  ||  Voice Mail: 919-431-7332   ||  Mobile: 919-880-5301
—————————————————————————————————–
Story by Bill Fletcher, Member Wake County Board of Education. Photo by Hal Goodtree.
—————————————————————————————————–
Education coverage on CaryCitizen is sponsored in part by Hopewell Academy in Cary.
https://carycitizenarchive.com/wp-content/uploads/2015/01/Bill-Fletcher.jpg
350
600
Bill Fletcher
https://carycitizenarchive.com/wp-content/uploads/2020/03/cc-archive-logo-450-v3.png
Bill Fletcher
2015-01-13 15:06:51
2016-01-09 11:39:06
Education: Bill Fletcher January Newsletter