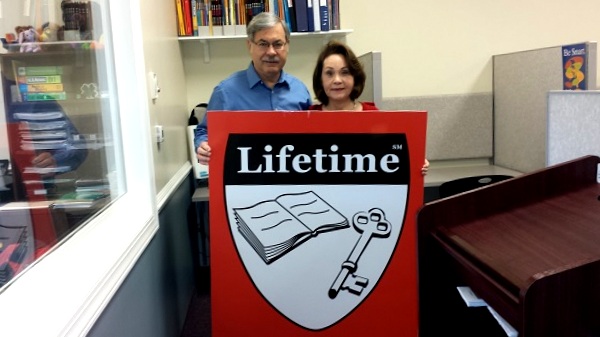 Cary, NC — Tom and Rosemary Wyrick, owners of Lifetime Learning Academy, have been making a difference in the lives of their students for awhile now, but the month of February brings an exciting change. On Friday, February 6, 2015, the Wyricks will hold an open house at their Cary location to celebrate their academy's new status as an independent tutoring center.
Two Locations; Two Celebrations
You'll find two Lifetime Learning Academy locations in the area–one on Cary Parkway, beside Fresh Market, and one in Holly Springs. Both centers have received numerous praise and awards for their personalized tutoring services.
Tom and Rosemary's students keep coming back to Lifetime and, after meeting the couple last week, I understand why. The Wyricks' dedication, commitment, and care for their students' success, confidence, and overall well-being is evident from the moment you meet them.
Tom and Rosemary are holding two open house celebrations (one at each location) to celebrate eight years of success as well as their new status as an independently-owned tutoring center that can better serve Wake County students and families.
Both celebrations will feature free tutoring session giveaways, activities, drawings, and refreshments–but that's only a small part of why you should mark the Lifetime open houses on your calendar. Scroll down for details.
The Lifetime Learning Academy Story
It was our interest in working with families and doing something with this stage of our lives that would help others and give back a little bit. So that's what we've done.
Tom and Rosemary Wyrick have always loved spending time with children. In addition to raising kids of their own, the Wyricks both have backgrounds in education. Rosemary started out in elementary education and has always been actively involved in school and church activities.
Tom, a former air force officer and international businessman, served as a scout leader for almost 15 years. He taught while in graduate school. When the couple decided to do something different, tutoring–and spending time with children–felt like the natural choice.
New Name; New Plans
The Wyrick's began their business as the WHIZard Academy, a franchise that offers students across the U.S. and Canada individualized academic instruction. While Tom and Rosemary have seen great success under the franchise, their upcoming open house celebrations will mark the start of their new independently-owned tutoring business, Lifetime Learning Academy.
The locations, tutors, atmospheres will stay the same–and, of course, Tom and Rosemary will continue playing active roles in the lives of their students and clients. What has changed? Their freedom to partner with other organizations, create enriching seminars and classes, and, most importantly–to deliver award-winning, specialized instruction to Wake County students.
A+ Better Business Bureau Certified
Lifetime Learning Academy has been recognized as a trustful and honorable business by the Better Business Bureau since its opening as WHIZard Academy eight years ago. Tom and Rosemary's students keep coming back to visit or receive tutoring, and parents keep calling with success stories and thanks.
About the Academy
The Students
Lifetime Learning Academy is a space for students of all ages and academic levels. Preschool age children can start preparing for kindergarten at the academy, and, at the same time, high school students can receive help with their college applications. Lifetime Learning Academy has seen students from ages three to fifty.
The Wyricks' sincerity towards and dedication for their students is obvious. Rosemary, reflecting, told me that:
Our very first student drops in from time to time. Their braces are gone, their glasses are gone, they're tall, they're beautiful. You watch them grow up. [It's incredible] to be involved with them and to watch them grow.
The Space
Rosemary and Tom refer to their tutoring spaces as the "libraries." That's because, at Lifetime Learning Academy, the owners and tutors believe in the importance of quiet, distraction-free study environments.
Of course, study rooms are available for reading practice or group discussion, but most of Lifetime's students learn and work in their own private cubicle. In this environment, students of different ages and academic levels have no reason to feel embarrassed or to compare themselves to other workers.
There are no food, drinks, or cell phones allowed in Lifetime Learning Academy during tutoring sessions. The Wyrick's have learned that a calm, controlled environment–away from home distractions, for example–creates an optimal learning space for their students.
The Tutors
Each and every tutor at Lifetime Learning Academy is either a current or former teacher–or an individual who posses an advanced degree in their field. There are only three students to every one tutor, max, at all times. Tom and Rosemary told me that, usually, the ratio is even less.
The Open House Celebrations
Two open house celebrations will recognize the academy's past and current success, as this February 2015 marks the academy's 8th anniversary in Cary and its 3rd in Holly Springs. The ribbon cuttings and celebrations will also recognize the academy's new name and its improved flexibility to provide personalized learning services like tutoring, test preparation, and camps to students and families.
Rosemary explained to me the significance of this change:
Here [in the Triangle] we have the common core and we have year round schools, so we felt that it was very important to be able to serve our students and our families a little better by going independent in this area.
Tom and Rosemary have worked hard to make the open houses an opportunity to both have fun and give back to the community. The celebrations are free and open to the public–current, former, and prospective students are especially encouraged to attend.
There will be fun activities and workshops for all ages, including:
Reading circles (ages 3-5)
Robotics workshops (ages 7-12)
Challenge Island science workshops (grades 2-5)
Computer coding (ages 9-14)
Redesigned SAT (grades 7-10)
Every family that attends will receive a coupon for a free 60-minute tutoring or test preparation session. Donations of three gently-used or new books, or five cans of food, also allow families to earn sessions. Other giveaways include:
$100 and $50 gift cards
5-hour tutoring program
5-day camp enrollment
$100 tuition discount
Event Details
Cary Lifetime Learning Academy Open House & Ribbon Cutting
Friday, February 6, 2015 from noon-6 pm
3647 SW Cary Parkway
Holly Springs Lifetime Learning Academy Open House & Ribbon Cutting
Friday, February 13, 2015 from noon-6 pm
620 Holly Springs Road
————————————————————————————————————————————
Story and photos by Jessica Patrick.
https://carycitizenarchive.com/wp-content/uploads/2015/01/20150129_130113.jpg
337
600
Jessica Patrick
https://carycitizenarchive.com/wp-content/uploads/2020/03/cc-archive-logo-450-v3.png
Jessica Patrick
2015-02-03 10:23:01
2015-02-03 10:28:18
Lifetime Learning Academy Celebrates 8 Years