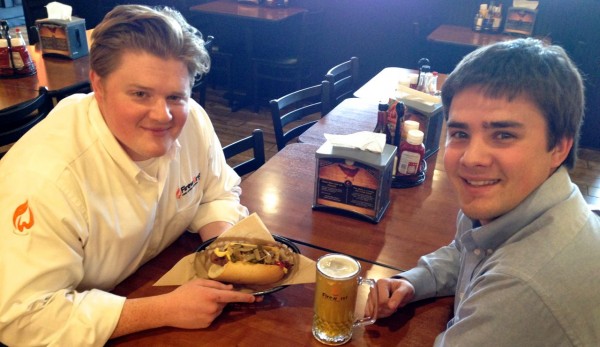 Cary, NC — Cary's Firewurst, a spot for flame-grilled sausages, burgers, and hot dogs, looks like a big chain but, in reality, it's two family-owned restaurants that are poised to expand throughout the Triangle with a unique franchise concept.
The Firewurst Story
In 2012, Bill Morgenstern was looking for a business concept. Prior to that, he had started his own business in Erie, PA, taken it public, and then "retired" to later become a successful marketing consultant. Tired of all the travel, Bill started looking for something new to be passionate about–and for something that could involve his two sons, Chas and Dan.
CaryCitizen met with Chas and Dan, and they explained that the food business is in their DNA.
In 1902, Bill's grandfather immigrated to Pennsylvania and later ran a sausage-making company. When Bill and his sons began to think about what type of business they could start, they quickly realized that there were no restaurant concepts in the area focused on premium quality sausage or hot dogs. There were plenty of barbecue, Mexican and pizza chains in the area, but most hot dog concepts were fast food.
Fast Casual
The Morgensterns were drawn to the huge growth potential of what is now termed the "Fast Casual" restaurant model. With Fast Casual, a patron orders at a counter but has their food brought out to a table by a server. It's nicer than traditional fast food but quicker than table service. Price point-wise, it fits somewhere in between, and it is the fastest growing segment of the food industry.
Two Triangle Locations
Bill, Chas and Dan came up with the Firewurst concept–a Fast Causal restaurant that would offer premium sausages and hot dogs flame-grilled to order. They opened their first Firewurst restaurant in April of 2013 on Kildaire Farm Road near Trader Joe's. The initial store was used like a test kitchen. That 1,500 square foot location is no longer open, but it allowed them to try sandwich options and change things quickly until they were ready to expand.
Firewurst opened a second restaurant in Brier Creek about a year later, and they now have a third restaurant in the Harrison Point shopping center near Bass Pro Shops. The menu has expanded to include burgers, and they also offer vegetarian and gluten-free options.
What's Next for Firewurst?
The family has been taking steps towards honing their franchise model. They have streamlined procedures and  developed a new signature look inside their existing restaurants. The restaurants feature plenty of food photos on the wall of some favorite sandwiches.
Another large family snapshot near the condiment area also highlights the family's ties to history with a photo of Bill's grandfather's sausage-making store.
Next up, Chas and Dan are looking to expand locally in the Triangle. They feel there's plenty of growth potential right here in their own backyard and are actively looking for franchise partners to open other 2,000 square foot restaurants close by. They want to take an active role with their franchise partners and help them to be successful.
After that, the brothers will be ready to expand beyond this area and tackle other North Carolina markets–and they'll eventually roll out to other states. They've set an aggressive timeline.
Firewurst Gives Back
The brothers were recently awarded the Jeremiah Morris Community Steward Award at the Morrisville Chamber of Commerce's annual meeting from their work to give back to the NC Food Band and the Kay Yow cancer fund. In July of 2014, they raised $10,000 for the Food Bank's Stop Summer Hunger program, which makes sure that children who normally depend on school breakfasts and lunches for their daily meals have access to food when school is out, too.
If you haven't tried a Firewurst sandwich, you should. If you aren't a sausage person, try a veggie option or a burger. The family has made sure to have plenty of options for all diners.
————————————————————————————————————————————-
Story and photo by Lindsey Chester.
https://carycitizenarchive.com/wp-content/uploads/2015/03/brothers-BEST-e1425839564667.jpg
347
600
Lindsey Chester
https://carycitizenarchive.com/wp-content/uploads/2020/03/cc-archive-logo-450-v3.png
Lindsey Chester
2015-03-11 09:57:16
2019-12-08 10:15:19
The Family Behind the Firewurst Hotdogs