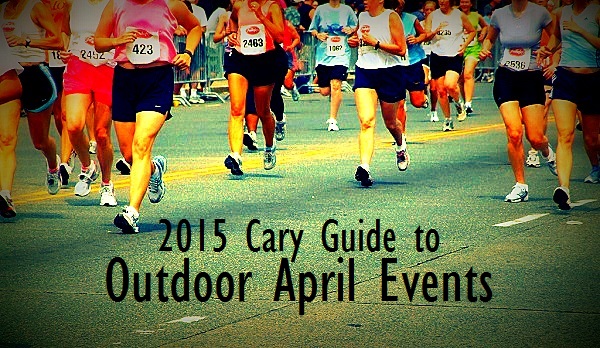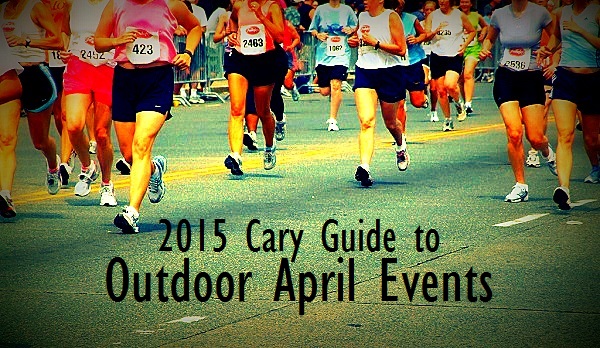 Cary, NC — It's the first day of April, and spring is in the air. If you're like us, the warm weather and sunshine is beckoning you to get outside as much as you can. We compiled a list of April 2015 events in Cary that are sure to keep you active and outdoors this month.
Outdoor Spring Events in Cary
April is a big month in Cary for outdoor festivals, fitness classes, 5Ks, walks and more. We grouped the following events by type, but some start this weekend, so be sure to check the dates of your favorites. Enjoy the fresh air!
Outdoor Fitness Classes
This year, the Town of Cary is hosting free outdoor fitness classes in various venues around town each Saturday morning in April. Bring water and dress accordingly!
Outdoor Zumba
Saturday, April 4, 2015 at 9 am
at the Page-Walker Arts & History Center garden, 119 Ambassador Loop, Downtown Cary
Outdoor Fencing
Saturday, April 11, 2015 at 9 am
at the Koka Booth Amphitheatre stage, 8003 Regency Parkway, Cary
Outdoor Yoga 
Saturday, April 18, 2015 at 9 am
at the Bond Park Boathouse dock, 801 High House Road, Cary
Outdoor Cardio Combo/Total Body Fitness
Saturday, April 25 at 9 am
at White Oak Park, 1216 Jenks Carpenter Road
Greenway Walks
The Town of Cary is holding two group greenway walks in April.
Tuesday, April 7, 2015; 5:30-6:30 pm
at Marla Dorrel Park, 111 Thurston Drive, Cary
Sunday, April 19, 2015; 2-3 pm
at the Mills Park Track, 425 Mills Park Drive, Cary
CVA Art Events
Before we know it, the dozen sculptures lining Academy Street will be taken down and replaced with the new 2015 Outdoor Sculpture Exhibition show. If you haven't had a chance to give the 2014 show a good look yet, this is your chance to do so while being active at the same time.
CVA Art Walk
Thursday, April 16, 2015 at 4 pm
meet at the Cary Arts Center, 101 Dry Avenue, Cary
Take a walking art tour through Downtown Cary to see Cary's outdoor sculptures.
Yoga with the Sculptures
Friday, April 24, 2015 at 3 pm
at the Page-Walker gardens, Ambassador Loop, Downtown Cary
Rejuvenate your mind and body with an outdoor yoga class—taught right beside an artist's sculpture! Learn about stretching, breathing, and other yoga techniques from instructor Judy Liu. Be sure to wear comfy clothes and bring yoga mats or towels. Relaxing music will be provided by Triangle Youth Philharmonic String Quartet.
5Ks & Fun Runs
5Ks and "fun runs" are for people of all fitness levels. They're a great way to be active, have fun and support special organizations and causes.
Wave 5K Fun Run
Saturday, April 11, 2015 at 8 am
at Bond Park, 801 High House Road, Cary
Wave, a nonprofit, local, year-round swim team, is holding their first annual 5K Fun Run this year. The event is $30; participants should register online.
37th Annual Cary Road Race
Saturday, April 11, 2015 at 8:30 am
at Koka Booth, 8003 Regency Parkway, Cary
The Cary Road Race is a family event that includes a 5K, a 10K, and a one mile fun run. This course is a challenging route over rolling city asphalt streets and around the lake at scenic Koka Booth Amphitheater. Register online ($12 recreational, $15 competitive) or on race day ($15 recreational, $20 competitive).
Rock & Roll-athon for Brain Injury Awareness
Saturday, April 25, 2015 at 9 am
at Koka Booth, 8003 Regency Parkway, Cary
BIANC (The Brain Injury Association of NC) offers help, hope, and a voice, for people with brain injuries and their families. Support them by enjoying their walk and roll-athon, activities, vendors and lunch. Register online.
3rd Annual Run to Remember for Alzheimer's
Sunday, April 26, 2015 at 3 pm
at Wake Med Soccer Park, 201 Soccer Park Drive, Cary
Proceeds from this run benefit Alzheimer's research. The Kids Dash starts at 3 pm, and a 5K starts immediately after. Online registration closes on April 25 at 9 pm, but cash and checks (made out to Alzheimer's North Carolina) will be accepted on race day.
The Kids Dash is $5; the 5K is $25-$30.
Just for Kids
Bike Safety Rodeo
Saturday, April 11, 2015 at 10 am
at Morrisville Fire Station 1, 200 Town Hall Drive, Morrisville
The Morrisville Rescue/Fire Dept will host a bike safety rodeo for kids and teenagers. They'll learn about bike safety and ride through an obstacle course. The class size is limited to 20 participants. A parent or guardian must accompany each child. Signup for free.
Outdoor Festivals
While these festivals and markets aren't exactly "fitness-centered," they're still a great way to get outdoors, walk around and support your community by shopping local.
Weekly Farmers Markets
Saturday mornings from 8 am-noon
at various locations in Cary
It's the time of the year when farmers markets really start to get in the swing of things. You can check out the Cary Downtown Farmers Market (in Downtown Cary), the Western Wake Farmers Market (at 101 Gathering Park Circle)–which both open this week–or the Waverly Place Farmers Market, which opens April 26, 2015.
Downtown Cary Food & Flea
Sunday, April 12, 2015 from 12 pm-4 pm
at Ashworth Village in Downtown Cary (corner of W. Chatham and Academy St.)
This new event has local craft beer, food trucks, vintage goods, artists, crafters, music and more.
Chatham Street Chowdown Food Truck Rally
Sunday, April 19, 2015 from 12 pm-4:30 pm
along W. Chatham Street in Downtown Cary
West Chatham Street in Downtown Cary will have food trucks and beer and wine vendors lining the street with seating areas and music from local performers throughout the day.
Spring Daze Arts Festival
Saturday, April 25, 2015 from 9 am-5 pm
at Bond Park, 801 High House Road, Cary
Nestled under the shady canopy of Bond Park, Spring Daze features over 180 local artists, entertainment on four stages, delicious festival foods and Cary's annual Earth Day Celebration. There is something for everyone at Spring Daze!
Did We Miss an Event?
Email us at calendar@carycitizen.com if you have a spring event you'd like to add.
———————————————————————————————————————————–
Story from staff reports. Photo by Rich Orris.
https://carycitizenarchive.com/wp-content/uploads/2015/04/outdoors.jpg
348
600
Staff
https://carycitizenarchive.com/wp-content/uploads/2020/03/cc-archive-logo-450-v3.png
Staff
2015-04-01 13:58:22
2020-02-24 19:02:45
2015 Guide to Outdoor April Events in Cary