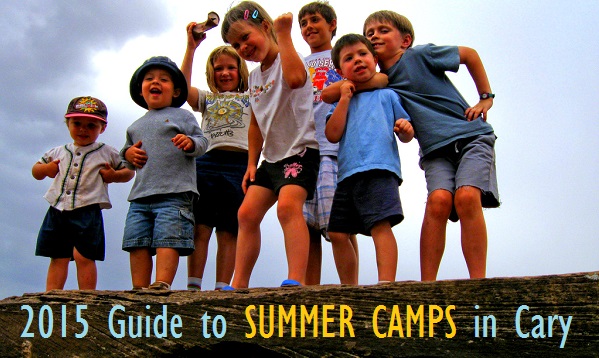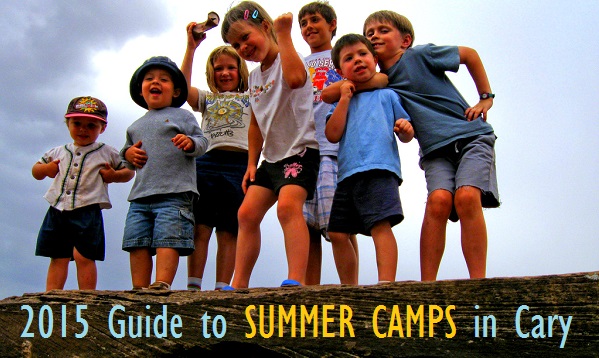 Cary, NC — If you have kids, this is the time of the year when you start to get serious about your summer plans. If those include sending your kids to some awesome camp experiences, this story is for you. We've rounded up the info about camps located right here in town where you can drop them off for a wide range of programs and pick them up on your way home from work!
Cary & Morrisville Summer Camps
We focused on Cary and Morrisville-based summer camps because, in our experience, unless you are sending your kids to sleep-away camps, most Cary parents are looking for camps that are convenient to either where they live or where they work.
Cary's 64 square miles encompass camps that offer music training, rock climbing adventures, STEM learning, outdoor exploring and a wide variety of sports. Check out what we found.
Science-Minded
With all the recent hype about STEM learning, many parents worry their kids don't get exposed to enough, so they make sure their kids get enthusiastic by trying out science camps during their summer breaks. There are no shortage of choices nearby.
Lifetime Learning Academy
3647 SW Cary Parkway, Cary
919-468-1721
This tutoring center focuses on extending learning from the school year in an expanded direction during themed camps for the summer. Some of their offerings include Robotics and VCoding Camp, Challenge Island STEM Camp, Test Prep Camps, Mindfulness Brain Camp and even a Pre-K Academic Camp. They emphasize small group learning ratios.
Camp weeks are grouped by age but range from Pre-K to high school.
STEM for Kids
Cary location: St. Francis United Methodist Church, 2965 Kildaire Farm Road, Cary
919-297-8366
These are various science and math based engineering camps geared for elementary – middle school aged children. Kids can experience Engineering Days, Classic Engineering, Computer Programming, STEM For Kids Experience and more.
Full or half days and full or partial weeks are offered.
Mad Science Summer Camps
PO Box 12402, Raleigh, NC 27605
919-858-8988
The Triangle location serves Cary, Raleigh and Durham (no physical address was listed).
This camp is geared for children aged 6-12 with themes like Eureka-Inventor camp, Crazy Chemworks, Flight Academy and Earth and Nature Explosions. Their emphasis is on making science exciting for younger kids.
CraZBrain
800 Park Offices Dr, RTP
919-357-2200
This new venture, located in the Frontier Building of RTP, is focused on engaging kids with hands-on activities. They offer full-day (8:30 am-4:30 pm) or half-day options along with after-care if needed. Geared towards ages 7-13.
Camp themes this summer include Crime Scene Analysis, Remote Control Cars, Crazy Contraptions, Amusement Park Design and more.
Educational
Many parents wish to stem the tide of brain-drain during our ten week-long summers. Choices range from music to foreign language to SAT prep.
Bright Horizons (2 Cary locations)
The Clubhouse @ Bright Horizons, 2500 Highstone Rd (919) 380-2003
Harrison Park, 800 Weston Pkwy (919) 678-1010
Bright Horizons offers track-outs, summer camps and after-school care for children aged K-8 along with traditional pre-school. Themes for weeks of summer camp include Brain Teasers, Lights! Cameras! Action!, Earth Works and a special camp called STAT (Selfless Teens Addressing the Times), in which teens engage in their community with service projects.
The Grove School of Cary
2590 Laura Duncan Rd
(919) 467-6494
Even the littlest kids need a break from routine. The Grove School has camp programs geared to pre-schoolers aged 1-6 years called Eco-Adventurers. The school has a green-focused curriculum during the year that is expanded for summer from June 1- August 31, 2015.
Camp focuses on the study of the six Biomes with themes that change weekly such as Under the Sea, Bees, Trees and Me, Golden Sands, Desert Lands and more.
The Goddard School
1177 NW Maynard Rd, Cary
919-466-0008
The Goddard School has six Triangle locations featuring pre-school and after-school care for elementary school-aged children. Their summer camp incorporates STEAM (science, technology, engineering, arts and mathematics) into exciting experiences every day with themed weeks throughout the summer. Their philosophy incorporates play-based learning opportunities.
School of Rock
1311 NW Maynard Rd
919-439-6086
Based on the idea that every kid wants to play songs they know when they learn an instrument, and that performing is an integral part of the process, School of Rock offers track-out and summer camps as well as weekly lessons.
The focus is on guitar, bass, vocals, keyboards and drums. The camp experience is designed to hone music performance and ensemble skills in a creative and fun environment.
Spanish For Fun
100 Endeavor Way, Cary
919-677-7144
This camp offers complete Spanish immersion curriculum so that children can learn Spanish in a natural and active environment.
Sports & Adventure
Cary has many great sports facilities that offer specialized sports and active camps to get your kids engaged in physical activities this summer.
Capital Area Soccer League (CASL)
WRAL Soccer Park, 7700 Perry Creek Rd, Raleigh
Camps are open to ages 5-15 and all skill levels. Children will be grouped by ability. Weeks of soccer camp this year are June 15-19, June 22-26, July 6-10 and July 13-17. CASL Junior camp (ages 5-10) is July 20-25.
Carolina RailHawks 
WakeMed Soccer Park, 101 Soccer Park Drive
919-429-8094
RailHawks camps will help your child improve their soccer skills by learning directly from the pros. All camps  defending, finishing, goalkeeping and general skill-building – are open to children ages 7 to 15 and take place Monday to Thursday evenings from 6 – 8:30 pm.
RailHawks players and coaches will teach and play side-by-side with all campers, and there will be daily scrimmages for campers to apply the skills that they have learned. Boys and girls of any skill level are welcome, and players will be grouped based on age and ability. All participants will receive a RailHawks soccer ball and t-shirt at the start of camp. Register online.
Schoolhouse of Wonder
Umstead State Park, 1800 N Harrison Ave, Cary
919-477-2116
This camp is full of outdoor adventure, where campers can explore nature in the wonders of Umstead State Park. Camps are offered for track-out as well as for summer weeks. Campers range in age from 5-12 years old. Hours are 8:15 am-5:30 pm.
Every week has a themes such as Creek Explorer, Reptile Wrangler, Native Ways, Colonial Days and more. They guarantee they will return your child to you dirty, tired and happy or they will refund your camp tuition!
TGA
1311 Fallen Acorn Circle, Cary
919-530-9355
This organization offers Tennis and Golf camps. Golf is taught at Knight's Play Golf Center, 2512 Ten-Ten Road in Apex. Tennis is taught at Scottish Hills Rec. Club, Morrisville Aquatics & Fitness Center and Chesterbrook Academy at 130 Towne Village Drive in Cary.
TGA offers ten weeks of summer tennis camps. All campers must have a racquet, but these can be purchased and used for $10 at registration. Tennis is open to K-5th graders, and each camp is limited to 15 students. The camp day runs from 9 am-noon.
Traditional golf camp is for children ages 5-13 with up to 20 golfers per session. Advanced golf camp is for experienced golfers aged 7-15 with up to 12 golfers per session. Clubs are available to rent. There are 21 weeks during the year of traditional camp starting March 23 through October 26. Advanced camp is offered only four weeks in the summer, beginning June 15.
Triangle Rock Club
102 Pheasant Wood Rd, Morrisville
919-463-7625
The Triangle's premier indoor climbing facility offers track-out and summer camps for kids aged 6 and up. Kids will enjoy fitness, adventure, education, entertainment and experimental learning with engaging activities all day long.
Traditional
When we say "traditional," we mean a camp that offers full-day activities for multi-age groups with a mix of activities in a more traditional setting. Many offer swimming, outdoor play and themes as well as mini-electives during the camp day.
The Cary YMCA
101 YMCA Drive
(919) 469-9622
The Cary Y and its sister, the Kraft Y, have been offering camps for kids for over 20 years in Cary. Camp Rising Sun is located in the main Y building, while Outer Limits is in the Mills Park Middle School satellite location in Western Cary.
There are sports camps for basketball, soccer, dance, jump rope and volleyball offered as special weeks in addition to the traditional, swimming and electives camps offered through the main program. Kids can also add swim lessons into the mix. Campers are divided by age/grade and can start as young as pre-school in Wee Camp and Kindergarten with "Kinder-campers" all the way through eighth grade.
They offer leadership training with the CIT program which trains rising ninth and tenth graders to become counselors. Camp runs from as early as 7 am until 6 pm for school-aged kids. Half days are offered for younger children.
Giggles
267 Grande Heights Drive, Cary
919-468-1001
Giggles is best known as a drop-off hourly day care, but this year they have expanded into providing summer camp. There are 11 themed weeks of camp starting June 9 and running through August 21. Campers start as young as 12 months and go up to age 12.
Full and half-day options are available. Camps will include field trips, science exploration, dance, crafts and music. The camp day starts at 9 am, and pick-up is at 5 pm.
Grace Christian School
801 Buck Jones Rd, Raleigh
919-783-6618
Grace Christian offers eight weeks of camp with focused themes of Safari, Mad Science, Wet & Wild and more. In addition to the themed camps, there are eight half-day specialty camps that focus on one type of activity: Lego Robotics, Video Game Design, Carolina RailHawks Soccer and Alpha Athletics Cheerleading.
Current Grace Christian students are offered a discount, but camps are open to the public.
Lifetime Fitness
1700 Regency Parkway, Cary
919-467-7779
Lifetime Fitness offers ten weeks of themed summer camps starting on June 15 running through August 21. Drop-off can start as early as 7 am, and the day ends at 6 pm. Every week has a theme, and campers swim four days a week. Half-day rock climbing camp is available from 9:30-11:30 as part of their specialty camp programs.
Examples of some camp themed weeks are: Athletic Endeavors, Wildlife Studies, Space Exploration and Water Prowess. Campers should come dressed to be active!
————————————————————————————————————————————-
Story by Lindsey Chester. Photo by Tim Samoff.
————————————————————————————————————————————-
The summer camps column was sponsored in part by The Carolina RailHawks, The Grove School of Cary and School of Rock in Cary.
https://carycitizenarchive.com/wp-content/uploads/2015/03/summer-camps.jpg
358
599
Lindsey Chester
https://carycitizenarchive.com/wp-content/uploads/2020/03/cc-archive-logo-450-v3.png
Lindsey Chester
2015-04-03 09:47:38
2019-12-08 10:15:37
Cary Guide to Summer Camps 2015