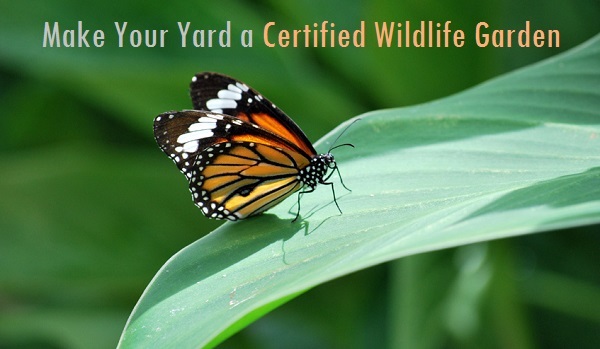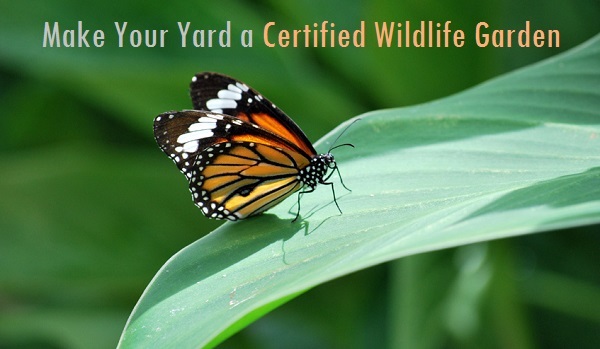 Editor's Note: Cary has partnered with the National Wildlife Federation to ask citizens, businesses and organizations to certify their outdoor spaces as wildlife habitats. David Lindquist shares how your can turn your own yard into an oasis for birds, bees and butterflies.
Cary, NC — Many of us already beautify our homes with gardens, but you can go beyond that to make your yard an oasis for the "three B's" of wildlife (birds, bees and butterflies).
Cary Garden for Wildlife: It's Easy
A new Cary initiative recognizes homeowners whose gardens are oases for wildlife. This program, "Cary Garden for Wildlife," seeks 300 households who are willing to become certified.
I was one of the first to sign up, and I'm delighted to share some simple, inexpensive choices for your garden that are both beautiful for you and friendly for wildlife.
Four Requirements
A Wildlife Garden can be created on the smallest of properties. The baseline National Wildlife Federation (NWF) certification only requires that a homeowner provide the following:
Food sources
Water sources
Nest opportunities
Sheltering vegetation
This can be accomplished with as few tools as a seed feeder, a bird bath, trees and shrubs and a nest box. My own property (a 0.2 site) documents over 64 species of native trees, shrubs, vines and wildflowers.
Use Native Plants
Native perennials are well-adapted to our Piedmont climate and, once established, can take care of themselves. Homeowners can decide to divide the plants as they propagate and spread, but that's just a little fine tuning once a year.
Plants that Spread Out
Species like Eastern Columbine, Stokes Aster and Mistflower will quickly spread out.
Shade and Sun Lovers
My own garden includes both sun-lovers and shade-lovers. The shade garden includes stunning choices like Cardinal Flower, Foamflower and Crested Dwarf Iris as well as shrubs like Maple Leaf Viburnum, Virginia Willow and Lowbush Blueberry.
The sun garden boasts such attractions as Bee Balm, Green and Gold, Coral Honeysuckle, Butterflyweed, Beard Tongue, Spiderwort, Purple Coneflower and Sunflower.
There are enormous visual rewards in establishing native plants that provide nectar for Ruby Throated Hummingbirds. Coral Honeysuckle, Bee Balm and Crossvine are superior food choices to the nectar feeders many of us put out each spring.
A Colorful Variety
As you can see, natives can provide wonderful color choices for half of each year. My garden begins to bloom in March with purple Phlox and red Columbines. By May and June, we see Stokes Aster (blues), Coreopsis (yellow) and Coral Honeysuckle (red).
In high summer, I appreciate Narrow leaf Sunflower (yellow), Butterfly weed (orange) and Bee Balm (red). The season continues into October with Mistflower (blue).
Create Your Own Wildlife Oasis
To get started on a wildlife-friendly garden, the first step is to create a plan and to set a budget. It can take several years to acquire and establish a garden, but, even in your garden's first spring and summer, the "three B's" will respond to what's there.
Secondly, find a plant source. The native species I listed above are increasingly available for purchase. Local nurseries can usually order specific species and provide excellent advice in establishing the plants. There are also legitimate online retailers who specialize in native plants.
Before making a purchase or placing an order, check the plants' genus and species name to make sure you are purchasing a native species. Common names can be misleading.
The best time to buy and plant natives is in the early autumn. There will be more than sufficient time for the plants to lay down root systems before freeze sets in. While it's possible to establish plants in the spring, this is not advised without experience and additional watering.
Join the Program
By joining the Cary Garden for Wildlife program, you will not only make the Three B's happy; you'll also gain recognition in your community, connect with other wildlife gardeners and help Cary be a nationally-recognized wildlife gardening community.
Consider joining a growing list of Cary citizens who are turning to native plants to create attractive, durable gardens that also attract and support wildlife. It's easy, affordable and rewarding! Find more information about the Cary Garden for Wildlife program online.
———————————————————————————————————————————
Story and photos by David Lindquist. Lead photo by Daniel Hall.
https://carycitizenarchive.com/wp-content/uploads/2015/05/Wildlife2.jpg
349
600
David Lindquist
https://carycitizenarchive.com/wp-content/uploads/2020/03/cc-archive-logo-450-v3.png
David Lindquist
2015-05-14 09:03:37
2019-12-08 10:16:05
Make Your Yard a Wildlife Oasis