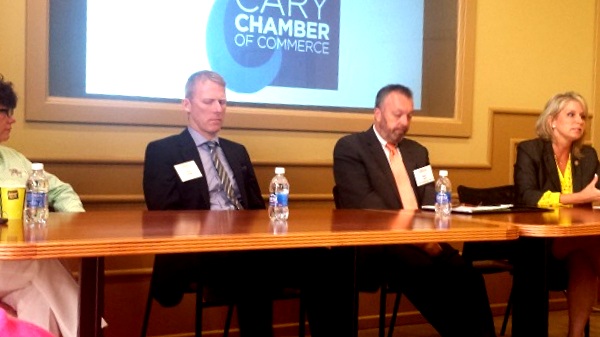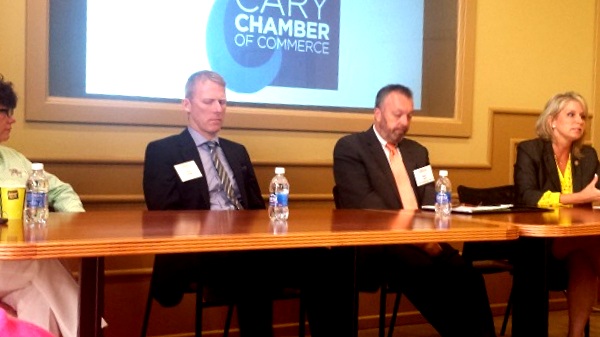 Raleigh, NC — On Monday, May 18, 2015, Congresswoman Renee Ellmers (NC, District 2) moderated a panel discussion about the importance of exporting and importing goods overseas to boost North Carolina's economy and to stay competitive in the global market.
The Importance of Exports to NC
This panel discussion took place at the Greater Raleigh Chamber of Commerce in Downtown Raleigh. The Cary Chamber co-sponsored the event.
In her opening remarks, Congresswoman Ellmers discussed some facts about importing and exporting overseas. Trade supports more than one in five American jobs, and jobs tied to trade pay between 13-15% higher wages than others.
The ability to manufacture and sell goods to outside markets boost NC and benefits workers here at home. If we want to create more opportunities and higher paying jobs, that means we need to sell more NC products overseas.
The Panelists
Congresswoman Ellmers serves on the House Energy and Commerce Committee and is Chairwoman of the Republic Women's Policy Committee.
She represents the Second District of North Carolina which stretches from Cary in the east to Asheboro in the west and Fort Bragg to the south.
Other panelists included Jenny Fulton, Alan Kelly and Rick Hill. Fulton and Kelly utilize the export and import of goods in their businesses, and Hill is the Director of International Trade Relations for the Economic Development Partnership of North Carolina.
The panel discussed the following benefits of global trade.
Small Businesses & Job Creation
Hill revealed that, last year, North Carolina exported a total of 31.3 billion dollars with the help of EXIM, or the Export-Import Bank of the United States. That's the equivalent to 150,000 jobs that are supported by exports in North Carolina.
Ellmers explained that EXIM Bank doesn't only benefit large businesses. Small and medium-sized businesses are also impacted. Kelly, a Plant Leader at GE Aviation, stated that his company makes 2,000 jet engines per year. Those engines go to customers all over the globe with 60% of the business being international.
Fulton, the third panelist, created Jenny's Pickles five years ago. She exports her pickles to share NC products with places like China, Canada, the UK and Germany. "Without EXIM Bank," she said, "my little company would not be exporting." Fulton believes that, if she can no longer export her pickles, her company will go out of business.
All panelists agreed that EXIM Bank is especially important to North Carolina, since we're a leader in agriculture and in exporting, among other reasons. Without EXIM Bank, many U.S. companies could not afford to export their products.
Competition in the Global Market
Ellmers stated that, over the last five years, EXIM bank has brought two million dollars back to the U.S. treasury. She then explained its global significance:
We live in a global society. 96% of the market is outside of the US. If the EXIM Bank is not reauthorized, products are going to be purchased from other countries. We will be taking ourselves out of the game if we let that happen. People want American goods; they know they're high-quality.
The point was also made that, if the EXIM bank is not reauthorized, many companies may move their businesses to other countries so that they can continue exporting and importing.
The Argument Against EXIM
While this discussion panel, who were all in support of EXIM, explained its benefits and necessity to our economy, Ellmers emphasized that, right now, in Washington, many are against its re-authorization. She explained that:
Discussion from those who would like to see EXIM expire is the much larger discussion that's taking place in Washington. When a voice of opposition starts, many, rather than going out there and seeking the true story, just have a "knee jerk mentality." What we need is common sense and political courage.
Ellmers, while supportive on EXIM, didn't neglect that abuses could have, potentially, taken place. "I want to see reforms that are needed for EXIM Bank if that is an issue," she said. "But, at the same time, I don't want to hold back the job creation and the ability to move forward in our economy as a result of trying to achieve that level of perfection."
What's Your Opinion?
Ellmers stated that, "If you have a strong feeling on global trade, your voice is necessary. Conversations about the re-authorization of EXIM are taking place this week in Washington." She encouraged the audience to become involved in the discussion and said:
Reach out to your elected representatives and senators to find out where they stand on these issues. Ask not just, "How are you going to vote?" but, also, "Why are you going to vote that way?"
Learn more about supporting EXIM at exportersforexim.org.
———————————————————————————————————————————–
Story and photos by Jessica Patrick.
https://carycitizenarchive.com/wp-content/uploads/2015/05/20150518_092331.jpg
337
600
Jessica Patrick
https://carycitizenarchive.com/wp-content/uploads/2020/03/cc-archive-logo-450-v3.png
Jessica Patrick
2015-05-19 14:26:23
2020-02-24 19:02:45
Cary Chamber Co-Sponsors Global Trade Discussion