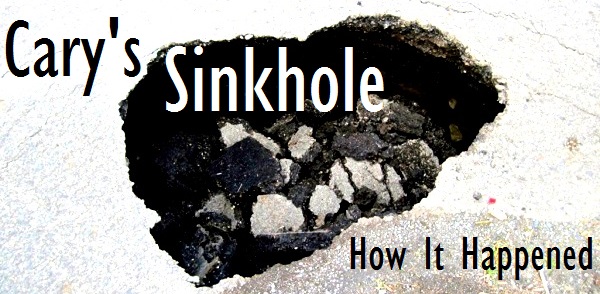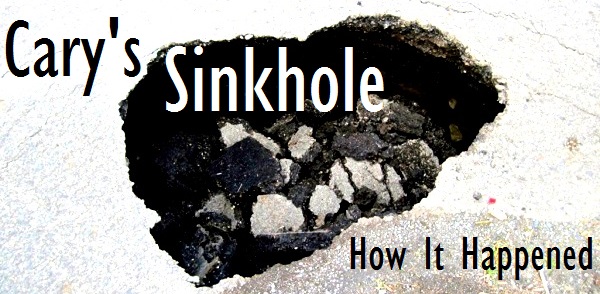 Cary, NC — A two feet x two feet-wide sinkhole formed on High House near Maynard Road before 6 pm on Tuesday, June 16, 2015. I interviewed Cary's Stormwater Engineering Manager Billy Lee to find out what a sinkhole is and how it is repaired.
Sinkhole Forms in Cary
On Tuesday evening, traffic on High House Road near Maynard Road was reduced to one lane each way while NCDOT officials worked to correct a sinkhole that had formed there.
Billy Lee, Stormwater Engineering Manager for the Town of Cary, kindly answered all my questions about sinkholes. According to Lee, "The Cary sink hole was formed due to a storm drain line that crosses High House Road just west of the intersection with Cavendish Drive."
The sinkhole was filled by the NCDOT with asphalt soon after its repair.
What's a Sinkhole?
When I asked Lee to describe what a sinkhole was, exactly, he said:
Sinkholes can be any number of things. In the Town of Cary, a sinkhole is a relatively circular hole that forms in the ground, usually over a period of time. If in asphalt, it can happen quickly. The hole is primarily caused by a pipe that is in ill repair.
What Causes a Sinkhole?
Last week's sinkhole occurred from a storm drain line (as opposed to a water line, which supplies water to homes and businesses, or to a sewer line). According to Lee, "Storm drain lines are a totally different infrastructure. They primarily function during a rainfall event. In the last two years, we have had a lot of rain, and sink holes in storm drain lines have been more frequent."
When a damaged pipe fills with stormwater runoff, water leaks out into the surrounding soil.
"When it stops raining, the wet soil leaks back into the pipe carrying soil with it to be washed downstream. Over time, the 'wave action' of the water leaking out in a storm event then draining back in after the rain is over and more soil is eroded away," explained Lee.
This is what causes a sinkhole.
Repairing a Sinkhole
If the Town owns the infrastructure that causes the sink hole, then Town staff will fix it by digging into the hole and repairing the leak in the pipe. "In some instances," said Lee, "instead of fixing it from the outside we use technologies that can line the interior of the pipe to fix the leak."
These methods require no digging.
Are Sinkholes Common?
Lee explained that most sinkholes occur in storm drain lines and that they are more common when there is a lot of rain. "The Town does not have a Stormwater Utility," Lee said, "so we do not maintain all the storm drain lines. NCDOT maintains High House Road, so it is their responsibility to maintain the storm drain line that failed. The Town has provided assistance by blocking of the sinkhole, but NCDOT makes the decisions on repair of their road."
Editor's Note: Thank you very much to Billy Lee and to other Town of Cary employees who assisted me in gathering the information I needed to write this article. 
———————————————————————————————————————————-
Story by Jessica Patrick. Lead photo by Washington State Dept of Transportation.
https://carycitizenarchive.com/wp-content/uploads/2015/06/sinkhole.1.jpg
294
600
Jessica Patrick
https://carycitizenarchive.com/wp-content/uploads/2020/03/cc-archive-logo-450-v3.png
Jessica Patrick
2015-06-22 16:22:05
2015-06-22 16:23:38
Sinkhole in Cary: What It Is & How It Happened