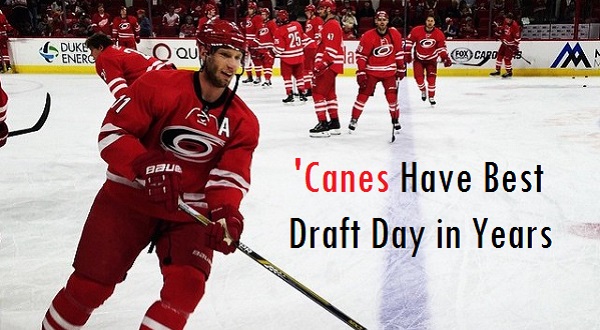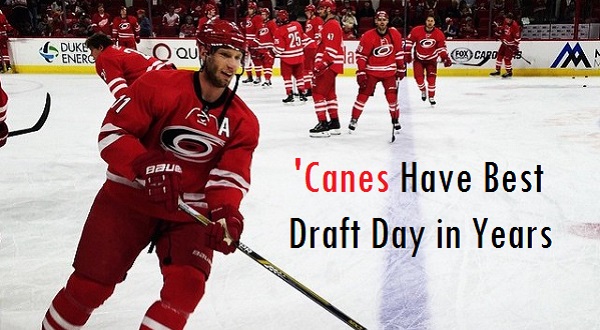 Raleigh, NC — The Carolina Hurricanes are in the process of selecting players for their upcoming season. It may be their best draft in years.
Canes Fortunate to Get Hanifin at #5
The Carolina Hurricanes had several options as for who they would select as their #5 pick, and it all depended on who would go as #3 and #4. They selected Noah Hanifin, the #1 defenseman by every team and independent scouting report. Many reports had projected Hanifin to go #3, so landing him was a great pick for the team.
Hanifin was a freshman at Boston College (same college as current Cane Nathan Gerbe) last season and also captained Team USA to a gold medal at the 2014 World U-17 Hockey Challenge. He's a big kid at 6'3", 203 pounds and still growing.
He is an excellent skater and likes to be in the mix offensively.
While it is tough for young players to make the NHL as a defenseman, aka Ryan Murphy, or last year's #5 pick, Haydn Fleury, I suspect Hanifin will not only make the team but have an important role. Assistant coach Steve Smith is a great defensive coach. The Canes went from one of the worst penalty kill teams two seasons ago to #4 last season while atop of the league for a good portion. Smith will guide Hanifin's progress to make it best for the player and for the team.
Day Two at the Draft
The Canes picked up six forwards, a goalie and another D-man in the second day of the draft. Very early on the second day (about 7:15 am), Ron Francis got goalie Eddie Lack from Vancouver in exchange for two draft picks–a third-round pick this year and a seventh-round pick next year. Lack's first NHL shutout was against the Canes.
I immediately wrote to a couple of folks at the Canes and indicated that one of the two existing goalies would be gone later in the day. Francis wasted no time as he traded Anton Khudobin to Anaheim for veteran defenseman James Wisniewski. Wisniewski is a solid player who typically doesn't take dumb penalties and also brings some offensive capabilities on the blue line.
EStaal and Ward's Future
It's reported that the Canes will try to sign both Eric Staal and Cam War to extensions after the July 1 signing period opens. Both will have to agree to a hometown discount, as their performance over the past few years can't justify their current salaries, let alone any type of increase. Ward had a very good season last year, but was still way over paid.
Stopping goals is not just up to the goalies.
Just like you tell the 12 year-old CASL goalie, "the other team had to get around all your other teammates before they got it past you." Same goes for professional hockey. Ward did make some amazing saves last year–a couple were in the Top 10 for the NHL.
In the previous three years, it seemed he let in an easy goal every game, and, in a league that thrives on 1-goal games, the Canes were sunk. With the defense getting stronger in front of Ward, that can only be a good thing
Prospects
I wouldn't expect any of the other draft choices to make the Canes, or even the Checkers, this coming season. Rookie camp is next week (most sessions are free to the public), and this is crunch time for several players. The Canes have some talented forwards in Charlotte, and it's either make the big team this year or come to the realization that making the NHL isn't going to happen unless they change their effort.
Skinner Rumors
The Canes have been shopping Jeff Skinner but are not desperate to have him leave. As Francis has said many times, "all options to improve the team will be explored."
Skins is a highly talented player and has great potential. The guy is still very young and is one of the best skaters on the team. Forget the prone to concussion label. You get hit with many cheap hits (like he's had), and you'll be lucky if a concussion is all you get.
Keep Reading for Canes Updates
Hopefully this gets the juices flowing for the interest for the Canes during this hot summer. The Canes will be a better team–maybe not a Stanley Cup contender–but they will have a better product on the ice. Keep reading CaryCitizen.com for updates during the summer.
Stay cool, and Go Canes!
———————————————————————————————————————————–
Canes coverage by Bob Fennel. Photos from the Carolina Hurricanes on Facebook.
Read more Canes coverage.
https://carycitizenarchive.com/wp-content/uploads/2015/06/Canes.jpg
330
600
Bob Fennel
https://carycitizenarchive.com/wp-content/uploads/2020/03/cc-archive-logo-450-v3.png
Bob Fennel
2015-06-29 14:35:44
2015-06-29 10:36:17
'Canes Have Best Draft Day in Years