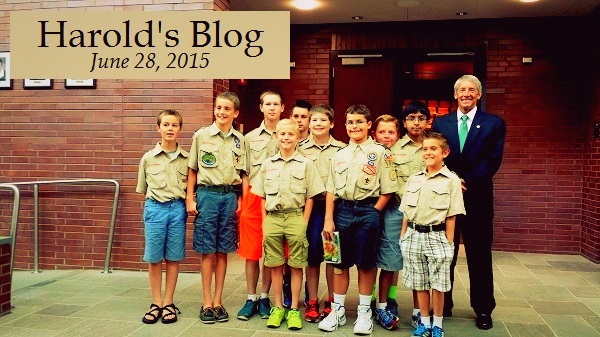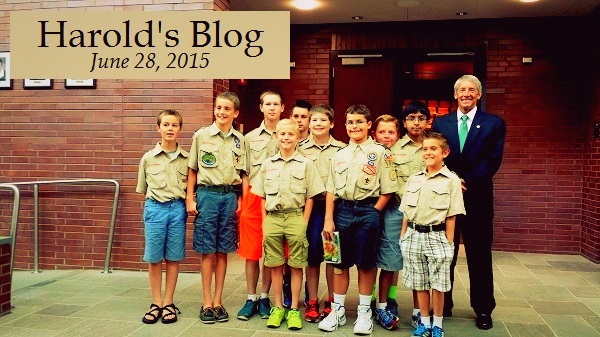 Cary, NC — This week was busy with long nights.
Monday
Monday started with the Official Grand Opening and ribbon cutting of MetLife.
MetLife Grand Opening
MetLife is a Global Technology Campus in Weston. They currently employ about 1,500 people with an average salary of well over $100,000 annually. Their buildings have room for expansion to about 2,400 employees.
MetLife is ahead of their hiring schedule that was contractually mandated, so, hopefully, they will fill up the rest of those buildings soon. It is great to have MetLife as a corporate citizen, and I look forward to their partnership with the town.
Agenda Review
Later Monday I attempted to call council members to hear their questions and concerns about Thursday's regularly scheduled meeting agenda items. I was only able to contact council member Yerha. Later in the day, I met with town management, administration, legal and public information to go over the agenda. That meeting lasted about 30 minutes.
Town Council Closed Session
Monday night, the council went into closed session for about four hours. The purpose was to hear from our direct reports: the Town Manager, the Town Attorney and the Town Clerk. Afterwards, the council wrote up evaluations and decided on merit pay. Council will provide feedback to the direct reports on July 2nd or July 9th.
Tuesday
Tuesday I joined staff members and consultants in hosting an Imagine Cary Business Roundtable discussion at the Chamber of Commerce. There were about two dozen business leaders in attendance.
Imagine Cary Business Roundtable
This roundtable discussion is an integral part of the community's ongoing planning process which will culminate this winter with the development of a new comprehensive plan for Cary. For the first time in the town's history, this new plan will establish our community's economic development vision and policies, developed and designed in coordination with planning for related topics such as future land uses, housing, redevelopment and transportation.
This effort aims to ensure Cary remains an attractive place for successful businesses and a talented work force. This discussion with our business leaders focused on recommended goals and policies. The session went very well with great participation and feedback. The roundtable discussion lasted about an hour and a half.
Wednesday
Wednesday, I participated in a meeting with the Economic Development Committee.
Economic Development Committee Meeting
Notable items that came from that meeting included:
There continues to be a lot of interest from businesses to locate in Cary
MetLife officially cut the ribbon on its two buildings.
Downtown continues to see activity even with Academy Street under construction.
Cary's unemployment rate was 3.4% down from 3.6%. Wake County is 4.2%, North Carolina 5.2% and the nation 5.3%.
Available land for large office is quickly disappearing. Future large office projects may require redevelopment of existing sites.
The meeting concluded after about half an hour.
Hindu Society of North Carolina
Wednesday night, I gave welcoming comments at the Hindu Society of North Carolina for Swami Mukundananda. Here is an excerpt from my comments:
I am a fitness nut. I'm either running or playing tennis or both every day. Yet, so much of being fit is about exercising the mind and spirit. In a world of instant gratification and "more, more, more" mentality, it's never been so important to take a pause and reflect. Reflect on the good surrounding us. Reflect on our place in our community. Embrace quiet. And while I strive to incorporate this into my fitness routine, I am humbled to be here tonight with a world-renowned teacher of spirituality, yoga and meditation who is the epitome of humility and divine love…
Afterwards, I stayed for the religious part of the session which lasted a little over two hours. That consisted of stories from their scriptures and explanations of what it means to your daily life. Needless to say, it was quite an experience and one that I will remember a long time.
Thursday
Thursday started with a brief gathering of Troop 131 from Apex and Cary who were at Town Hall to watch the council meeting. I explained the agenda to them and then answered questions. We talked for about twenty minutes. I was glad to see young people involved in local government.
Regularly Scheduled Council Meeting
Thursday night, the council met over four and a half hours at our regularly scheduled council meeting. There were eight public hearings, three discussion items and a closed session.
Rezoning Requests & Budget Approval
Two public hearings that drew most speakers were a rezoning request at Chapel Hill Road and Lake Drive and a rezoning request at Westhigh South. Both of these proposals have protest petitions and will require a lot of effort to get them passed.
In the discussion portion of the meeting, council approved the fiscal year 2016 budget of $295 million, which includes a two cent tax increase from the 2012 voter approved bonds. Despite the increase, Cary will remain with Wake County's lowest tax rate.
In other decisions, the council decided to send the Dellinger proposal near Crossroads back to the Planning and Zoning Board since it has changed drastically from their last review. After the council completed the agenda, it went into closed session.
Once returning from closed session, the council approved a motion to do an internal and external search for a new town manager since our current town manager is retiring. Staff will bring back information about the cost and process at a future council meeting.
Friday
Friday, I participated in a meeting with the NC Metro Mayors with about two dozen mayors and representatives from other municipalities. Most of our discussion focused on the sales tax changes being considered by the NC Legislature and how it will impact municipalities.
Q&A with Google Fiber
Emails this week included a notification from Google Fiber that construction in this region will begin in the coming weeks. Once construction is completed, Google will have laid enough fiber to reach London and back. Here are some of their answers to frequently asked questions:
It looks like you're starting construction in my area. Does that mean we'll be the first to get Fiber? Not necessarily. We'll be doing construction all across the metro area in the coming months, but we don't yet have a schedule for when and where we'll be able to offer service first.
When will you start signups for Google Fiber? It's still too early to say. We have a lot of construction work to do first! We'll make an announcement as soon as we have an update about timing. The best way to stay in-the-loop is to sign up for more information on our website.
Are you hiring? We have a handful of Google jobs, which you can find on our website. We also rely on many contractors to bring Google Fiber to a city, and some of those companies may be hiring. You can find some of those partners listed on our website.
What happens if there are construction issues in my area? We're going to work hard to keep disruption to a minimum. Our crews will work quickly, and, when they're done, they'll return the construction area to the condition they found it in, whether that means patching any holes we had to dig, repaving streets or even planting new grass seeds when needed. If any issues come up, we'll also have a hotline available so you can get in touch with us 24/7.
How long will you be constructing in my neighborhood/city? The amount of time it takes to bring fiber to a particular area varies greatly based on the size of the area, whether we're doing aerial or underground work, the local soil type, and even the weather conditions.
We don't have a specific timeframe to share just yet, but we'll try to build as quickly and efficiently as we can, and will keep residents updated along the way. Look for door hangers which will let you know that construction is about to begin on your street.
Homebuilders Association Emails
In other emails, the Homebuilders Association provided a report about building permits.
Notable items include:
Cary had the most new single family permits in Wake County followed closely by Raleigh
Single family permits in Cary dropped 33% during the last twelve months
Single family permits have increased 2% in Wake County over the last twelve months
The homebuilders supply this report once a month.
Emails from Citizens
Emails from citizens included:
A concern about trees
A concern about a proposed Comprehensive Plan Amendment in the Crossroads area
A request for assistance in getting a job
A request to remove an access to a public greenway
A concern about the Google fiber installation
Criticism about not having a public aquatics center
Criticism about not expanding CTran.
Get in Touch
Next week is a holiday week with most people getting Friday off to celebrate the 4th of July holiday. Most government offices, including Cary, will also be closed. My schedule will include meetings, welcoming remarks and a quasi-judicial hearing.
Well, that is all for this week. My next post will be on Sunday, July 5th. Although I have Facebook and Twitter accounts those are not the best means of communications with me. Please send all Town of Cary questions or comments to Harold.Weinbrecht@townofcary.org and email personal comments to augustanat@mindspring.com.
———————————————————————————————————————————
From the blog of Cary Mayor Harold Weinbrecht. Photo with Scout Troop 131 courtesy of Mayor Weinbrecht.
https://carycitizenarchive.com/wp-content/uploads/2015/06/20150625_180740.jpg
337
600
Harold Weinbrecht
https://carycitizenarchive.com/wp-content/uploads/2020/03/cc-archive-logo-450-v3.png
Harold Weinbrecht
2015-06-29 10:22:11
2016-01-09 11:46:59
Harold's Blog: Google Fiber & More