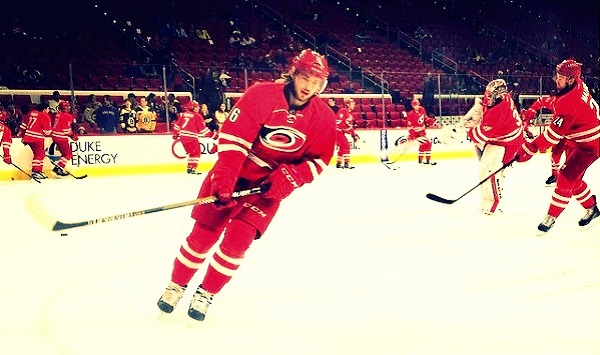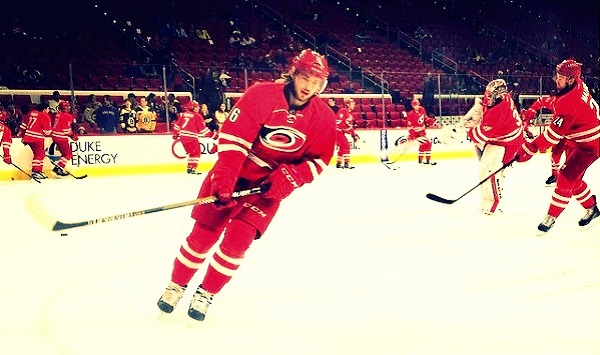 Raleigh, NC — The Carolina Hurricanes just had their annual Summerfest along with the camp for recently drafted players and other prospects.
Some Notable Prospects
Some notable prospects were Noah Hanifin (this year's top draft pick for the Canes), Haydn Fleury (last year's top draft pick), Trevor Owens from Raleigh, Josh Wesley (son of assistant coach Glen Wesley) and the very talented Sergey Tolchinsky.
Size & 'You'd Better Be Giving It Your All'
A few quick observations about the practices are the size of these prospects, the expectations from Coach Bill Peters and the rest of the coaching staff (for full effort and speed in every drill) and how well the prospects appeared to get along.
Out of the 29 prospects, only four were under 6' tall. All four goalies are listed at 6'3".
While being big and tall doesn't always equate to success in hockey, if given the choice of two equally talented players (one big or one small), most GMs would pick the bigger player. Proving smaller is still okay, as current Hurricane Nathan Gerbe is the smallest player in the NHL yet a talented player who is one of the fastest on the team and doesn't back down against anyone.
Peters' System Training
The practices gave the prospects a good indication of what the coaches' 'system' is regarding set plays, positioning, accountability, stick position (former Cane Pat Dwyer always had excellent stick positioning) and defense recovery. There was one drill that was only meant to teach which way to turn after a turnover in the offensive zone.
It seems basic, but, at this level, every mistake is magnified.
If the turn was good but the effort to get back on defense wasn't fast enough, Peters was not shy about yelling "hustle" or "faster" several times with his arm twirling like a windmill.
A few drills that were either 1-on-1 or 2-on-2 made it easy to see which players had speed, offensive or defensive ability. Two that were crafty on offensive were Tolchinsky and very young (just 17) Sebastian Aho from Finland, who was also taken in the draft last month.
Hanfin was a beast on defense. He's listed at 6'3" and has a reach that reminds me of Jay Harrison. His timing and knowing when to go aggressively after a puck on the stick of the opposing player is impressive.
Fleury had made great improvements over last year. His passing was spot-on, and his head seemed to be on a swivel, as he sees everyone on the ice. Passing is one area that you could see top players excel over prospects that need more development. Top players had passes hard to the stick and could feather a flip pass between defenders.
State of the Canes
Camp ended Saturday with a scrimmage preceded by a "state of the Canes" address. At the address, which was hosted by Hall of Fame radio announcer Chuck Kaiton, first President Don Waddell spoke and made two key points. First, he repeated Owner Peter Karmanos' statement the Canes are here to stay and that season ticket sales are above last year's.
Next up were GM Ron Francis and Coach Bill Peters. Francis gave a one sentence update then introduced Noah Hanifin as he came out to sign his entry level contract in front of the much appreciative crowd. I suspect that signing will help those tickets sales a bit.
Scrimmage
The scrimmage started as a 4-on-4 then went to 3-on 3. While it was a non-hitting scrimmage, there were some very good defensive plays, and seeing the 3-on-3, which is the new NHL overtime plan, was very exciting. Skilled players and speed are what shines.
Breakaways will be common, and goalies have to be on their game. The game ended in a 7-3 red team win with Aho scoring three goals. Overall, the prospects were not just impressive but very impressive. Several have a chance to make the Checkers this year and develop further.
Home Opener is October 10, 2015
The home opener is October 10, 2015 against Detroit, and, without a doubt, the Canes will have a better team this year. Francis made it known there are openings on the team which means either a rookie, getting someone off waivers or a trade with a team against the salary cap or flat out trade is possible. Exciting times are ahead for the Canes and for loyal Cary Caniacs.
Keep reading CaryCitizen.com for updates during the summer.
——————————————————————————————————————————-
Canes coverage by Bob Fennel. Photos from the Carolina Hurricanes on Facebook.
Read more Canes coverage.
https://carycitizenarchive.com/wp-content/uploads/2015/07/Canes2.jpg
355
600
Bob Fennel
https://carycitizenarchive.com/wp-content/uploads/2020/03/cc-archive-logo-450-v3.png
Bob Fennel
2015-07-13 09:48:22
2015-07-13 09:48:22
Canes: Summerfest and Prospect Camp