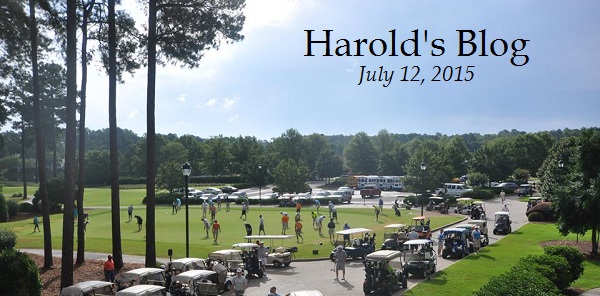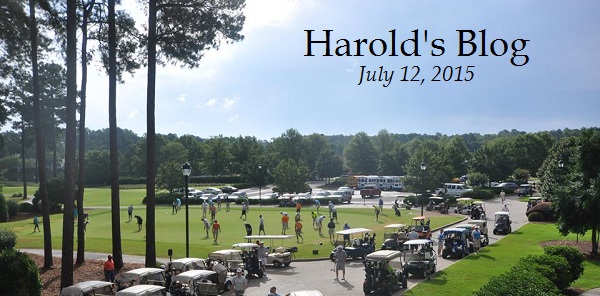 Cary, NC — With the exception of Thursday's council meeting, last week was a slow week in the Mayor's office.
Monday
Monday morning, I joined council member Bush and council member Frantz to file for reelection.
Filing for Reelection
While we may be philosophically different, we strongly believe in each other's character and professionalism. It is our differences and the way each of us respects those differences that actually make us a strong council.
After filing, my campaign committee released this press release about my reelection bid:
Cary, NC – July 6, 2015 – Cary Mayor Harold Weinbrecht filed papers today to seek re-election to a third term in the October mayoral election.

For the past eight years, Mayor Weinbrecht has worked to enhance the quality of life for Cary's citizens, pursuing balanced growth, fiscal discipline, citizen advocacy and environmental protection.

"In 2007, Cary citizens voted for positive change," Mayor Weinbrecht said. "And in 2011 they re-elected me because they believed I was moving Cary in a positive direction. For the last 8 years I have offered steady, proven leadership that has kept our town one of the best places to live, work and do business in this nation.

I have delivered on my promises to advocate for balanced growth, be disciplined with town finances, protect our environment and bring unprecedented levels of openness to Cary's government. If reelected to a third term, I will continue to advocate for citizens, not for special interests. Cary citizens want to continue in the direction that we have collectively set."

Harold Weinbrecht was born in Augusta, Georgia in 1956. He has lived in Cary for 39 years and has served as Mayor since 2007, following four years as an At-Large representative on the Cary Town Council. He is employed as a software engineer and holds degrees in Mathematics and Computer Science from Augusta College and NC State University. Mayor Weinbrecht has been married to Belinda Weinbrecht for 28 years and has two grown daughters.

For more information, contact Brent Miller. Read Harold's Blog at haroldweinbrecht.com, "like" Harold Weinbrecht on Facebook and follow @MayorWeinbrecht on Twitter.
It is my hope that the citizens of Cary will allow me to serve a third term.
Call to Council Members
Later Monday, I called all council members to hear about questions and concerns with the agenda for Thursday's council meeting. While there were no major concerns or questions, council member Yerha asked that the golf course noise ordinance wording item be pulled so he could vote against the portion about weekend start times.
Agenda Meeting
Monday afternoon, I met with management, legal, public information and administration to go over the agenda. We expected the "Public Speaks Out" portion of the meeting to go the full hour since people had said they were coming to speak about the golf course noise ordinance.
Meeting with Town Manager
The last meeting on Monday was with the town manager to go over various items. Our conversation included a renewed focus on infill and redevelopment, a process on how to address requests from organizations that represent the town (Cary Band, Cary Invasion, etc.) and a downtown redevelopment proposal.
Tuesday
Tuesday, I spent an hour with a student and their parent discussing the job of being mayor. Afterwards, I showed her around Town Hall and provided her information about how each location was used. Our interview lasted about an hour.
Wednesday
Wednesday, I had a private meeting. These meetings are becoming more frequent since we have entered the political season.
Thursday
Thursday, the council held one of its two regularly scheduled council meetings.
"Public Speaks Out"
As expected, the "Public Speaks Out" portion of the meeting had several speakers. Most of the speakers commented on the need for more sidewalks and issues related to senior citizens. About half a dozen folks spoke on the noise ordinance with a couple against and the rest in favor. The Public Speaks Out portion of the meeting lasted about 35 to 40 minutes.
Coronado Pond as a Future Town Park
There were no public hearings and only two items for discussion. The first discussion item asked the town staff to look into taking over the Coronado pond as a future town park.
There are many potential issues with this such as spending public money on private property, not having all homeowners agreeing to the proposal, setting a very expensive precedent of bailing out neighborhoods with failing retention ponds and giving false hope of a park, especially when some parks have been planned for years and are not built.
Golf Course Noise Ordinance
The second discussion item was on golf course noise ordinance. Unfortunately, there is been a lot of misinformation confusing many people in Cary. The word change even had two different meanings. There was change to the existing ordinance and change to the existing practices, which were not the same. Those spreading misinformation interspersed the two frequently.
After eight months of discussing this item, the majority of the council believed that what has been in practice for years with very few complaints was good. So that was what the council codified in the ordinance. The REAL change was that the council added more restrictions in the golf course existing exception hour (6 to 7 am).
In that hour, golf courses can only use equipment necessary for preparing the course for that days play; specifically mowers and blowers. They are not allowed to use chippers, shredders, etc. In addition, the noise ordinance was modified to not only restrict based on the 60 decibel average, which is not a change, but now includes a ceiling of 63 decibels at any instant.
In summary, if you live on a golf course, nothing is going to change from what you have been experiencing for years, except it might be less noisy.
Closed Session
The council meeting went into closed session and ended after about three hours. In closed session, we gave the town manager his annual review. In addition, we talked briefly about how to proceed with a process to hire a new town manager.
Work sessions will soon be announced regarding this. Our first task will be to create and agree on a job description for the new town manager.
Friday
Friday, I had the pleasure of joining Mayor Pro-Tem Smith, council member Yerha, town manager Shivar and other guests for the opening of CineBowl.
This entertainment center combines a nice restaurant, sports bar and entertainment, bowling, arcades and movies all in one venue. The movie theaters have the largest screens in North Carolina and over 200 speakers.
Theaters have reclining leather chairs. and you can be served food until the movie starts. It was a great experience, and I wish them great success.
Emails from Staff
Emails from staff this week included the construction and activity report for June 2015.
Notable items include:
21 acres were annexed in June
448,532 square feet of institutional were approved
169,584 square feet of commercial were approved
40,620 square feet of office were approved
Single family homes averaged 4035 square feet compare to 3443 square feet in 2011
Single family home values were $223,956 compared to $163,789 in 2011
Cary had 17.5% of all new home permits in Wake County which was the highest
In the last 12 months new single family permits are down 21.5%
In the last 12 months new multifamily permits are down 85.7%
In the last 12 months new non-residential permits are down 24.3%
Based on the numbers, we appear to be doing better than the county and nation but are slowing down from the growth spurt after the recession.
Emails from Citizens
Emails from citizens this week included comments about a proposed rezoning, complaints about a proposed site plan, a complaint about not enforcing the irrigation ordinance and comments about the town's noise ordinance.
Get in Touch
Next week will be another slow week but will include the Chamber's Annual Planning Conference.
Well, that is all for this week. My next post will be on Sunday, July 19th. Although I have Facebook and Twitter accounts those are not the best means of communications with me. Please send all Town of Cary questions or comments to Harold.Weinbrecht@townofcary.org and email personal comments to augustanat@mindspring.com.
Related Content
——————————————————————————————————————————-
From the blog of Cary Mayor Harold Weinbrecht. Photo from Prestonwood Country Club.
https://carycitizenarchive.com/wp-content/uploads/2015/07/Harold7.jpg
296
600
Harold Weinbrecht
https://carycitizenarchive.com/wp-content/uploads/2020/03/cc-archive-logo-450-v3.png
Harold Weinbrecht
2015-07-13 14:52:08
2016-01-09 11:59:09
Harold's Blog: Filing for Reelection & Golf Course Noise