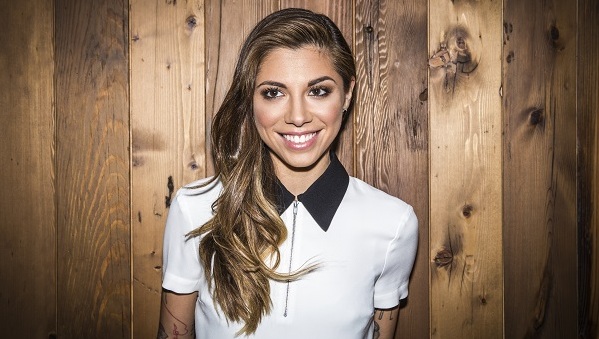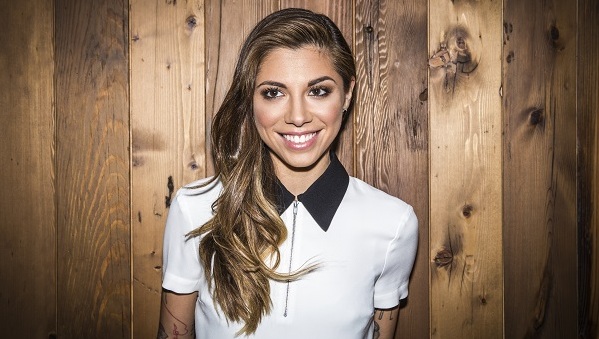 Cary, NC — World-famous, chart-topping artists Christina Perri and Colbie Caillat will perform together at Booth Amphitheatre in Cary on Wednesday, August 5, 2015. I talked with Christina on the phone for a pre-show interview to learn more about her and about next week's show.
"Jar of Hearts" Artist Comes to Cary
Christina Perri is an American singer-songwriter and musician. She is well-known for her debut single "Jar of Hearts," which was charted in 2010. Over three million copies of the song were sold in the US. "Jar of Hearts is the song that changed my life," Christina told me.
Christina Perri also wrote and recorded "A Thousand Years" for the film The Twilight Saga: Breaking Dawn – Part 1. "I've been to five of the seven continents where that song was really popular, so I'm very grateful for that song. It really catapulted me," she said.
Next week, Christina will perform alongside Colbie Caillat and Rachel Platten right here in Cary as part of their "Girls Night Out, Boys Can Come Too" tour.
Interview: Christina Perri
Christina was so friendly and answered all my questions about her tour.
Q: Is it true that you write all your own songs?
I've been writing songs since I was 15, and I write all of them. Sometimes I write with other people, but I've written every single song about something that I've been through or emotions I've experienced. My biggest inspiration is love, but that doesn't necessarily have to be about a relationship with someone else. A lot of my songs are about loving yourself. Christina joked:
The only song that I didn't write about me was "A Thousand Years," because I wrote that for Edward and Bella [for Twilight], and I definitely wish that I was a vampire, but I'm not, so that's the only song that only strays from my own experience.
I'm always writing, recording and performing, but writing is my favorite part. It's the thing that I do just all the time and the most naturally. It's the thing I've done for so long.
Q: Tell me what inspired this tour.
I wanted to do a really fun summer tour, so my managers and I got together and decided to find fun outdoor venues and mini arenas. I wanted to do a group tour, and I immediately thought about Colbie and Rachel. Rachel's been a friend of mine for a long time, and Colbie and I have met a couple times and really clicked. I realized that Colbie, Rachel and I all have the same messages in our songs, so I thought it would be a really powerful evening.
It started out as a little dream, and then it came true. It's a summer tour, so it's like we're all on summer vacation together. We all hang out together with our bands and have pizza and beer. Everything I had hoped would happen with these shows has come true. I think out that, out of all 17 tours I have done, this is my favorite one.
Q: How do you hope the tour makes audiences feel?
We called the tour Girls Night Out, Boys Can Come Too because it's for everyone. So many guys are showing up [for the concerts], which makes me happy. The writing I do makes me feel better, because it's all about things I've been through. I've written all my songs for a reason – to help me get through something – so when I'm on stage and performing these songs, the audience immediately has a feeling or reaction to them.
Because they're so popular yet so honest, I think they make people feel better.
I've noticed the same with Rachel and with Colbie. They sing different songs about different experiences, but, as a whole, I can just feel the audience opening up. I've just been watching, I can see from the stage that people are opening up, smiling and having fun.
That means that we're doing our job. People come to shows to forget about all the heavy stuff for awhile, and that's been happening every night.
See the Show
You can see Christina Perri next Wednesday night right here in Cary.
The Girls Night Out, Boys Can Come Too Tour:
Colbie Caillat & Christina Perri with special guest Rachel Platten
Wednesday, August 5, 2015; 7 pm (doors at 6 pm)
Booth Amphitheatre, 8003 Regency Parkway, Cary
Tickets start at $25.
—————————————————————————————————————————–
Interview by Jessica Patrick. Photo by Jen Marigliano courtesy of Atlantic Records.
https://carycitizenarchive.com/wp-content/uploads/2015/07/Christina-Perri.jpg
339
599
Jessica Patrick
https://carycitizenarchive.com/wp-content/uploads/2020/03/cc-archive-logo-450-v3.png
Jessica Patrick
2015-07-29 08:52:25
2015-07-29 08:14:26
Interview: Christina Perri