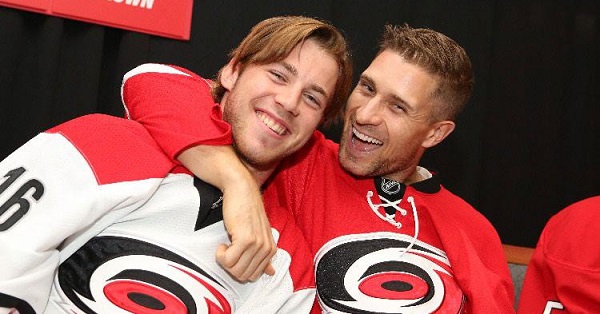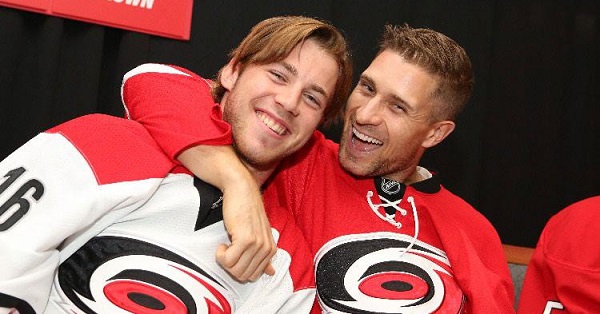 Raleigh, NC — The Canes not making the playoffs for six years in a row has been very disappointing for loyal Caniacs. Vice President and General Manager Ron Francis not only was one of the best to ever play the game – he also has a great hockey mind and knows talent.
Hockey is a Business
He has the responsibility, like any businessman, for the bottom line.
After all, while Canes hockey is exciting, fun, great for the community and a host of other good things, it is a business, and Francis has the difficult position of meeting everyone's wants and desires. Majority owner Peter Karmanos is a very wealthy man, and, while he didn't buy the Hurricanes to make more money, he also didn't buy them Hurricanes to lose money.
More than anyone, probably, he wants a winner.
Francis Picks Winners
Francis has taken a conservative and fiduciary approach in his first full year at the helm of running the Canes. He made a great draft pick in Noah Hanifin, made one of the best draft day trades in picking up Eddie Lack and is now working the phones with agents and other teams to find what is available at a reasonable salary.
Francis also has two huge decisions to make with Eric Staal and Cam Ward, as both contracts expire after this season. The question is – re-sign now, or wait and see how the year goes? If the Canes are, again, out of playoff contention, they could make a trade and get decent draft picks and/or prospects. Jeff Skinner has been rumored to have been available for a trade, but, to put it succinctly, every player is always available for a trade if it improves the team.
100% Effort, 100% of the Time
Francis pulled the trigger on the buy-out of Alex Semin, who then signed a one-year deal with Montreal. Semin is highly talented but was a washout after he signed the multi-year deal with the Canes. The buyout sent a strong message to players and Caniacs alike – management isn't going to out up with efforts less than 100% on the ice.
Some fans have voiced displeasure with some current high-profile players who don't give their 100% 100% of the time, which is understandable, but Semin was paid too much with years left on his contract, along with permanent residence in Coach Peters' doghouse, and Francis made one of those hard multi-million dollar business decisions.
Defense is "Scary Good"
The Canes have one of the best young groups of defensemen in hockey. Some have said their "D" will be "scary good" in no more than two years. Hanifn and last year's draft pick, Haydn Fleury, are two impressive young players with huge potential.
I suspect that Hanifin will make the team this year and that Fleury will next year. Ryan Murphy is a great skater and stick handler but does lack the size and strength to be a force on defense. All-Star Justin Faulk was in a similar position his rookie year but learned to play the body with leverage better than anyone I've seen.
When he added more strength, he got to the "scary good" level faster than the Caniacs thought, but that was right on cue as far as the coaches predicted.
Canes Need Scoring
The Canes' scoring is a major concern – they ended up 27th in the NHL last season and, with the firepower the team has, scoring really needs to improve. Jordan Staal's preseason injury last year had an effect, but that wasn't the sole reason.
Everyone had an off-year. Eric Staal started the year with a lingering injury, Jeff Skinner had a concussion, Semin was anemic, Juri Tlusty wasn't a force and then got traded and Riley Nash started out on fire then burned out.
Two bright spots were Elias Lindholm and Victor Rask – both got better every game.
Lindy ended with 17 goals and 22 assists for third best on the team. He not only produced on the scoreboard, he also was great on the forecheck and seemed to smile every time he introduced the side boards to an opposing player. Rask was an impressive surprise, as he got opportunity when JStaal went down then never looked back. His hockey smarts are well beyond his years.
I doubt the typical sophomore jinx will affect him at all.
Will Ward Have Another Good Year?
While the team's record doesn't support it, Cam Ward had a very good year.
He was injury-free, his head appeared to be in the game the full 60 minutes and he seemed to be the 'Cam of old' the Caniacs have longed for.
He also had two saves that were among the top 15 saves in all of the NHL last year. The Canes also had one of the best – being #1 for a major portion of the season – at the penalty kill. Kudos to Coach Steve Smith for the defense improvement and to Coach Rod Brind'Amour for the largest powerplay goal improvement in the NHL.
Let's Go Canes!
The 2015-16 season should be an exciting time for Caniacs.
The team is hungry to make the playoffs, as players got the clear message about effort and management and are committed to make improvements. Season ticket sales are up over the previous year for the first time in about five years.
Keep Reading for Canes Updates
Keep reading CaryCitizen for an announcement of ticket specials.
Go 'Canes!
——————————————————————————————————————————-
Canes coverage by Bob Fennel. Photos from the Carolina Hurricanes on Facebook.
Read more Canes coverage.
https://carycitizenarchive.com/wp-content/uploads/2015/08/Canes3.jpg
314
600
Bob Fennel
https://carycitizenarchive.com/wp-content/uploads/2020/03/cc-archive-logo-450-v3.png
Bob Fennel
2015-08-17 10:17:56
2015-08-17 09:58:29
Carolina Hurricanes Prepare for the Future