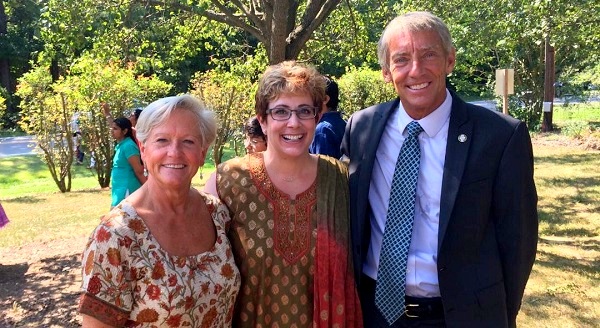 Cary, NC — This was a typical week in the mayor's office.
Monday
Monday started with calls to council members to hear of their concerns and questions about Thursday's agenda for our first regularly scheduled council meeting of the month.
Call to Council Members
I was able to contact all council members but Frantz and Robinson. The main concern expressed was on a staff proposal to request funding for the South Harrison Avenue extension to Kildaire Farm Road from the fiscal year 2017 Locally Administered Projects Program of the Capital Area Metropolitan Planning Organization (CAMPO).
Based on what I have heard, most council members do not want this extension.
Meetings
Later, I met with management, administration, legal and public information to go over the agenda items. We went over the items, and staff explained that the S. Harrison Avenue extension was proposed because it scored well of potential funding and it is still on the transportation plan.
My last meeting Monday was with the town manager, deputy town manager and assistant town managers. We talked about the upcoming town's rezoning of the 13 acre site in downtown that will hold a library and park. We also talked briefly about other projects and issues.
Tuesday
Tuesday, I met with the owner of the Triangle Aquatic Center in Cary. We discussed issues with the mall and the potential development of the 95 acres by the Columbia Development group. His main concern was about parking and that he is looking for partnerships with the town and developers. Our meeting lasted about 45 minutes.
Wednesday
Wednesday I provided the welcome to the Cary Chamber's Leadership Dinner.
Cary Chamber of Commerce Leadership Dinner
In attendance were several county commissioners, school board members, legislators, congressional representatives and business leaders.
It was an opportunity to get to know these individuals so that we can work better together. In my comments, I thanked them and pointed out that Cary is great in part because of their efforts.
Concert at Booth Amphitheatre
Wednesday evening, I entertained guests at the Booth Amphitheatre.
The performers were Cheap Trick and Peter Frampton. If you are as old as I am, you remember them from the 1970's. Both were excellent, and Frampton seems to be as phenomenal a guitar player as he's always been. It was a fantastic show.
There were over 2,000 in attendance, which is not bad for a weekday night.
Thursday
Thursday, the council held their first of two regularly scheduled meetings for the month. There were no public hearings and six items for discussion.
Rezoning at Ten-Ten & West Lake
The main item discussed was the rezoning of a property at Ten-Ten and West Lake Road. The complaints from adjacent county residents were that the density didn't compare to their lots, which went up to six acres. In our decisions, we have to compare the proposal to the current Land Use Plan. The current plan for this area called for one to three units an acre.
This proposal was for two units an acre. In addition, this proposal provided other mitigations beyond what was required. The council approved by a vote of 5 to 1.
Town Manager Updates
At the end of the regular meeting, the council went into closed session.
Afterwards, the council returned and unanimously approved a motion to make Deputy Town Manager Bajorek the Interim Town Manager starting immediately after the current town manager retires on September 30, 2015. Cary is fortunate to have Mike Bajorek, and he will do a fantastic job. It is my hope that he applies for the town manager position.
Friday
Friday, I participated in a meeting of the North Carolina Metro Mayors.
This meeting focused on legislative proposals for sales tax reform and historic tax credits. We are hopeful that there are enough legislators to protect Cary from being robbed of millions of dollars of revenue from the proposed sales tax legislation.
Saturday
Saturday, I attended the India Independence Day celebration at the Hindu Society of North Carolina Temple. I was joined by Secretary of State Marshall, NC Representative Adcock, Mayor Stohlman, Council member Bush and several Morrisville council members.
India Independence Day Celebration
The event started with a small march followed by a flag raising ceremony. The ceremony included national anthems of both countries along with chants of "long live India." After the flag raising ceremony the celebration continued in the Cultural Hall.
International Community Day
Later Saturday I attended the International Community Day celebration at Pleasant Grove Church. There were several vendors providing different types of cuisine. In addition, the Cary Police, Cary Fire and parks departments were there with representatives. I provided a few remarks about diversity. It is my hope that this event will continue annually and that it will grow.
Hibernian Restaurant Closes
Emails this week included a notification that the Triangle Business Journal reported that Hibernian on Kildaire Farm Road would close on August 15, 2015.
They plan to reopen in Downtown Cary later this year. Newk's Eatery, a deli chain, will be opening at the old Hibernian location and will be the first in the area.
See the Newk's menu online.
Cary Ranks in Top 30 Places to Retire
It was also reported this week that Cary was one of the top thirty places to retire according to a new study commissioned by the Bankers Life Center for a Secure Retirement. It is another of a long list of kudos for the best place to live, work, raise a family, and now retire.
Emails from Staff
Emails from staff this week included the development and construction activity report.
The report included:
124.02 acres were annexed in July.
The average single family dwelling in July was 3261 square feet valued at $192,152 this compares to July of 2011 of 3614 square feet valued at $172,657 (note that these values are nowhere near the selling price).
Cary had 14.3% of all county permits compared to 22.5% in Raleigh.
Cary issued 121 single family permits and 54 nonresidential family permits.
View all plans under review.
Emails from Citizens
Emails from citizens this week included a question about Google fiber, concerns about a rezoning proposal and about future traffic on Chapel Hill Road and invitations to several events.
Get in Touch
Next week's activities include a meeting of the Wake County mayors, a meeting with consultants on the town manager search, a meeting of the Capital Area Metropolitan Planning Organizations executive committee and Lazy Daze.
Well, that is all for this week. My next post will be on Sunday, August 23rd. Although I have Facebook and Twitter accounts those are not the best means of communications with me. Please send all Town of Cary questions or comments to Harold.Weinbrecht@townofcary.org and email personal comments to augustanat@mindspring.com.
—————————————————————————————————————————–
From the blog of Cary Mayor Harold Weinbrecht. Photo of the India Independence Celebration courtesy of Mayor Weinbrecht. 
https://carycitizenarchive.com/wp-content/uploads/2015/08/IndiaIndependenceDay1.jpg
328
600
Harold Weinbrecht
https://carycitizenarchive.com/wp-content/uploads/2020/03/cc-archive-logo-450-v3.png
Harold Weinbrecht
2015-08-17 09:06:20
2019-12-07 17:00:36
Harold's Blog: India's Independence Day & More