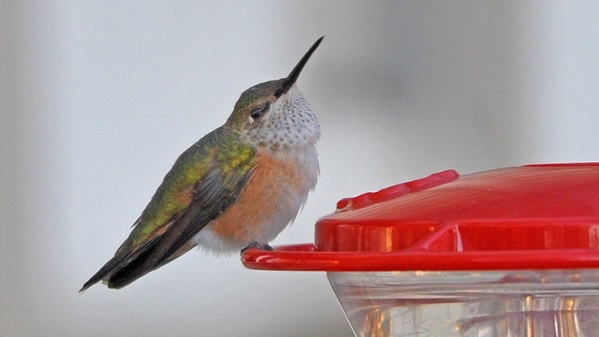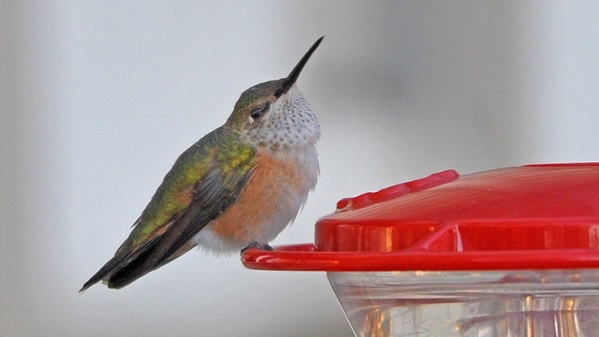 Cary, NC — Don't put your nectar hummingbird feeders away for fall just yet – a second species of hummingbird called the Rufous could make a winter appearance in Cary.
Don't Put Your Hummingbird Feeders Away!
Bird watchers in our area usually put away their hummingbird nectar feeders by the end of September to prepare for fall. They might change their minds, however, when they learn of this second species of hummingbird that is part of the winter bird scene in places like Cary.
The Rufous Hummingbird
This little-known species is the Rufous Hummingbird (Selasphorus rufus).
The Rufous is, in size and shape, very similar to the Ruby-throated Hummingbird we know so well. However, where the Ruby-throated is a mostly green bird, Rufous are mostly reddish-orange in color (females and juveniles are a mix of red-orange and green).
Other western species of hummingbirds have also been reported in from our area in the winter.
Surviving in the Winter
Historically, the Rufous Hummingbird has been found in the western parts of North America, but, in recent decades, it has increasingly been observed in the east in the winter.
These birds are not yet common, but they are widespread. It may seem odd to readers that hummingbirds can survive in cold winter months, but, as long as they find food sources (mainly overwintering insects and spiders) and water, they can do quite well.
Sightings in Cary
Experienced birdwatchers have reported sightings of Rufous Hummingbirds in Wake County, and these hummingbirds have been documented in Cary.
Birding organizations and naturalists are urging people to attract the Rufous Hummingbirds in the same way as they do for summer hummingbirds – make available "nectar," which is a clear (un-dyed!) solution of four parts water to one part cane sugar.
Nectar feeders can be taken down overnight, especially during cold periods to prevent freezing.
Start Looking in November
If your property is visited by a Rufous Hummingbird, let interested specialists know!
Carolina Bird Club welcomes reports of this interesting hummingbird. They urge anyone who observes one at their home between November 1 and March 15 to contact hummingbird researcher Susan Campbell. A photo can help identify the bird.
Susan Campbell is an affiliate with the NC Museum of Natural Sciences who is studying and documenting these individuals. She can be reached at 910-949-3207 or susan@ncaves.com.
Related Content
———————————————————————————————————————————–
Story by David Lindquist. Lead photo by Chuck Roberts.
https://carycitizenarchive.com/wp-content/uploads/2015/09/Rufous.jpg
337
599
David Lindquist
https://carycitizenarchive.com/wp-content/uploads/2020/03/cc-archive-logo-450-v3.png
David Lindquist
2015-09-11 09:12:21
2015-12-28 14:17:21
Cary's Winter Hummingbird is Coming Soon