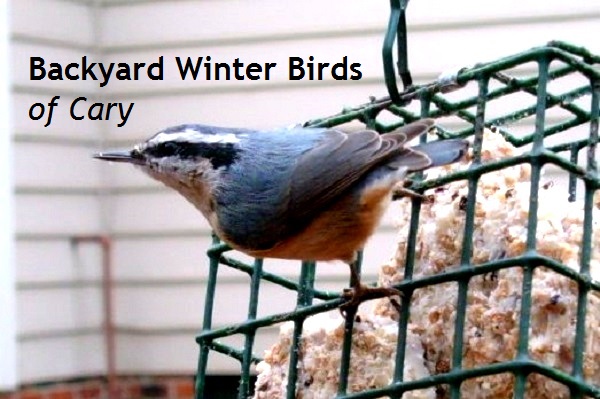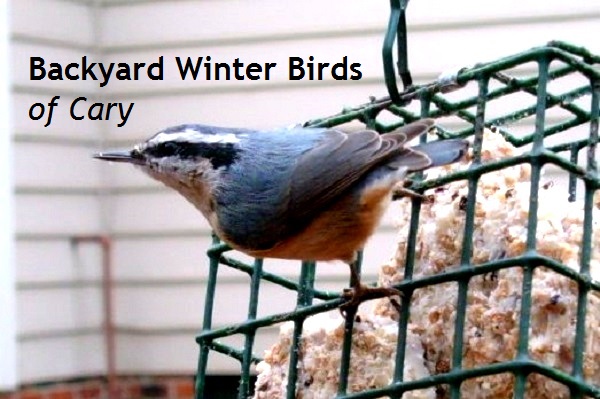 Cary, NC — Bird watchers in the Cary area can enjoy a wide variety of species in their own backyards. Some of these winter birds are migratory and can only be seen here in the cooler months. 
The Backyard Winter Birds of Cary
The following are among the most visible of these winter visitors. After you learn their distinctive marks and how to attract them to your own backyard, you should be able to find them yourself.
Yellow Rumped Warbler
I'm accustomed to seeing only two of the many warbler species in our metro area during the winter. Most migrate south for the winter. The Yellow Rumped Warbler is the only one that comes into the Triangle at that time.
Sadly, we don't get to enjoy this bird's blazing summer plumage, but the yellow flashes of the off-season are dramatic for our drab winters. I usually see them at my suet feeders in midwinter after they exhaust the fruits of wax myrtles and other shrubs.
Junco
Juncos are delightful birds that are easily recognized by their "gray above, white below" plumage. Males are a bit darker than the females. Juncos are not feeder birds but are drawn to the litter found below feeders where they will scratch for seeds.
While juncos are often known as "snow birds," they can be found in the Triangle well past the last snow and sometimes deep into April. Habitat will be important in attracting Juncos. In my experience, Juncos are not likely to be found unless there is meaningful cover from shrubs.
White Throated Sparrow
I think these large sparrows are among the loveliest of our winter visitors because of their marvelous songs and call notes. White Throated Sparrows can be differentiated from other sparrows by a bright white patch below the bill and a glowing yellow patch above the eyes.
They're not true feeder birds. As with the Juncos, the White Throated Sparrows will scratch below feeders for seeds, but that is as close as they come. They are also more at home scratching for food under the cover of low shrubs.
Pine Siskin
The Pine Siskin is a small seed-eating bird that usually visits the Triangle in only the coldest winters, so spotting them every year is unlikely. Siskins are generally found in the company of American Goldfinches and House Finches and can be best distinguished by their bright yellow wing bar.
Like the finches, Pine Siskins are gregarious and have enormous appetites–they can clean out a sunflower seed feeder in a short period of time!
Red Breasted Nuthatch
Red Breasted Nuthatches, like Pine Siskins, are "irruptive" visitors from the north and are not seen here in most winters. I have only recorded them in two of the last eight years. These nuthatches are smaller than our well-known White Breasted Nuthatches. They're readily attracted to suet and peanut feeders like the other nuthatches.
Hermit Thrush
Not every bird watcher can expect to find Hermit Thrushes at their backyard feeders. Some of my field guides advise readers that Hermit Thrushes are not feeder birds. However, I have successfully attracted this species for five years with suet (cakes and nuggets) and peanut butter.
Backyard habitat is a consideration. Hermit Thrushes are secretive, woodland-loving birds. If you don't have much tree cover behind your home, this species is unlikely to be seen at yours.
American Goldenfinch
In truth, the American Goldfinch is a species that can be found year-round in our area, but most people don't recognize the birds in their winter colors and think that an entirely different species is visiting their feeders over winter.
The Goldfinches that are so vividly yellow in the spring and summer molt into a drab suit of feathers in the cold months. Goldfinches are easily attracted by an offering of sunflower seeds and typically congregate in family groups of up to a dozen or so birds.
Ruby Crowned Kinglet
Ruby Crowned Kinglets are small, fast-moving, and restless woodland birds that can be attracted to suet feeders. The most important identifying marks are a white eye ring and a tiny ruby-red patch at the top of the head.
The red patch will be larger if the bird is upset or alarmed. There is also a cousin called the Golden Crowned Kinglet that can be found in some of our Cary parks but that I have never observed at my feeders.
Find These Friends in Your Own Backyard
Winter time may be a dull, gray time of the year, but it affords us the opportunity to enjoy the visits of birds that live someplace farther away in the warm months. If you have feeders, you may already be able to see these special winter visitors. And, if not, there is still time to attract birds to the backyard.
———————————————————————————————————————————–
Story and photos by David Lindquist, an avid Cary birdwatcher and greenways enthusiast.
————————————————————————————————————————————
This story was sponsored in part by Garden Supply Company on Old Apex Road in Cary.
https://carycitizenarchive.com/wp-content/uploads/2015/01/Red-Breasted-Nuthatch1.jpg
399
600
David Lindquist
https://carycitizenarchive.com/wp-content/uploads/2020/03/cc-archive-logo-450-v3.png
David Lindquist
2015-01-15 16:04:58
2019-12-08 10:14:50
Meet the Backyard Winter Birds of Cary