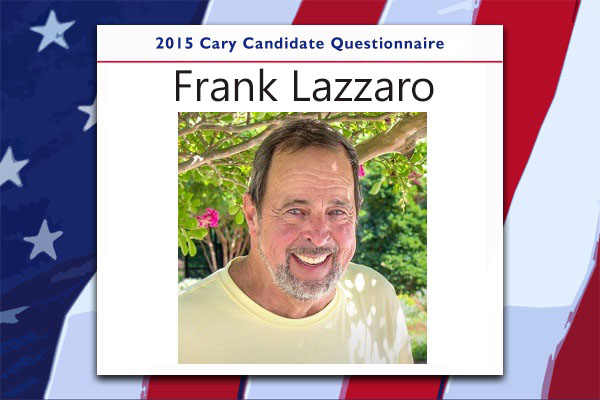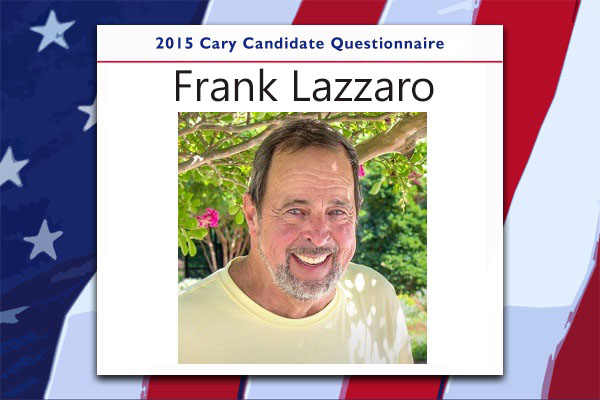 Cary, NC — This is the seventh installment of our Candidate 2015 series, in which candidates get to respond in their own words to the same three questions.
As usual, we publish the responses in the order we receive them. Next up is Frank Lazzaro who is running as the challenger for Cary Town Council, District B.
Candidate Questionnaire
As we have done in previous election cycles, we sent a list of three short questions to all the candidates for office in Cary. We do not edit the answers but provide a forum for the candidates to speak to our readers in their own words.
We encourage all citizens to go to the polls in Cary on Tuesday, October 6, 2015.
Frank Lazzaro
Q1 – Why are you running?
To quote a recent article in The Press Democrat by David Brooks dated Aug. 6, 2015  " Just 3 in 10 Americans believe that their views are represented in Washington".  After polling over 200 people in District B  I found that the majority of people living in our district  do not know who is representing them in the council chambers.  Most had not seen their representative in public. A few at special Cary occasions or events.
I am running to give people a visible representative who,  like themselves, also wants to be heard.  Silence is not golden!
Blogs, although informative, may not be the most popular means of informing the public. Many residents, particularly older residents who are more inclined to care about what is planned for Cary,  do not know what a blog is and therefore may not know what is being voted on that effects the  district.
Q2 – What are your top three priorities and how will you accomplish them?
To inform the people, in plain terms,  of what is on the council schedule for consideration.
To develop a means for gathering popular opinion about what is on the table.
To vote the way people want and not on the assumption of what I think they want.
Q3 – Give us a brief bio and tell us about your relevant experience.
I am married (19yrs) with a blended family of 5 children (talk about learning diplomacy) .  I founded a building supply company 35 years ago .  I am now semi retired with time to represent the people of my district.  Former Marine NCO & combat Vietnam veteran. I moved here 20 years ago from upstate New York and fell in love with Cary.
Sadly the father of a murdered daughter.
Active in several community activities such as the Heart Of Cary & Hope For Haiti.  I have also shared my war experience in high school American history classes since 1982 and locally since the year 2000.
If you examine what I've experienced you will see that I have actually fulfilled all of the requirements of a town councilman and leader.
PERFECT I AM NOT … AND NEVER WILL BE!   However,  my desire is to serve the good people of district B to the best of my ability.
Candidate Information
Website: www.lazzaroforcary.com
Email: lazzaroforcary@outlook.com
————————————————————————————————————————————
Read more of the Candidate 2015 series.
https://carycitizenarchive.com/wp-content/uploads/2015/09/Frank-Lazzaro.jpg
400
600
Community Contributor
https://carycitizenarchive.com/wp-content/uploads/2020/03/cc-archive-logo-450-v3.png
Community Contributor
2015-09-21 14:22:09
2016-08-25 13:02:18
Candidate Questionnaire: Frank Lazzaro