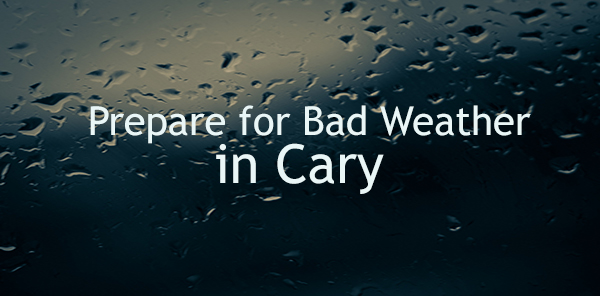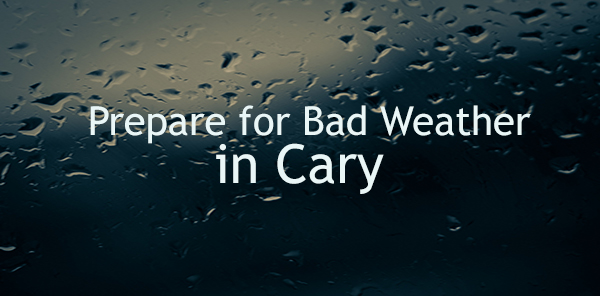 Cary, NC — Our CaryCitizen inbox was flooded (pun intended) with press releases and updates about event cancellations, weather advisories and more this morning.
Here's a short "what you need to know" update to prepare for this weekend's weather.
Current Status
Wake County is under a Flash Flood Watch until 8 pm on Sunday, October 4, 2015. A Wind Advisory is in effect until 8 am on Saturday, October 3, 2015.
According to WRAL, Hurricane Joaquin, a Category 4 hurricane, is now reported to be offshore of North Carolina. While this means less of a threat of heavy winds and rain at the start of next week, we still need to prepare for harsh weather this weekend.
Heavy Rain Today
WRAL calls for heavy rain today – we can expect 3-6″ of rain to fall.
The heaviest rain of the weekend is likely to fall today and tonight. "After that," WRAL says, "We will have periods of heavy rain but there may be more breaks on Saturday and Sunday. Winds will be out of the NE gusting 20 to 20 mph."
Power Outages & Damage Expected
The ground is already wet from a week of rainfall, and that means trees and large branches are more likely to fall from the heavy winds. Power outages could result.
Flooding Dangers
Governor Pat McCrory has issued a state of emergency in all 100 counties in preparation of severe weather that could lead to flooding. "I cannot stress enough that we are talking about a real possibility of deadly flooding in many areas around our state," he said.
Cary is Prepared
Cary's Fire Chief, Allan Cain, is serving as the Town's Incident Commander for this potential emergency, which is being compared to 1996 and Hurricane Fran.
In a press release, Cain said, "From fuel to equipment and vehicles to personnel, the Town's in good shape to be able to respond effectively to the typical things that occur in these types of situations like flooding, power outages and downed trees."
Residents Should Prepare, Too
The Town of Cary and Scott Finazzo, author of "The Neighborhood Emergency Response Handbook," shared the following tips with us to prepare for flooding and storms:
Preparing for a flood:
Have a weather radio, smart phone app, or any other means handy to receive flood warnings and weather updates in the event that you lose power.
It is common to lose power during storms. Be prepared with flashlights and spare batteries.
Educate and talk to your children about the dangers of storms. If the sky turns gray, it begins to rain, or they hear thunder, they should immediately come inside.
Have a safe place. Before the storm, identify a safe place in your home that is away from windows and not in danger of structural damage from large fallen trees.
Check supplies. If you don't have a cache of supplies in a safe location in your home, assemble them before the storm so you will have access to your weather radio, flashlights, water, snacks, and other essential items.
During a flood:
Heed all appropriate flood warnings issued by the National Weather Service, local media or any authority issuing instructions due to an impending flood.
Stay indoors during severe weather. If you do decide to venture out—whether walking or driving—let folks know when and where you are going so that they can contact emergency officials should you fail to reach your destination.
During a storm it is best to avoid electrical equipment and plumbing.
Avoid windows. Windows are easily broken by wind and storm-related projectiles. The shattered glass or windblown debris can cause serious injury.
Remember your pets. Bring your pets inside and safely secure them with a leash, crate or carrier. They could become frightened due to the weather and act out or run away.
If you're driving:
If there is standing water on streets, "Turn around, don't drown."
Treat signalized intersections with non-working traffic lights as four-way stops.
Don't park on streets so that Town crews can service the area.
When to Call for Help
The Town of Cary does not provide electric service. If you lose power, report outages to Duke Energy Progress at 1-800-419-6356 or Apex Electric at 919-362-8661. Do not call 911 unless there's an emergency posing an immediate threat to life, health or property.
——————————————————————————————————————————-
Story by Jessica Patrick. Photo by Sjoerd van Oosten.
https://carycitizenarchive.com/wp-content/uploads/2015/10/Rain.jpg
296
600
Jessica Patrick
https://carycitizenarchive.com/wp-content/uploads/2020/03/cc-archive-logo-450-v3.png
Jessica Patrick
2015-10-02 11:15:54
2015-10-02 11:15:54
Prepare for Bad Weather in Cary