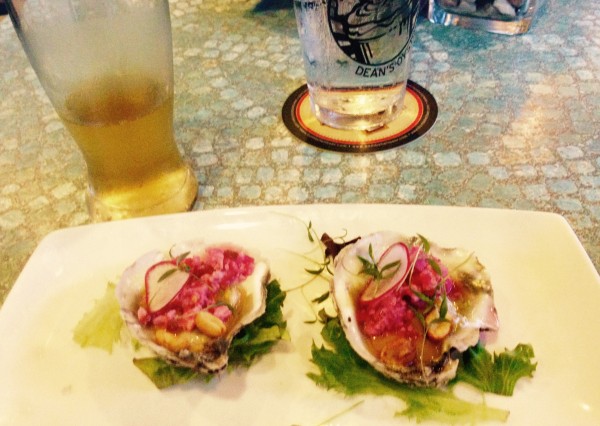 Cary, NC — Last week, I had the pleasure of enjoying some North Carolina farm-raised oysters and locally brewed beer at Dean's Seafood. The evening was part of Dean's Oystoberfest – a month-long celebration of oysters.
Tasty Oysters
Here's my true confession – I am not much of an oyster fan after having suffered a traumatic oyster experience back in my art school college days.
I attended this event with trepidation, assuming I would enjoy some beers while my partner had my servings. It was a party, after all, and I didn't want to miss the fun.
To my surprise, these oysters were extremely tasty!
Distinct Combinations
The oysters that Dean's served were not overly large – a good thing since I'm leery of eating squishy, large shellfish that I have to swallow whole (the trauma I referred to earlier). The dishes we sampled were also beautifully displayed, and, while the oysters were raw, they came dressed up with condiments and elements that distracted from the overall idea of raw shellfish.
The first oysters we sampled were Pilate Oysters served up with a pumpkin curry sauce, some radish and cauliflower relish and garnished with peanuts. That's right, peanuts! So good.
With that, we polished off a Bombshell Brewing Pilsner.
Farm-Raised in NC
While we enjoyed our plates of appetizing oysters, Allen Aldridge, the owner of Jarrett Bay Oyster Company in Carteret County, talked about his business and how farm-raised oysters are changing the North Carolina coast. These farm-raised oysters are raised in baskets that float on the top of the bay water and take 10 months to raise from start-to-finish.
The labor-intensive product tasted delicious! Aldridge explained that, if not for farm-raised oysters, North Carolina would have no oyster crop at all, since our bays were overfished long ago. Thanks to farm-raising, shells are thrown back into the bay, which actually help to attract and grow new colonies of native oysters.
The second plate of oysters were fresh from Jarrett Bay.
These were served up with a mushroom and herb ragout and a little crouton on top. They were paired with an IPA from Bombshell Brewing in Holly Springs, whose representative was on hand to answer our beer questions.
Our last plate was some Bodie Island Oysters topped with green pea hummus and a bit of smokey bacon. As much as I enjoyed the second oysters, I'm a sucker for hummus.
Now, if you are an oyster purest, maybe all these sauces and fixin's aren't for you. But, for this novice, I needed the distraction.
Visit Dean's
If all this talk of oysters made you wistful, head over to Dean's during the month of October for their Oystoberfest- there are specials nearly every night, and maybe they'll serve you some of the dishes we described. Check out the Dean's Seafood website for more information.
————————————————————————————————————————————
Story and photos by Lindsey Chester.
https://carycitizenarchive.com/wp-content/uploads/2015/09/IMG_6289-e1443558547553.jpg
426
600
Lindsey Chester
https://carycitizenarchive.com/wp-content/uploads/2020/03/cc-archive-logo-450-v3.png
Lindsey Chester
2015-10-02 08:45:22
2019-12-08 10:24:25
Restaurants: Oysters at Dean's Seafood